NIEHS scientists played key roles as officials, speakers, and poster presenters at the Genetics and Environmental Mutagenesis Society (GEMS) Annual Fall Meeting.
GEMS President Stephanie Smith-Roe, Ph.D., genetic toxicologist in the National Toxicology Program (NTP), kicked off the event, Mitochondrial DNA Mutagenesis and Human Health Impacts. Held at the North Carolina Biotechnology Center in Research Triangle Park, North Carolina, the meeting combined the exchange of cutting-edge science with local outreach and mentoring of early career scientists.
President-elect Brian Chorley, Ph.D, from the U.S. Environmental Protection Agency (EPA), organized the Nov. 9 meeting, calling it very NIEHS-centric. "[NIEHS is] a center of excellence, in terms of mitochondrial biology and research," he said.
NIEHS leadership in mitochondrial genetics
William Copeland, Ph.D., head of the NIEHS Genome Integrity and Structural Biology Laboratory and its Mitochondrial DNA Replication Group, led off the day's science talks. He explained that cells use a protein called RNA polymerase gamma (POLG) to replicate the genetic material of mitochondria. Copeland showed that having inactive or less efficient POLG is associated with greater susceptibility to disease, because of a decrease in the ability of cells to produce energy.
Janine Santos, Ph.D., staff scientist in the NIEHS Mammalian Genome Group, was also invited to present cutting-edge research. She gave a lively and engaging talk on how signals, derived from mitochondrial metabolism, can mediate responses in nuclear DNA, which are critical players in human health and disease.
The other two invited speakers were both former NIEHS postdoctoral fellows. Sherine Chan, Ph.D., from the Medical University of South Carolina, presented her work with zebrafish. She studies human diseases related to genetically inherited alterations and mitochondrial function. Joel Meyer, Ph.D., an NIEHS grantee from Duke University, demonstrated that processes of mitochondrial quality control are fundamental to preventing human diseases.
Postdoc involvement and recognition
The importance of NIEHS in the field of mitochondria toxicology was also evident in the number of postdocs who participated in the meeting as speakers, poster presenters, and attendees. Kirsten Verhein, Ph.D., postdoctoral fellow in the NIEHS Environmental Genetics Group, was invited to give a talk on the variability of mitochondrial genetic material and susceptibility to disease.
Axel Berky, from Duke University, and Colette Miller, Ph.D., a biologist from EPA, were also selected to give short talks. Miller was presented with the Best Talk Award, which will fund her attendance at the 2017 Environmental Mutagenesis and Genomics Society 48th Annual Meeting in Raleigh, North Carolina.
First place for poster presentation went to Claudia Gonzalez-Hunt, a graduate student in Meyer's laboratory at Duke. Karen Debalsi, Ph.D., and Kiri Hoff, Ph.D., postdoctoral fellows in Copeland's group, won second and third place, respectively. Poster prizes were sponsored by the Burroughs Wellcome Fund.
Outreach and fostering the next generation
Young and early career researchers remarked on the collegiality and the encouragement they received from others at the meeting. Raveena Chhabria, an NTP postbac fellow, said her mentor, Arun Pandiri, Ph.D., encouraged her to present a poster. She also commented on how pleased she was with the positive feedback she received from GEMS members and attendees.
A group of students from Franklin Academy High School in Wake Forest, North Carolina, spent the day at the event. Several said the exposure to a local and formal scientific meeting was important to their future career decisions. Their first experience with GEMS was at the 2016 Spring Meeting, which Chorley organized around the theme of science outreach and communication.
"GEMS meetings are a go-to local meeting," said Santos. "GEMS is a very open and welcoming society, where you can discuss new concepts and get to know local researchers who share similar scientific interests."
Smith-Roe and Chorley were both pleased with the meeting. "We were extremely impressed with the number and the quality of the posters and presentations," Smith-Roe said. Attendees and GEMS members left the fall meeting already looking forward to next year's spring meeting, Nanomaterials and Consumer Product Safety, which will be held May 10, 2017, at EPA. Attendance is free.
(Douglas Ganini da Silva, Ph.D., is a research fellow in the NIEHS Free Radical Metabolism Group.)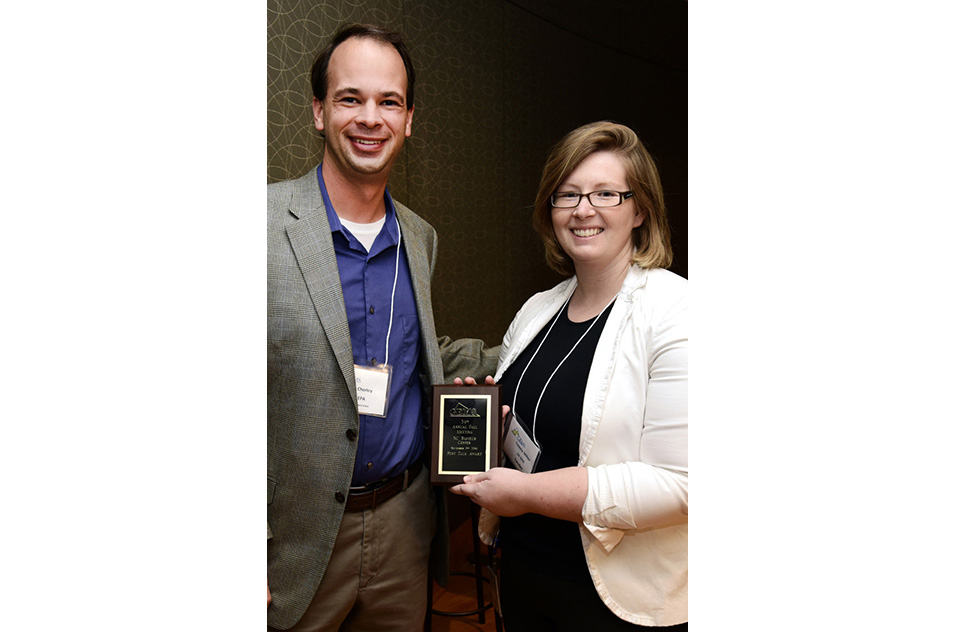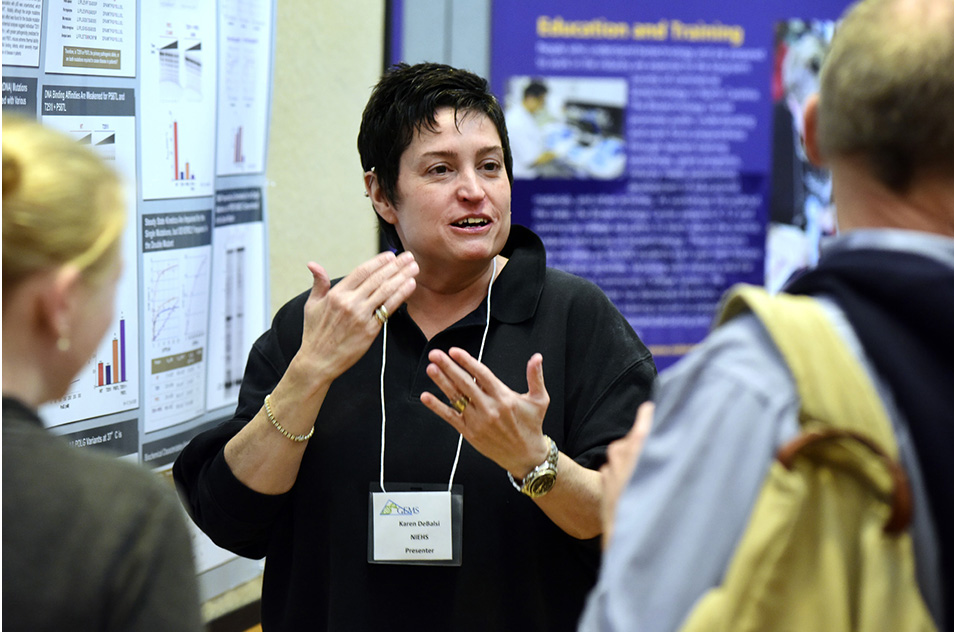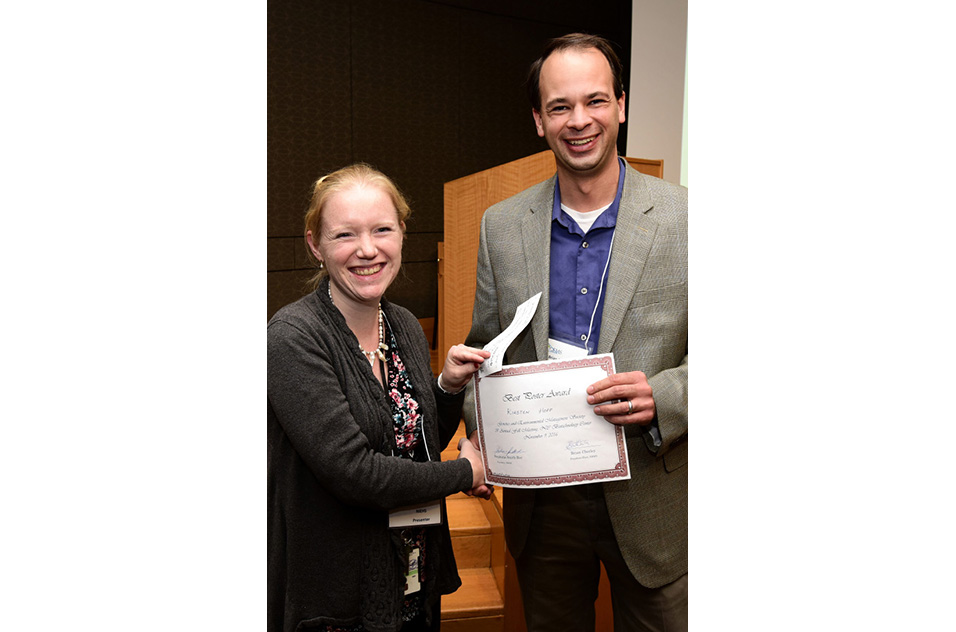 Honoring the history
Founded in 1983, GEMS has fostered the careers of junior scientists and celebrated the accomplishments of members prominent in their careers and have shown dedication to the Society.
Jack Bishop, Ph.D., had a 40-year career in NTP studying reproductive and developmental genetic toxicology, and a long record of service to GEMS. Bishop encouraged early career scientists to pursue their research interests in genetic toxicology.
Jef French, Ph.D., studied how genetics affects the response of organisms to environmental agents, such as radiation and chemicals, during his career in NTP. He has served the society since 1991.
Rose Anne McGee, a review officer in the NIEHS Division of Extramural Research and Training (DERT), has been active in GEMS since 1984.
Kristine Witt, head of the NTP Genetic Toxicology Group, has been a member of the society since 1986. "Over its existence, one of the most important missions of GEMS has been the support, encouragement, and recognition of students and early investigators," she said.