Whole Issue PDF
This issue's PDF is still being created and should be available 3-5 business days after the first of the month. Please check back in a few days.
Summer interns share research at poster session
By Geoffrey Feld

This summer, more than two dozen high school, college, and graduate students participated in the NIH Summer Internship Research Program (SIP). On July 30, they shared the results of their training, at the annual poster session in Rodbell Auditorium.
Over the course of the summer, the students immersed themselves in biomedical research at NIEHS. Aided by scientists and staff, as well as the Office of Fellows' Career Development (OFCD), the students took on challenging research projects, attended seminars, participated in career development workshops, and ended the internship with the highly anticipated poster session.
"I always get glowing feedback from the lead scientists and other poster session attendees saying how impressed they are with the quality of work done over the summer," said Debbie Wilson, summer intern coordinator for the NIEHS Division of Intramural Research. "This summer was no exception."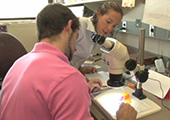 play linked multimedia clip
Download Media Player: Quicktime https://support.apple.com/downloads/quicktime
Motivation is key to success
Like other interns, Nikhil Milind, a high school junior at the North Carolina School of Science and Mathematics in nearby Durham, sustained his motivation from the moment he began the application process. While volunteering locally, Milind reached out to his eventual NIEHS collaborator, Kyathanahalli Janardhan, Ph.D., a contractor in the Cellular and Molecular Pathology Branch. Milind hopes to continue his research classifying rat uterine sarcomas next summer.
Richard Gilliam, from St. Augustine's University, worked with Tammy Collins, Ph.D., director of OFCD, and Shyamal Peddada, Ph.D., of the Biostatistics and Computational Biology Branch, to analyze career outcomes of recent NIEHS postdocs. "Mr. Gilliam's drive and dedication were critical to the project's success," said Collins. "He gained skills in advanced data analysis, which will translate to any research field he chooses to enter."
Building career momentum
Some SIP participants come to NIEHS with specific career goals in mind. Craig McGowan will apply his summer research on the human toxicological effects of the 2010 Deepwater Horizon oil spill toward completion of his masters' degree in biostatistics at the University of North Carolina-Chapel Hill (UNC). McGowan said his project, which won the Graduate Student Poster Award, reinforced his desire to do research. He plans to volunteer at NIEHS as he finishes his thesis.
Other interns arrive with research backgrounds and gain new insights. Caroline Vilas, a UNC senior majoring in biochemistry, was uncertain about pursuing a career in research. Ultimately, encouragement from SIP alumni friends and members of her undergraduate lab led her to seek the internship opportunity.
"Meeting and working with scientists at NIEHS who enjoy what they do has really encouraged me to pursue research," she said. Vilas studied interactions of the enzyme Tdp2 with topoisomerase, a target of certain cancer drugs. "Our hypothesis-driven research style helped me learn a lot about problem-solving in the lab," she added.
Heeding the call to help
Many NIEHS scientists and staff, both first-time participants and returning veterans, shared in the interaction with enthusiastic young scientists, from direct research mentors and lead scientists, to judges for the poster session.
Vilas's mentor, first-timer Matthew Schellenberg, Ph.D., a visiting fellow in the Genome Stability Structural Biology Group, said the program benefits both students and mentors. From coaching Vilas in ways to communicate her research to nonexperts, to contemplating how her results fit into the overall goals of his own research, Schellenberg used the opportunity to train and learn.
"What really makes the program outstanding is the amazing students that apply, combined with the resources and facilities available here," says Schellenberg. He hopes to mentor another SIP participant next year.
Palmyra Romeo, a former Intramural Research Training Award (IRTA) postbaccalaureate fellow in the Synaptic and Developmental Plasticity Group, helped train interns in her lab and has taken leadership roles in educational events. This was her third year volunteering to serve as a poster session judge.
"I always leave the poster sessions encouraged about the bright young minds learning about science," says Romeo. Regardless of whether SIP participants ultimately choose careers in science, she said, "I think it is crucial that our future generations develop a solid understanding of how basic research works."
(Geoffrey Feld, Ph.D., is an Intramural Research Training Award fellow in the NIEHS Genome Stability Structural Biology Group.)
Accepting the challenge to communicate research in plain language
Recognizing the importance of being able to clearly communicate scientific research, the popular NIEHS Big Picture, Small Talk series offered the summer interns a science communication challenge. At the July 23 event, organizers gave each intern three minutes to share their research in a nontechnical presentation. Ten interns accepted the challenge, and administrative staff judged them on how well they expressed their main message.
The judges selected Yue Jiang, a graduate student at UNC, who worked with mentor Shanshan Zhao, Ph.D., in the Biostatistics and Computational Biology Branch. Jiang summarized his work on a new approach to predicting breast cancer risk, based on an individual's family history.
Interns Sam Arbes, Richard Gilliam, Nicole Gonzalez, Shiyi Li, Craig McGowan, Brinkley Raynor, Sarah Sugarman, George Truong, and Ben Whitfield also participated. Wilson hosted the event, and Peggy Mooring, Abee Boyles, Ph.D., and Collins organized it.