Whole Issue PDF
This issue's PDF is still being created and should be available 3-5 business days after the first of the month. Please check back in a few days.
Global collaboration to combat e-waste
By Paula Whitacre

As computers, appliances, and other electronics grow more numerous and their usable life shortens, a worldwide surplus of electronic waste, or e-waste, has developed, creating a market for the valuable components, such as copper, that can be extracted from the discarded devices. NIEHS has taken a leadership role in developing strategies to understand, prevent, and treat the adverse health effects caused by dismantling or burning the e-waste to recover the marketable components.
In August, NIEHS and the World Health Organization (WHO) convened a workshop in Indonesia, focused on strategies to reduce exposure to e-waste. Collaborators included the Chulabhorn Research Institute in Thailand; Children's Health and Environment Program at the University of Queensland, Australia; and U.S.-based nonprofit Pure Earth.
Providing practical recommendations
"NIEHS is a WHO Collaborating Centre for Environmental Health Sciences, and e-waste is one of our center's five focus areas of concern," explained Michelle Heacock, Ph.D., health scientist administrator for the NIEHS Superfund Research Program (SRP), who helped organize the event. Members of the WHO Collaborating Centres Network for Children's Environmental Health were also involved.
The workshop featured experts in health, engineering, and other fields. Presenters discussed case studies from Ghana, Uruguay, China, and the Philippines, highlighting successes and lessons learned. Building on the case studies, breakout groups addressed reducing exposures, monitoring, and communications.
"We organized the workshop with the goal of providing practical recommendations," Heacock said. "And we incorporated engineering techniques and discussions on strategies, such as how to communicate risk and increase use of personal protective equipment."
For example, Julius Fobil, Dr.P.H., from the University of Ghana in Accra, and Bret Ericson of Pure Earth, discussed the introduction of a wire stripping machine to more safely extract copper at one of the most polluting e-waste sites in Africa, which operates in central Accra. They emphasized the importance of building community trust, as workers worry about the immediate economic toll of new policies and practices.
A complex health and economic challenge
The workshop opened with a short video (linked below) in which William Suk, Ph.D., SRP director, explained how burning or dismantling e-waste results in contaminants, such as polychlorinated biphenyls and other chlorinated organics, entering the water and air. Research supported by NIEHS and others has shown the harmful effects of direct and indirect exposures, including effects on a growing fetus.
Yet many low-income communities depend on e-waste for their livelihood, making the solutions extremely complex. "It's a real conundrum," he said. "You want to protect people's health. At the same time, you want to ensure they can support themselves."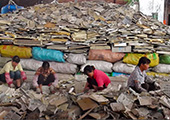 play linked multimedia clip
Download Media Player: Flash http://get.adobe.com/flashplayer/
Broadening the discussion
The workshop followed the 16th International Conference of the Pacific Basin Consortium for Environment and Health (PBC), held Aug. 10-13 at the University of Indonesia in West Java. At the conference, NIEHS and WHO co-chaired a panel on the topic (see text box).
NIEHS and WHO launched their joint e-waste program at the previous PBC conference in 2013. According to Heacock, the network of people working on e-waste issues is growing and more collaborations are planned. She underscored the value of presenting the topic at the PBC conference as well as holding the workshop, to reach a wider audience with information on e-waste and its impacts.
(Paula Whitacre is a contract writer with the NIEHS Office of Communications and Public Liaison.)
Conference crosses geographic, institutional, and discipline borders
The International Conference of the Pacific Basin Consortium on Environment and Health rotates meeting locations and includes topics of concern to the host country, as well as research from throughout the region.
The Superfund Research Program (SRP) at NIEHS and the National Cancer Institute (NCI) Center for Global Health were among the co-sponsors of the 2015 conference. Ann Chao, Ph.D., from NCI, co-chaired a panel on environmental contributions to cancer in Southeast Asia.
In addition to an e-waste panel, SRP staff and grantees were involved throughout the conference. "The PBC [conference] parallels the goals of the SRP — environmental science and engineering, human health, and community engagement — but on a global scale," Heacock said.
Conference planners include trainees, especially those from the host country, to help them expand their knowledge of the connections between environment and health.
Presentations of research supported by NIEHS included:
Bernhard Hennig, Ph.D., University of Kentucky, on nutrition interventions against environmental insults.
Celia Chen, Ph.D., Dartmouth College, on connecting mercury science to policy.
Keith Pezzoli, Ph.D., University of California, San Diego, on creating just and healthy bioregions.
Jeffrey Crosby, Ph.D., chief technical officer of Picoyune, spoke about a mercury sensor and monitor that is more robust and less expensive than current methods. SRP supported the initial development, as part of the University of California, Berkeley program. That program is an example of how SRP research can lead to a small business innovation, Heacock said.