Whole Issue PDF
This issue's PDF is still being created and should be available 3-5 business days after the first of the month. Please check back in a few days.
Wilson's mentoring award celebrated
By Eddy Ball

More than 100 colleagues and trainees turned out July 22 to show their appreciation for NIEHS lead researcher Samuel Wilson, M.D., and celebrate his National Institutes of Health (NIH) mentoring award, the latest in a long list of honors for his work at NIEHS.
Wilson is this year's recipient of the prestigious Ruth L. Kirschstein Mentoring Award, the highest recognition at NIH for exemplary performance while demonstrating significant leadership, skill, and ability in serving as a mentor. Every year, each institute and center can nominate one candidate to receive the award.
Noting that the award will be officially made in September, NIEHS and National Toxicology Program (NTP) Director Linda Birnbaum, Ph.D., said, "I think it's great that we went ahead to say, 'Thank you, thank you' [for your leadership, science, and mentoring]."
Wilson responded, "It's a huge honor… for me and for the NTA [NIEHS Trainee Assembly] and the outstanding training program we have here." Characteristically, he was quick point out his debt to others, naming several of his colleagues. "It [the award] really is for all of us."
Following the footsteps of a great mentor
The award is named for pathologist and polio vaccine developer Ruth Kirschstein, M.D. , who served as director of the National Institute of General Medical Sciences and was the first woman to serve as a director of an institute. She was also deputy director of NIH in the 1990s and acting director of NIH in 1993 and 2000-2002. She died in 2009, and NIH published Kirschstein's biography, "Always There," in 2011.
Kirschstein's strong commitment to high-quality training is also reflected in other awards named for her, including the NIH Ruth L. Kirschstein National Research Service Award and the American Society for Biochemistry and Molecular Biology Ruth Kirschstein Diversity in Science Award.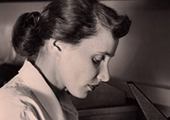 play linked multimedia clip
Download Media Player: Quicktime https://support.apple.com/downloads/quicktime
Wilson heads the DNA Repair and Nucleic Acid Enzymology Group at NIEHS. He also served as deputy director of NIEHS 1996-2007 and acting NIEHS and NTP director 2007-2009. He was founding director of the Sealy Center for Molecular Science and director of the Center for Environmental Toxicology at the University of Texas Medical Branch 1991-1996, following service as a lead researcher with the National Cancer Institute.
(Eddy Ball, Ph.D., is a contract writer with the NIEHS Office of Communications and Public Liaison.)