Whole Issue PDF
This issue's PDF is still being created and should be available 3-5 business days after the first of the month. Please check back in a few days.
3-D print fest inspires innovation at NIEHS
By Kelly Lenox

People from all divisions of NIEHS flocked to an Oct. 22-23 showcase of 3-D print technology. Transforming Your Science: Innovations with 3-D Printing featured representatives from the National Institute of Allergy and Infectious Diseases (NIAID), which leads development of the National Institutes of Health (NIH) 3D Print Exchange, local universities, and BetaBox Labs, a Raleigh company with a mobile prototyping lab.
Gary Bird, Ph.D., staff scientist in the NIEHS Calcium Regulation Group, co-hosted the event with NIEHS data scientist Rebecca Boyles, reference librarian Sandra Chambers, and Geoffrey Mueller, Ph.D., staff scientist with the Nuclear Magnetic Resonance Group.
"The ideas and capability behind 3-D printing can be harnessed to create and support a vast range of applications," Bird said. "From custom-fit lab equipment to molecular modeling, or even print your own liver, the possibilities are limitless."
"Changing the way that we think"
Representatives from the NIH 3D Print Exchange described the center resources, and advances NIH researchers have made using the technology. Darrell Hurt, Ph.D., head of the Bioinformatics and Computational Biosciences Branch in the NIAID Office of Cyber Infrastructure and Computational Biology, said that researchers studying the influenza virus had worked with online visual models. But upon examining a physical model, they gained a powerful insight into how it binds with other molecules.
"It's not about the 3-D printing," Hurt emphasized. "It's about changing the way that we think and work to take advantage of technology, to make life easier and work more efficient."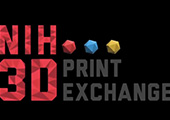 play linked multimedia clip
Download Media Player: Flash http://get.adobe.com/flashplayer/
3-D printers feed material — plastics, calcium carbonate, silver, and even cells suspended in a gel —through a nozzle that applies it in a process similar to inkjet printing. Design software directs the nozzle to make repeated passes, building a three-dimensional structure. "It's a robotic hot glue gun," Hurt quipped.
From information to inspiration
Researchers and staff from North Carolina State University (NCSU) and the University of North Carolina at Chapel Hill (UNC) shared diverse applications of 3-D printing, such as animal prostheses and models that simulate movement of blood through a tumor.
The mobile prototyping lab provided by BetaBox Labs , called BetaBox, allowed NIEHS participants to brainstorm problems and design solutions on the spot. Several prototypes were produced on site, including a clamp that serves as a one-handed lid opener, and goggles to protect the eyes of mice during exposure to ultraviolet light. Print designs generated during the event were uploaded by Mueller to the NIH 3D Print Exchange website and are publicly available.
Easily accessible and low cost
The NIH 3D Print Exchange includes a virtual collection of scientific and biomedical 3-D models, as well as printing tutorials. It also offers tools to upload data from public databases — such as the molecular structure of a protein — and convert it to a 3-D print design.
"It's really very easy to use the online software," Hurt said. "For a protein structure, you type in the [primary database] accession code, wait two minutes, and you've got your model design."
The exchange does not do the printing. Hurt said the technology is developing so fast that many users, rather than investing in machinery, prefer to send designs to a commercial printer, much like the way one uploads photo files to a site for printing.
A resource for NIEHS
"We have to figure out what the resource is going to look like here at NIEHS," Chambers said. "We held this event to make people aware of what is available now." She created an internal wiki site to help NIEHS staff explore 3-D printing.
"I'd like to see a space where people can gather and brainstorm to create and learn — our very own NIEHS makerspace — but what should it look like here?" asked Bird. Makerspaces at UNC and NCSU are generally housed in libraries and provide a variety of resources, including 3-D printers, software, machine tools, electronics, and hardware supplies.