Whole Issue PDF
This issue's PDF is still being created and should be available 3-5 business days after the first of the month. Please check back in a few days.
NIEHS and India meet at the intersection of climate change and health
By Bono Sen

NIEHS collaborated with organizers in India to host a Sept. 22-24 training workshop, Understanding Climate and Health Associations in India (UCHAI). The event was held to raise awareness and train public health researchers and professionals on the health impacts of climate change.
Like many developing countries, India faces a disproportionate share of adverse impacts from climate change, which worsen its many public health challenges. The government of India has recognized health as a priority area in its climate adaptation strategy, and many states now include initiatives related to health in their climate action plans.
The organizers invited early career faculty, researchers, and others in the hope of expanding the number of experts who can assist in the country's adaptation efforts. The workshop, held in New Delhi, was organized by TARU Leading Edge, an Indian consulting firm focused on climate change and disaster risk reduction, and the NIEHS-WHO Collaborating Centre for Environmental Health Sciences, in partnership with the Indian Meteorological Society.
A critical challenge for environmental health
The opening speech was given by Soumya Swaminathan, M.D., secretary of the Department of Health Research in India's Ministry of Health and Family Welfare and director general for the Indian Council of Medical Research. She noted that climate change will emerge as a critical challenge for environmental health in India, in addition to existing issues such as water and sanitation.
In his keynote address, John Balbus, M.D., NIEHS senior advisor for public health and director of the NIEHS-WHO Collaborating Centre, emphasized the need to conduct local research, and then find ways to effectively communicate the results to different stakeholders. "This will be important to inform health policies and action on the ground," he said.
Also discussed was the importance of community-based participatory research, in particular, the need to engage community stakeholders in research design, project implementation, communication of findings, and the decision-making process.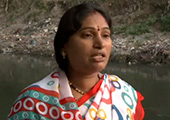 play linked multimedia clip
Download Media Player: Flash http://get.adobe.com/flashplayer/
Building a community of practice
The workshop was a first step in developing a network, or community of practice, focused on three core frameworks — vulnerability, adaptation, and cobenefits of efforts to reduce climate change. The event delivered a mix of technical lectures, case studies, and training exercises to the audience drawn from India's health, water, agriculture, transport, energy, and urban planning sectors.
Participants also visited the India Meteorological Department, observing use of climate and weather data and state-of-the-art computing technologies for health protection.
Looking ahead, the network's aim is to help India build resilience in its health sector. Planned activities include training, facilitating local research, and developing early warning systems and health-related action plans. Through both domestic and Indo-U.S. collaborations, the organizers hope that the community of practice will play a central role in raising awareness about climate change and health issues.
"I have been able to translate my own learning into convening the most extensive, systematic training effort at the national level in India," said Nitish Dogra, M.D., an advisor from TARU and former Fulbright-Nehru Environmental Leadership Program Fellow at Johns Hopkins University in Baltimore. "UCHAI, meaning peak in Hindi, India's official language, undoubtedly represents a new peak in capacity building at the intersection of climate change and public health in India."
(Bono Sen, Ph.D., is a program coordinator for the NIEHS Global Environmental Health program and was one of the workshop planners.)