Whole Issue PDF
This issue's PDF is still being created and should be available 3-5 business days after the first of the month. Please check back in a few days.
Spirit Lecture features UNC Chancellor Carol Folt
By Eddy Ball

NIEHS welcomed University of North Carolina at Chapel Hill (UNC) Chancellor Carol Folt, Ph.D., March 20 to present the 2014 Spirit Lecture in Rodbell Auditorium.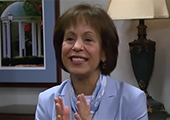 play linked multimedia clip
Download Media Player: Flash http://get.adobe.com/flashplayer/
Folt's talk, "A Conversation with Carol Folt, Carolina's First Woman Chancellor: From Science to Leadership — Women 'Leaning In,'" described her journey from school girl to woman scientist and leader, encouraging her listeners to embrace challenge, diversity, and change in their lives. She spoke informally as she stood below the podium, facing a capacity crowd that was readily engaged by her infectious enthusiasm, personal charm, and refreshing insight.
Organized by the NIEHS Diversity Council, the Spirit Lecture series began in 2002. Past speakers in the series include NIEHS and NTP Director Linda Birnbaum, Ph.D., who introduced Folt.
"We could hardly ask for a better speaker for this event," Birnbaum said. "Carol had a remarkable career as a scientist, and even got grant money from NIEHS. Now she's leading one of the top universities in the nation. She's everything Spirit Lectures are about."
Taking pride in difference
"Women scientists tend to be really good leaders," Folt said as she introduced her concept of True North values. As outsiders, women know that to flourish they need to think big and work hard; embrace difference as an integral part of identity; take risk and learn from failure; and incorporate family values as part of their work.
From her immigrant roots as a third generation Albanian American, Folt said, she learned to see potential, despite what might seem to be insurmountable barriers. "Everything is a 'can,'" she said. And because her life has spanned a time full of fundamental change in every aspect of life, she said, "You always view everything as a moment of something starting."
Even as she encountered intimidating stumbling blocks during her early career in a male-dominated field, Folt remained upbeat and optimistic. She was in the minority during much of this time —the only woman in a 15-member graduate school cohort and one of just five women scientists when she joined Dartmouth College — but she said she often found support from unexpected sources.
From classic ecology to leadership of a flagship university
Folt said her love of water drew her to ecology and the study of lakes. From there it was a natural step to ecosystem toxicology and seeing water as a social justice mechanism. When she began working with Superfund programs at Dartmouth, she discovered a natural fit with her interest in applying science to improve life and solve problems.
She also found a path to collaborative team science, with a multidisciplinary focus that also promoted diversity, creating new opportunities for women and minorities. The transition from Superfund research on toxic metals to applications in children's health was seamless, when Dartmouth established a Children's Environmental Health and Disease Prevention Research Center with funding from NIEHS and the U.S. Environmental Protection Agency.
Almost two decades after joining Dartmouth, Folt found her place as a leader when she was appointed dean of graduate studies and associate dean of the faculty for interdisciplinary programs in 2001. She was named Dartmouth's dean of the faculty in 2004, acting provost in 2009, provost a year later, and interim president in 2012. She took office as UNC's 11th chancellor in July 2013, at a critical point in the flagship university's history.
Looking ahead
"The future rests on big ideas," Folt said as she introduced an impressive catalogue of heroes, role models, and Carolina Firsts, both male and female. They ranged from Dartmouth chemist Karen Wetterhahn, Ph.D., who died of accidental methyl mercury poisoning in the course of her Superfund research, to current compelling thinkers Daphne Koller, Ph.D., Muhammed Yunus, Ph.D., and Bill and Melinda Gates.
"We've still got a long way to go," Folt conceded in response to a question from the audience. But it was clear she is hopeful and confident about the future — for diversity and inclusion, multidisciplinary scientific inquiry, and the evolution of higher education to meet current and emerging challenges.