Whole Issue PDF
This issue's PDF is still being created and should be available 3-5 business days after the first of the month. Please check back in a few days.
EMGS honors Barbara Shane and Martyn Smith
By Eddy Ball

The Environmental Mutagenesis and Genomics Society (EMGS) presented 2014 awards to retired National Toxicology Program (NTP) toxicologist Barbara Shane, Ph.D., and NIEHS grantee Martyn Smith, Ph.D., during its annual meeting this fall in New Orleans.
The society honored Shane, who was executive secretary for the NTP Board of Scientific Counselors 2003-2009, with the 2014 EMGS Service Award in recognition of her longstanding dedication and service to the society. Shane has served as treasurer since 2008 and was a councilor in the late 1990s. She is currently a private consultant in toxicology.
Smith was recognized for his outstanding contributions to the field of environmental toxicology with the 2014 EMGS Alexander Hollaender Award. The society pointed to his contributions on the mechanisms of benzene toxicity, applying omic technologies in human population studies, and in promoting the exposome paradigm.
"I'm very proud of the EMGS awards presented to Barbara and Martyn," said NIEHS and NTP Director Linda Birnbaum, Ph.D. "It reflects well on the winners' achievements and on the programs that supported their outstanding work."
Toxicology in the boardroom and at the bench
Prior to joining NTP, Shane was a professor of toxicology in the Institute for Environmental Studies at Louisiana State University. In 2000 she was elected as a Fellow of the American Association for the Advancement of Science. That same year, she joined Integrated Laboratory Systems in Research Triangle Park, North Carolina, where she directed an NIEHS-funded contract on the evaluation of in vitro assays to screen and identify endocrine-disrupting compounds.
During her tenure at NTP, Shane was responsible for managing scientific peer review and developing reports and documents that describe NTP scientific programs and priorities. She also provided information and communication concerning NTP scientific programs to other NTP member agencies and the public. Besides EMGS, she has served on committees in the Society of Toxicology and the Genetic and Environmental Mutagenesis Society.
Smith is a professor of toxicology in the University of California, Berkeley School of Public Health and has been director of the NIEHS-funded Superfund Research Program there since 1987. He is a collaborator on numerous other projects examining emerging technologies to develop biomarkers for human studies, improve chemical detection, and facilitate waste remediation.
A leading authority in the field of exposure biology, Smith and colleague Stephen Rappaport, Ph.D., published a high-profile perspective on environmental health study design in Science. The article, "Environment and Disease Risks," presented a compelling argument that a more complete and objective picture is needed in order to help scientists discover the major causes of chronic diseases by better accounting for an individual's total environmental exposure, or exposome.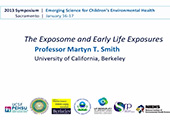 play linked multimedia clip
Download Media Player: Flash http://get.adobe.com/flashplayer/