Whole Issue PDF
This issue's PDF is still being created and should be available 3-5 business days after the first of the month. Please check back in a few days.
Summer intern earns national recognition
By Melissa Kerr

Even though he is still a high school senior, NIH summer intern William Ge is already taking big strides toward an impressive scientific career. He was chosen as one of three hundred semifinalists in the 2013 Intel Science Talent Search (STS), the nation's oldest and most prestigious precollege science competition. Ge was one of just six NIH summer interns who made the grade.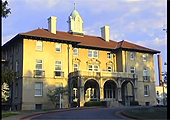 play linked multimedia clip
Download Media Player: Flash http://get.adobe.com/flashplayer/
"It felt good seeing that the work I've done has been validated by people who are big in the field," said Ge, a senior at the North Carolina School of Science and Mathematics (NCSSM) in Durham, N.C., one of 17 constituent institutions of the University of North Carolina system.
This science competition, previously known as the Westinghouse Science Talent Search, was started in 1942 by the Society for Science and the Public. Since 1998, Intel has sponsored this national competition, which this year recognized 1,700 of America's most promising high school seniors and their achievements in science, technology, engineering, and math.
Seven previous Intel STS finalists have gone on to win the Noble Prize. According to Intel's website, the company is honored to be a part of this competition's 70-year history of inspiring scientific advancement. The 40 STS finalists competed for $630,000 in prizes, and the first place finalist received a cash prize of $100,000 from the Intel Foundation.
NIEHS fosters curiosity and initiative
Ge spent this past summer interning in the NIEHS laboratory of Michael Fessler, M.D., who leads the Clinical Investigation of Host Defense Group and the Environmental Innate Immunity Group in the Clinical Research Program. Fessler was impressed by the young scientist.
"[Ge] was certainly interested in immersing himself into what we were doing," Fessler explained. "He had the confidence and maturity to develop his own ideas and to ask questions of the team."
During his summer in Fessler's lab, Ge was involved in attempting to further understand, within human blood, the relationship between the protein Apolipoprotein E and cytokine populations from inflammatory responses (see text box). Ge said he enjoyed his first experience of working with some independence on a project, and he was surprised by the latitude he was given in fulfilling the requirements of the experiment in Fessler's lab. "It was a very insightful experience," Ge said.
Growing up with science
Ge has lived a varied life, thus far. He was born in Indianapolis, has had extended stays with his grandparents in China, and lived with his parents in several American locations, including Michigan, Oregon, and various places within the Triangle region of North Carolina. He feels his parents allowed him the freedom to pursue whatever interests he had as he was growing up. He believes that his aptitude for science has fed his interest in the field.
Many of Ge's extracurricular activities involve environmental science in some way. He is involved with the Envirothon and the National Ocean Sciences Bowl. He also participates in a program called Science Days, where he visits local elementary schools to have fun with hands-on experiments, in order to foster the interest of young students in science.
Although he has already been accepted to a few colleges, he has yet to make a final decision as to where he is going. He also is trying to determine exactly what he will focus on in his college years — engineering and problem application or health. "I've been more interested in researching environmental health and environmental engineering," he explained. He said he is leaning more towards the health aspect, because of how much of an issue it is for his generation of scientists.
(Melissa Kerr studies chemistry at North Carolina Central University and is an intern in the NIEHS Office of Communications and Public Liaison.)
A summer of discovery at NIEHS
Apolipoprotein E is a lipid-trafficking and immunomodulatory protein that is polymorphic in humans, with three well-described wild type (APOE3) and disease-associated (APOE2, APOE4) alleles. While APOE4 has been associated with increased risk for Alzheimer's disease and cardiovascular disease, and has been proposed to be proinflammatory, its effect on immune responses of primary human cells has never been defined.
During his summer internship, Ge organized blood collection from APOE3/APOE3 and APOE3/APOE4 healthy human donors in the NIEHS Clinical Research Unit, and was able to confirm in an ex vivo whole blood assay that APOE3/APOE4 whole blood, compared with APOE3/APOE3 whole blood, displays twofold to threefold higher induction of a broad panel of cytokines in response to Toll-like receptor (TLR) 2, TLR4, and TLR5 agonists. This suggests that APOE4 may be a central genetic determinant of multiple innate immune signaling cascades in humans.