Environmental Factor, October 2011, National Institute of Environmental Health Sciences
Menthol may promote nicotine addiction
By Raluca Dumitru
October 2011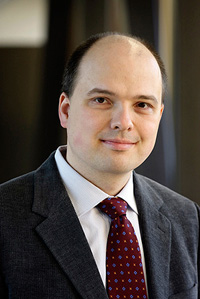 Jordt was a member of the first class of NIEHS Outstanding New Environmental Scientist awardees and winner of the prestigious Presidential Early Career Awards for Scientists and Engineers for his outstanding research on the effects of environmental irritants in airway diseases and inflammation. (Photo courtesy of Steve McCaw)
Respiratory experts know and most smokers agree that cigarette smoking is addictive, but research from an NIEHS grantee (http://projectreporter.nih.gov/project_info_description.cfm?aid=8115170&icde=0)

determined that nicotine may not be the only culprit involved in getting smokers hooked on cigarettes.
Sven-Eric Jordt, Ph.D., an associate professor in the Department of Pharmacology at the Yale University School of Medicine, found that menthol, a common cigarette additive, may encourage smokers to smoke more because it shuts down the body's coughing mechanism. His findings appeared online (http://www.ncbi.nlm.nih.gov/pubmed/21903934)

in the Sept. 8 issue of The FASEB Journal, and could help smokers understand why their habit is so hard to break.
"Almost all 'regular' cigarettes contain some menthol, while brands marketed as mentholated represent 30 percent of the cigarette market," Jordt said. "Our work suggests that the addition of menthol likely reinforces smoking behavior even when added in small amounts."
Making smoking easy
Menthol is the cooling agent in peppermint, and Jordt (http://medicine.yale.edu/ysm/sven_jordt.profile)

used a mouse model to study its effects on sensory irritation. He and his collaborators showed that menthol acts through the chemical receptor TRPM8 in the airway-innervating nerves and exerts counterirritant effects. In other words, since coughing is the usual response to the inhalation of an irritant, smoking a soothing menthol cigarette allowed the mice to breathe in more smoke. This action may facilitate exposure to higher levels of nicotine and tobacco toxicants, which can lead to rapid nicotine addiction. In contrast, when menthol was omitted from these studies, mice had a much harder time inhaling tobacco smoke irritants and, as a consequence, exhibited a lowered respiratory rate, the mouse response to irritation in the lung.
Jordt said that one of the major technical challenges in this study was the design of an exposure system that allowed the mice to breathe in vaporized menthol and selected cigarette smoke irritants in a way that produced accurate and reproducible exposures. Such a system required tight control of airflow, mixing, vaporization of menthol and irritants, and highly accurate gas sampling and analytics.
"Thanks to the ingenuity of our collaborator, John Morris, Ph.D. (http://pharmacy.uconn.edu/index.php/faculty/john-morris)

, a professor of Pharmacology and Toxicology and assistant dean for Research in the School of Pharmacy at the University of Connecticut in Storrs, Conn., we overcame these technical challenges," Jordt added. "Dr. Morris' expertise in inhalation toxicology really enabled this project from the beginning."
Menthol encourages younger smokers
Jordt's findings suggest that the presence of menthol in cigarettes has devastating consequences for young people because it eases their transition to becoming hardcore smokers. Coupled with the grim health statistics (http://www.cdc.gov/tobacco/data_statistics/fact_sheets/health_effects/effects_cig_smoking/)

from the Centers for Disease Control and Prevention (CDC) on the negative health impacts of smoking, researchers and public health officials can work together to decrease smoking-related illnesses in the U.S. by educating young adults on the dangers of trying that first cigarette.
Jordt said, "From the onset of our study, we were especially intrigued by the fact that young beginning smokers strongly favor mentholated cigarettes and that the tobacco industry has increased marketing efforts and designed specific products directed at this population. We hope that our new study will be considered in the FDA [U.S. Food and Drug Administration] assessment of the impact of mentholated cigarettes."
In addition to funding by NIEHS, this study was supported by grants from the National Heart and Lung Institute (http://projectreporter.nih.gov/project_info_description.cfm?aid=8022797&icde=0)

and the American Asthma Foundation.
Citation: Willis DN, Liu B, Ha MA, Jordt SE, Morris JB (http://www.ncbi.nlm.nih.gov/pubmed/21903934)

. 2011. Menthol attenuates respiratory irritation responses to multiple cigarette smoke irritants. FASEB J; doi:10.1096/fj.11-188383 [Online 8 September 2011].
(Raluca Dumitru, M.D., Ph.D., is an Intramural Research Training Award fellow in the Stem Cell Biology Group in the Molecular Carcinogenesis Laboratory.)
"Meyer returns to NIEHS..." - previous story


next story - "Superfund study examines carcinogenicity..."
October 2011 Cover Page

Back to top