Environmental Factor, November 2011, National Institute of Environmental Health Sciences
NIEHS holds community forum in LA
By Eddy Ball
November 2011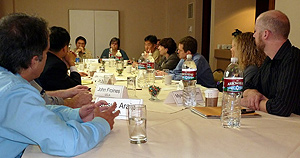 The NIEHS delegation began its visit by meeting with grantees invited from USC, UCLA, and the California Institute of Technology. (Photo courtesy of John Schelp)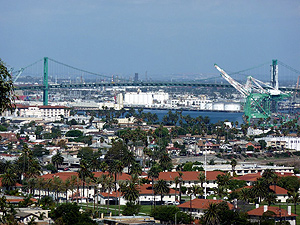 The ports are big and getting bigger, estimated to double within the next five years. People in the area live, work, learn,and play exposed to high levels of traffic emissions from nearby roads and docks. (Photo courtesy of John Schelp)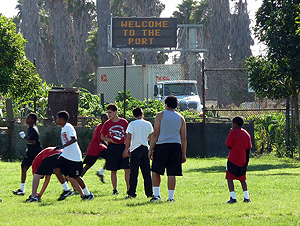 A former nurse at the Hudson School in Long Beach, one stop on the NIEHS tour, estimated that the asthma rate there is nearly25 percent. These young men play - and breathe deeply - just a few yards away from passing trucks. (Photo courtesy of John Schelp)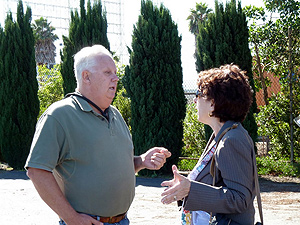 Birnbaum was looking for facts, and the vice president of the West Long Beach Association, left, was ready to oblige, bytalking about truck traffic in his community. (Photo courtesy of John Schelp)
By all accounts, the NIEHS community forum in Los Angeles (LA) Oct. 6 exceeded expectations, as residents turned out tovoice their concerns about air pollution. The forum was sponsored by NIEHS and the Southern California Environmental Health Sciences Center at the University of Southern California (USC).
Headed by NIEHS/NTP Director Linda Birnbaum, Ph.D., scientists and officials from NIEHS, grantees from USC and the Universityof California, Los Angeles (UCLA), and area government and nonprofit organizations gathered for a day of information sessions,a harbor communities' tour, and a well-attended community forum, "Traffic Pollution and Your Health." The busyschedule took the delegation to several sites along the transportation corridors stretching from Long Beach to East LA, wherepollution from trucks, ships, trains, and other diesel-powered sources pose health concerns for residents and students inhomes and schools adjacent to the docks and highways.
The NIEHS community forum was covered in a feature article (http://www.environmentalhealthnews.org/ehs/news/2011/1008a-toxic-tour-of-la)

by Environmental Health News (EHN) Editor-in-ChiefMarla Cone about it, which also appeared in Scientific American (http://www.scientificamerican.com/article.cfm?id=us-neighborhoods-struggle-with-health-threats-from-traffic-pollution)

. Looking back on her experience as part ofthe NIEHS delegation, Legislative Liaison Mary Gant expressed the feelings of her colleagues when she said, "Thiswas truly one of our best town meetings."
A firsthand look at traffic pollution
The visit began the morning of Oct. 6 with meetings between NIEHS representatives and area researchers supported by NIEHSair pollution, neurotoxicology, gene-environment interaction, and worker training and safety grants.
That afternoon, Birnbaum and the NIEHS delegation joined NIEHS-funded center investigators on a two-hour bus tour throughSan Pedro, Wilmington, West Long Beach, and along I-710 north to the city of Commerce. The tour included the two largestports in the U.S., which are often described as the economic engine of Southern California with some 40 percent of the entirenation's goods transported through their facilities. Despite efforts to reduce emissions from the heavy volume of traffic,the rapidly growing ports are the largest single source of pollution in the multicounty South Coast Air Basin.
Hearing from the community
The visit came to its culmination later in the evening at the community forum at Progress Park Plaza in Paramount, Calif.,where Birnbaum spoke, along with USC grantees Andrea Hricko, Ed Avol, M.D., and Frank Gilliland, M.D., Ph.D. A panel ofofficials from area government and nonprofit organizations helped field questions from the audience.
In her brief talk, Birnbaum described NIEHS-funded research in California, where the institute spent $66 million on grantslast year, nearly a third of it in the LA area. "Seeing what's going on in the community," she said of her tourearlier in the day, "it really struck home how important our efforts are to look at the environment and how it mayinfluence the health of our children, our parents, and ourselves."
The audience of some 100 residents showed their concerns about the traffic volume, with hundreds of trucks travelingthe Terminal Island Freeway each hour, and the effects of fine-particle air pollution on their health. Several mothers spokeabout the high rates of asthma along the corridor.
While people at the forum wanted to hear about action, they were also grateful for the research funded by NIEHS to makethe cause-and-effect relationship of pollution and health outcomes clearer for a stronger public health initiative. "Iwant to thank you for your research and your studies," said one community representative from Boyle Heights, a neighborhoodeast of LA. "That's the power we have."
(For additional photos of the grit and glitter of LA, view a slideshow by John Schelp, NIEHS Office of Science Educationand Diversity posted online (https://picasaweb.google.com/116447716704088037734/LosAngelesOct201102?authkey=Gv1sRgCK3e1dfkqd2oWw#slideshow/5661931139252495938)

. To navigate through the slides, click onthe black space beneath each photo.)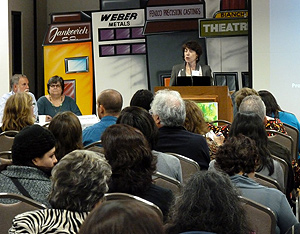 Birnbaum communicated NIEHS concern about the effects of poor air quality on health and the Institute's substantial financialcommitment to helping find a solution. Seated to her right, facing the audience, are Hricko, right, and Gilliland, left. (Photo courtesy of John Schelp)
The audience was a tightly packed cross section of the population living along the LA-Long Beach corridor, but if any singlegroup stood out it was the mothers. Many of them were vocal about fears for their children's health. (Photo courtesy of John Schelp)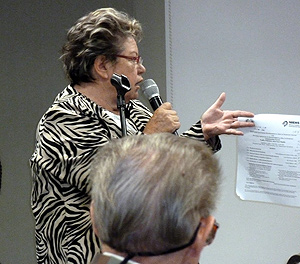 According to the speaker from Boyle Heights, people in the community, where a number of major thoroughfares cross, oftensay, "All freeways lead to Boyle Heights." (Photo courtesy of John Schelp)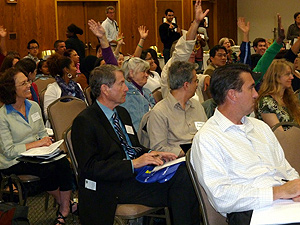 Attendees responded with a show of hands, when asked how many lived near the ports. (Photo courtesy of John Schelp)
"Return to Index..." - previous story


next story - "NIEHS aids the global..."
November 2011 Cover Page

Back to top