Environmental Factor, November 2011, National Institute of Environmental Health Sciences
Training program celebrates 15-year investment in environmental justice
By Ian Thomas
November 2011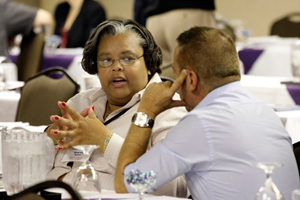 Beard is shown talking environmental justice with attendee Alexander Prentzas of OAI, Inc., at an earlier WETP workshop. She moderated a plenary session on "Environmental Justice and Good/Green Jobs for All." (Photo courtesy of Steve McCaw)
The NIEHS Worker Education and Training Program (WETP) (https://www.niehs.nih.gov/careers/hazmat/about_wetp/), led by Industrial Hygienist Sharon Beard, in conjunction with the Environmental Justice Committee and the American Public Health Association, held a nationwide webinar Oct. 13 to recognize the latest achievements of the Minority Worker Training Program (MWTP). As a collection of government-funded training programs, MWTP oversees projects designed to educate, train, and open career opportunities for socially disadvantaged individuals in the fields of environmental construction and hazardous waste remediation.
The webinar, titled "Environmental Justice and Hazarous Waste Worker Training Programs: 15 Years of Investment in Environmental Justice," featured guest speakers from across the MWTP landscape, including federal employees tasked with program governance, as well as private sector and nonprofit personnel responsible for the on the ground training and evaluation.
Addressing health and safety needs of low-income workers
"Many of the people we work with have an increased risk of injuries, illness, and mortality, because they often work in the dirtiest of jobs," said Beard, a longtime member of WETP. "Because of their low-income status, they oftentimes lack the kind of formal training necessary to be able to perform those jobs safely and in some cases, they even lack the proper safety and protective gear."
Since 1996, the MWTP has trained nearly 5,500 employees, 67 percent of whom went on to full-time employment in their respective areas.
Tim Fields, the senior vice president of MDB, Inc.'s environmental justice practice and the webinar's second speaker said, "These programs provide low-income residents with the knowledge and training they need to not only gain employment, but also begin addressing the environmental concerns in their own communities."
Looking ahead, environmental justice specialists agree that, while much good has come from programs under the MWTP banner, there is still much to be done. With 20 nonprofit organizations and more than 100 universities, labor-safety programs, and institutions already on board, WETP continues to expand and create job opportunities for minorities in the environmental cleanup field.
"This year, our grantees were offered a combined 281 courses worth of training," Beard explained. "That comes out to roughly 156,000 contact hours with students, and there is still more to do. In the fight against social and health disparities, helping to create more opportunities for low-income and disadvantaged individuals is the key to changing people's lives for the better."
Also speaking at the webinar were Donald Killinger of The New York City District Council of Carpenters and Kizetta Vaughn of The Center for Construction Research and Training.
(Ian Thomas is a public affairs specialist with the NIEHS Office of Communications and Public Liaison.)
"Breast cancer panel moving..." - previous story


next story - "NIEHS grantees collaborate with..."
November 2011 Cover Page

Back to top