Environmental Factor, November 2011, National Institute of Environmental Health Sciences
Workshop confronts challenges of mixtures research
By Robin Mackar
November 2011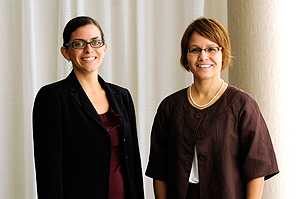 Rider, left, and Carlin brought the expertise of their divisions, DNTP and DERT, to successfully organize the NIEHS Workshop "Advancing Research on Mixtures: New Perspectives and Approaches for Predicting Adverse Human Health Effects" at the Sheraton Chapel Hill Hotel. (Photo courtesy of Steve McCaw)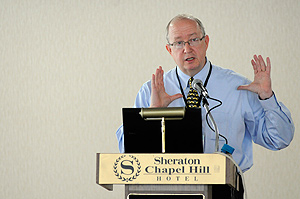 Price's presentation on day one of the mixtures workshop left no doubt that he knows a thing or two about developing models to assess exposure to multiple chemicals. (Photo courtesy of Steve McCaw)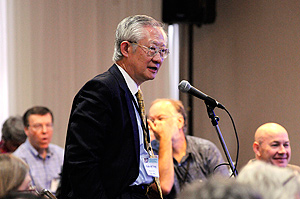 Toxicologist Raymond Yang, Ph.D., now at Colorado State University, offered much input about how to apply computer applications to toxicology throughout the two-day meeting. He appeared to be enjoying his time visiting with his former colleagues at NIEHS/NTP. (Photo courtesy of Steve McCaw)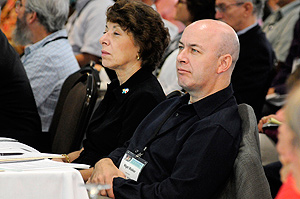 Birnbaum, left, and Nigel Walker, Ph.D., DNTP deputy division director for science, listened intently as speakers offered their perspectives on how to advance research on mixtures. (Photo courtesy of Steve McCaw)
Improving how research on mixtures of chemicals is conducted is a theme being discussed at meetings across several continents, but the Sept. 26-27 NIEHS "Advancing Research on Mixtures" workshop in Chapel Hill, N.C. really brought the issue front and center by marshalling leading experts to address this enormous challenge.
During welcoming remarks, John Bucher, Ph.D., director of the NIEHS Division of the National Toxicology Program (DNTP), emphasized that research on mixtures has to be attacked with a new path and pace. Bucher said, from a toxicology perspective, "[It is the] bravest of the brave of us who were trying to tackle mixtures research, but it's time to tap into our new understanding of this problem, take advantage of new technologies, and really ask ourselves what we can do to advance this field" - a sentiment echoed throughout the meeting.
Broad-based perspectives
"This workshop is designed to help not only the NIEHS intramural and extramural divisions develop a mixtures research strategy, but other scientific communities, as well," said workshop co-chair Cynthia Rider, Ph.D., of the DNTP, as she kicked off the meeting.
The first morning was filled with insightful talks that brought everyone up to speed on the current approaches and some of the major challenges in a variety of disciplines ( see text box).
Co-chair Danielle Carlin, Ph.D., from the NIEHS Division of Extramural Research and Training (DERT), thanked the speakers and led the charge for the five breakout sessions aimed at developing and ranking a comprehensive, discipline-based list of knowledge gaps in mixtures research. Representatives from DERT, NTP, and the NIEHS Division of Intramural Research (DIR) participated in each of the workgroups.
Multidisciplinary focus
Linda Birnbaum, Ph.D., NIEHS/NTP director, opened the second day with some inspirational words. "We live in a world of mixtures. We can't keep looking at one chemical at a time," said Birnbaum. "We have so many great minds gathered here. Let's try to think outside the box. Let's use our interdisciplinary expertise to get this field moving forward."
Plenary sessions the second day focused on innovative approaches for studying mixtures ( see text box).
Claudia Thompson, Ph.D., of DERT, provided the charge for multidisciplinary breakout sessions that were each given a key topic in mixtures research. Topics included modeling mixture toxicity, making better use of exposure data, integrating ideas from toxicology and epidemiology, using high-throughput approaches to assess chemical interactions, and consideration of mixtures across time.
Next steps
NIEHS Deputy Director Rick Woychik, Ph.D., closed the meeting by talking about next steps. He provided an update on the NIEHS strategic planning process and showcased how the themes heard throughout the mixtures meeting dovetail with many themes emerging in the strategic planning process.
Better technologies for characterizing mixtures, such as furthering the development of subdermal chips and iPhone apps, developing innovative strategies for analyzing and modeling the biological effects of mixtures from both a bottom-up and top-down approach, and looking at total exposure, including all routes, sources, and chemicals, both inside and outside the body, are some of the themes Woychik mentioned coming out across sessions.
"Now is the prime time to be working your research recommendations into our strategic planning process," Woychik said. He also mentioned that a workshop report will be prepared.
(Robin Mackar is the news director in the NIEHS Office of Communications and Public Liaison.)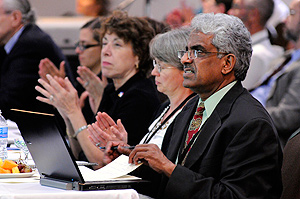 Representatives from other federal agencies, including Moiz Mumtaz, Ph.D., from the Centers for Disease Control and Prevention Agency for Toxic Substances and Disease Registry, were invited to provide input as NIEHS works to develop a crosscutting mixtures research strategy. (Photo courtesy of Steve McCaw)
Woychik not only provided input throughout the workshop, but also gave closing remarks, which summarized some of the major themes emerging across the breakout sessions. He stressed that NIEHS would incorporate the information gained at the meeting in the future NIEHS mixtures research agenda. (Photo courtesy of Steve McCaw)
Workshop speakers
Day one:
Glenn Rice, Ph.D., a risk assessment expert at the U.S. Environmental Protection Agency (EPA), described whole mixture and component-based risk assessment approaches, and highlighted data needs, including increased chemical analysis of complex mixtures and more work at environmentally relevant dose levels.
Paul Price, from The Dow Chemical Company, provided an overview of mixtures issues from the exposure science perspective. He emphasized the need to use exposure data in the design of toxicological and epidemiological studies and the use of new modeling tools to prioritize mixtures for study.
Earl Gray, Ph.D., a reproductive biologist and toxicologist at EPA, encouraged researchers to start shifting away from looking at mechanisms of individual chemicals, to focusing more on target pathways and tissues affected by multiple chemicals.
David Christiani, M.D., of Harvard University, provided the epidemiological perspective, by showcasing examples where epidemiologists are already contributing to mixtures research, including papers about the Tar Creek Superfund Site, and research on air pollutants and mortality, where the exposures are known, but the effects on populations are not fully understood.
Chris Gennings, Ph.D., of Virginia Commonwealth University, discussed the role that statistical approaches can play in predicting the toxicity of chemical mixtures. She described some of her recent work to assess sufficient similarity of complex mixtures.
Day two:
Paige Tolbert, Ph.D., of Emory University, discussed the use of multipollutant models in epidemiological studies of air pollution.
Andreas Kortenkamp, Ph.D., of the University of London, emphasized the need for toxicologists and epidemiologists to work together to solve mixtures challenges.
Chirag Patel, Ph.D., of Stanford University, presented a novel approach for linking exposure to disease through the use of environment-wide association studies.
"NIEHS workshop tackles erionite-linked..." - previous story


next story - "Superfund study shows arsenic..."
November 2011 Cover Page

Back to top