Environmental Factor, November 2011, National Institute of Environmental Health Sciences
Upcoming Falk lecturer Danny Reinberg
By Angelika Zaremba
November 2011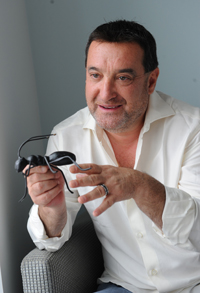 Reinberg, one of the leading scientists in the field of epigenetics, received the Faculty Research Award from the American Cancer Society. He holds a sculpture of an ant, an unusual, but informative, model for studying modifications in gene expression. . (Photo courtesy of NYU)
Epigenetic biochemist Danny Reinberg, Ph.D., will present this year's annual Hans Falk Lecture Nov. 29 at NIEHS. Hosted by NIEHS deputy director Rick Woychik, Ph.D., Reinberg will provide insights into epigenetics research with his talk on "Molecular Mechanisms of Epigenetic Inheritance."
Reinberg (http://www.med.nyu.edu/biochem/ReinbergLab/HTML/research.html)

is a professor in the Department of Biochemistry at the New York University (NYU) School of Medicine. After completing his B.S. in Chile, he completed a doctorate in molecular biology at the Albert Einstein College of Medicine in New York. In 1986, he became an independent investigator at the University of Medicine and Dentistry of New Jersey. In 2006, Reinberg received an appointment as a Howard Hughes Medical Institute investigator (http://www.hhmi.org/research/investigators/reinberg_bio.html)

. That same year, he moved to NYU to continue pursuing his passion for exploring the biochemistry of gene expression.
Reinberg's team is focusing on the molecular mechanisms of epigenetics. This field of science is defined as the study of the extra-genetic information that gives rise to different patterns of gene expression that distinguish different cells and influence phenotype. The research team is using mice and ants as model systems to study epigenetic modifications. Reinberg hypothesizes that, like other multicellular organisms, similar mechanisms are at work at the organism level in ants to establish and maintain an individual identity for their respective roles in the colony and give rise to distinct cell identities.
Gene expression pattern regulation is also an important factor in different diseases, such as cancer, that may be caused, at least in part, by environmental factors. Woychik said of his guest, "Dr. Reinberg has been a leader in the field of studying the biochemistry associated with changes in chromatin structure that drive epigenetic regulation of the genome. With the increasing interest in understanding the influence of the environment on epigenetic regulation of gene expression, his research is highly relevant to the work at NIEHS."
Hans Falk, Ph.D., joined NIEHS in 1967 and made important contributions to the emerging field of environmental health science during his career as the Institute's first scientific director. Initiated by scientists and friends of Falk, the annual memorial lecture series features noted guest speakers who have made significant contributions to environmental health science research, among them several Nobel Prize winners.
(Angelika Zaremba, Ph.D., is a visiting postdoctoral fellow in the NIEHS Laboratory of Signal Transduction Inositol Signaling Group.)
"This month in EHP..." - previous story


next story - "Registration open for upcoming..."
November 2011 Cover Page

Back to top