Environmental Factor, November 2011, National Institute of Environmental Health Sciences
Collaboration yields important findings for lung function
By Robin Arnette
November 2011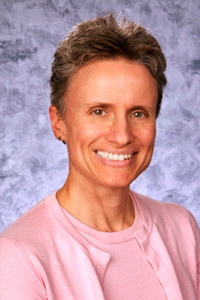 London holds dual appointments in the NIEHS Epidemiology Branch and the Laboratory of Respiratory Biology. (Photo courtesy of Steve McCaw)
Joubert is a research fellow in the Epidemiology Branch. (Photo courtesy of Steve McCaw)
By combining two large genome-wide association studies (GWAS), a team of researchers has found 16 new loci or specific locations on genes that are responsible for determining proper lung function. The results came from the more than 48,000 individuals who participated in SpiroMeta, a European-based consortium, and Cohorts for Heart and Aging Research in Genomic Epidemiology (CHARGE), a consortium based in the U.S. The results appeared online (https://www.ncbi.nlm.nih.gov/pubmed/21946350)

Sept. 25 in the journal Nature Genetics.
"The finding basically opens doors into pulmonary pathophysiology," said NIEHS senior researcher Stephanie London, M.D., Dr.P.H. (https://www.niehs.nih.gov/research/atniehs/labs/iidl/pi/gen-epi/index.cfm), co-author on the paper and an organizer for the pulmonary function group within the CHARGE Consortium. "It allows us to study what could go wrong in the lung, as well as understand normal lung development."
The research team prevented experimental duplication and produced twice as much data by putting both consortia together. London explained that increasing the sample size boosted statistical power and enabled the scientists to find things they wouldn't have ordinarily found in their half of the data.
Take a deep breath
London said the team used a machine that measured two parameters that are standard clinically used methods for testing normal lung function. Participants were instructed to breathe in and blow out into the machine as hard as they could. The amount exhaled in the first second was the first parameter called forced expiratory volume in one second or FEV1. When participants kept blowing until they couldn't blow anymore, the researchers had a measure of the total amount of exhaled air called forced vital capacity, or FVC.
The data set contained approximately 2.5 million single nucleotide polymorphisms (SNPs) from subjects participating in one of 23 epidemiological studies. The highest ranking SNPs in the top loci underwent follow-up replication studies. The resulting 16 novel gene loci are important, according to London, because they expand the list of gene targets involved in determining normal or abnormal lung function.
Although the results represent a substantial leap in pulmonary research, today's lung specialists aren't going to put this work into practice just yet.
"From a clinical point of view, these are modest size effects," London added, "but the doctors of the future might prescribe medications for pulmonary disease based on knowledge that could come out of these discoveries."
Epidemiology research on a global scale
London said large collaborations can generate a wealth of worthwhile information, but many people don't realize the amount of work that goes into one of these projects. One of the main points is having a high level of coordination, not just between lots of groups, but also between individuals within these groups. More than 150 authors appear on the article, with each of them playing a role in generating, analyzing, or interpreting the data ( see text box for more information).
One of these researchers, Bonnie Joubert, Ph.D., is a research fellow in London's group. Joubert considers herself fortunate to have worked with so many talented scientists. She said, "It is a privilege to be involved in a consortium of this size and scope because it offers important contributions to the fields of genetic epidemiology and respiratory disease."
London agreed that the final results were well worth the time and financial resources it took to produce them.
"Sometimes you hear scientists say, 'We spent all this money on GWAS and what have we really learned?,'" London said. "This research is an example in which we've really learned a lot from GWAS."
Citation: Artigas MS, Loth DW, Wain LV, Gharib SA, Obeidat M, Tang W, Zhai G, Zhao JH, Smith AV, Huffman JE, Albrecht E, Jackson CM, Evans DM, Cadby G, Fornage M, Manichaikul A, Lopez LM, Johnson T, Aldrich MC, Aspelund T, Barroso I, Campbell H, Cassano PA, Couper DJ, Eiriksdottir G, Franceschini N, Garcia M, Gieger C, Gislason GK, Grkovic I, Hammond CJ, Hancock DB, Harris TB, Ramasamy A, Heckbert SR, Heliövaara M, Homuth G, Hysi PG, James AL, Jankovic S, Joubert BR, Karrasch S, Klopp N, Koch B, Kritchevsky SB, Launer LJ, Liu Y, Loehr LR, Lohman K, Loos RJ, Lumley T, Al Balushi KA, Ang WQ, Barr RG, Beilby J, Blakey JD, Boban M, Boraska V, Brisman J, Britton JR, Brusselle GG, Cooper C, Curjuric I, Dahgam S, Deary IJ, Ebrahim S, Eijgelsheim M, Francks C, Gaysina D, Granell R, Gu X, Hankinson JL, Hardy R, Harris SE, Henderson J, Henry A, Hingorani AD, Hofman A, Holt PG, Hui J, Hunter ML, Imboden M, Jameson KA, Kerr SM, Kolcic I, Kronenberg F, Liu JZ, Marchini J, McKeever T, Morris AD, Olin AC, Porteous DJ, Postma DS, Rich SS, Ring SM, Rivadeneira F, Rochat T, Sayer AA, Sayers I, Sly PD, Smith GD, Sood A, Starr JM, Uitterlinden AG, Vonk JM, Wannamethee SG, Whincup PH, Wijmenga C, Williams OD, Wong A, Mangino M, Marciante KD, McArdle WL, Meibohm B, Morrison AC, North KE, Omenaas E, Palmer LJ, Pietiläinen KH, Pin I, Pola Sbreve Ek O, Pouta A, Psaty BM, Hartikainen AL, Rantanen T, Ripatti S, Rotter JI, Rudan I, Rudnicka AR, Schulz H, Shin SY, Spector TD, Surakka I, Vitart V, Völzke H, Wareham NJ, Warrington NM, Wichmann HE, Wild SH, Wilk JB, Wjst M, Wright AF, Zgaga L, Zemunik T, Pennell CE, Nyberg F, Kuh D, Holloway JW, Boezen HM, Lawlor DA, Morris RW, Probst-Hensch N; The International Lung Cancer Consortium; GIANT consortium, Kaprio J, Wilson JF, Hayward C, Kähönen M, Heinrich J, Musk AW, Jarvis DL, Gläser S, Järvelin MR, Ch Stricker BH, Elliott P, O'Connor GT, Strachan DP, London SJ, Hall IP, Gudnason V, Tobin MD (https://www.ncbi.nlm.nih.gov/pubmed/21946350)

. 2011. Genome-wide association and large-scale follow up identifies 16 new loci influencing lung function. Nat Genet; doi:10.1038/ng.941 [Online 25 September 2011].
More NIEHS connections
In addition to London and Joubert, two other researchers on the author list have ties to NIEHS. Dana Hancock, Ph.D., is a former postdoctoral fellow in the NIEHS Epidemiology Branch and is a special volunteer in London's group. She is currently a genetic epidemiologist in the Behavioral Health Epidemiology group at RTI International. Laura Loehr, M.D., Ph.D. (http://www.sph.unc.edu/?option=com_profiles&Itemid=6711&profileAction=ProfDetail&pid=701641979)

, was also an Epidemiology Branch postdoctoral fellow when she started working on the project and is now a research assistant professor at the UNC Gillings School of Global Public Health in Chapel Hill, N.C.
"High pesticide exposure associated..." - previous story


next story - "Stokes presents at international..."
November 2011 Cover Page

Back to top