Environmental Factor, November 2011, National Institute of Environmental Health Sciences
CFC charity fair and bake sale kick off 2011 campaign
By Eddy Ball
November 2011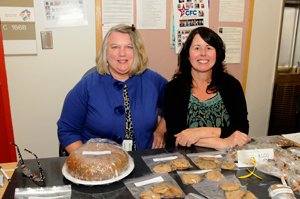 A popular stop for NIEHS employees and contractors passing through the halls was the baked goods table worked by CFC volunteers Judy Hanson, left, and Eli Ney. It featured cakes, cookies, and pies for sweet lovers and specialty pretzels for those who prefer salty treats. (Photo courtesy of Steve McCaw)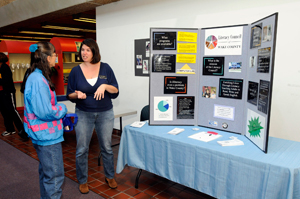 CFC volunteer Rachel Frawley, left, spoke with Nora Casper of the Literacy Council of Wake County about adult reading programs. (Photo courtesy of Steve McCaw)
The 2011 NIEHS Combined Federal Campaign (CFC) officially opened the 2 ½-month long fundraiser with a charity fair and bake sale Oct. 4 in the main building at NIEHS. By the final week of October, pledges were right on track, approaching half the $105,000 goal.
The campaign received enthusiastic support from leadership, with regular messages from NIEHS/NTP Director Linda Birnbaum, Ph.D., thanking employees for their generosity and encouraging pledges from procrastinators. "The online system and payroll deduction make it easy and painless to donate," she wrote in one message. "Of course, the CFC will gladly take cash or a check, too!"
A broad network of CFC volunteers followed up the campaign kick-off by selling raffle tickets for an iPad2 to be given away Nov. 18 and a three-day book, music, and video sale Oct. 25-27. The prices were right, as low as 50 cents for books on the final day, with a selection sure to appeal to almost any literary preference, from lurid thrillers and steamy romances to bloody final scenes of Shakespearean tragedies and the sensuous introspection of Marcel Proust.
With weather seemingly ordered for the occasion, the more athletic at NIEHS joined the annual CFC 5K run and 2-mile walk, for good-natured competition and fun with EPA employees. Blue skies, trees beginning to change color, and cool temperatures drew crowds to exercise, socialize, and, of course, make pledges.
With the month coming quickly to an end, CFC began a silent auction Oct. 26 of donated arts, crafts, stays at hotels, a weekend beach vacation, and tickets to entertainment. Volunteers held an ice cream social and costume contest Oct. 27 in the Keystone Building and Oct. 31 on the main campus, before entering the final stretch of the campaign, which comes to an end Dec. 15.
The final event will be November 18, when the final auction bids can be made, winners chosen, and the iPad2 raffle winner will be announced. Join your fellow employees to see the winners and enjoy another bake sale.
Remember, you can still use the online system or the paper pledge forms. Details about the remaining events and CFC division representatives are posted on the NIEHS CFC website.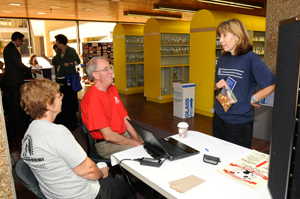 Not surprisingly, NIEHS veterinarian Terry Blankenship-Paris, right, found her way to Animal Rescue, where representatives were eager to talk about their program. (Photo courtesy of Steve McCaw)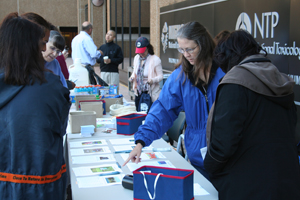 CFC co-chair Cindy Innes, center right, pointed to auction items at the 5K run and 2-mile walk table outside the main building at NIEHS. (Photo courtesy of Ron Cannon)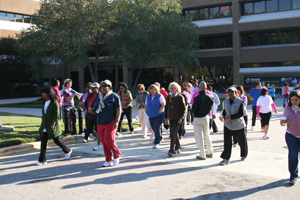 Birnbaum was on hand with her megaphone to work up enthusiasm, as the crowd gathered for the two-mile walk. (Photo courtesy of Ron Cannon)
With a starting call from Birnbaum, the 5K race was on. (Photo courtesy of Ron Cannon)
"Intramural papers of the..." - previous story


next story - "Seminar highlights accommodations for..."
November 2011 Cover Page

Back to top