Environmental Factor, March 2011, National Institute of Environmental Health Sciences
Workshop examines the role of air pollution on neural health
By Thaddeus Schug
March 2011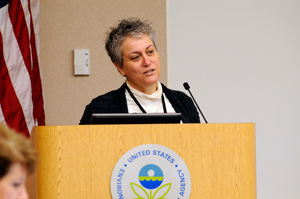 In her opening remarks, Collman mentioned that air pollution studies are an integral to both NIEHS and EPA and that she encourages collaborations between the agencies. (Photo courtesy of Steve McCaw)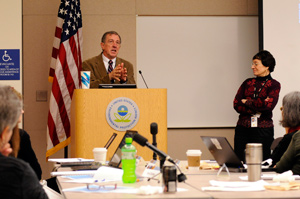 Kirshner, right, looked on as Costa answered questions from panelists following his keynote lecture. (Photo courtesy of Steve McCaw)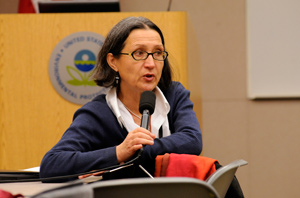 Epidemiologist, Beate Ritz, M.D., Ph.D., discussed how air pollution influences the development and progression of Parkinson's disease. (Photo courtesy of Steve McCaw)
NIEHS grantee Joel Kaufman, M.D., left, and Nadadur shared a laugh during panel discussions. Kaufman is a physician-epidemiologist and principal investigator on an NIEHS-funded Specialized Center for Research on Cardiovascular Disease and Traffic-Related Air Pollution at the University of Washington. (Photo courtesy of Steve McCaw)
NIEHS Acting Scientific Director David Miller, Ph.D., was a panelist on the group exploring the mechanisms of air pollution-induced neural disease. Miller's research focuses on the transport systems that shuttle xenobiotics across the blood-brain barrier. (Photo courtesy of Steve McCaw)
Investigators with expertise on air pollution and neurobiology gathered Feb. 2-3 at the US Environmental Protection Agency (EPA) to assess the state of the science in the field of air pollution and brain health effects, and to promote opportunities for research in this evolving research area. The workshop on "Air Pollution and Brain Health" was sponsored by the NIEHS Division of Extramural Research and Training (DERT) and attended by NIEHS grantees and other researchers, as well as NIEHS and EPA grant administrators.
In her welcoming remarks, DERT Director Gwen Collman, Ph.D., said, "The time is right to look at the neural components caused by air pollution across the full range of human development. We need to put all available data and resources on the table, and assess where we are with respect to indoor, outdoor, in vitro, in vivo, and human studies," she added. "Once we have identified the information gaps, we can move forward to develop new initiatives and resources to guide regulatory agencies," said Collman.
EPA National Program Director for Air Research Dan Costa, Sc.D., followed Collman with a keynote lecture covering what is known about the current standards and systems involving air pollution health effects. Costa reviewed the mounting evidence linking air pollution to neural dysfunctions, including a study that tied diesel exhaust to increases in cardiac arrhythmias in humans. "The nervous system plays a significant role as an arbitrator of systemic response, and environmental stressors such as particulate matter appear to have both direct and indirect influences on neuronal function."
The remainder of the agenda was divided into three sessions, in which groups moved sequentially from an overview of current understanding through a series of questions designed to probe the state of the science of air pollution for future research needs and implementation. Each of the sessions was facilitated by DERT Health Scientist Administrators with related research and administrative interests.
Workshop organizer Annette Kirshner, Ph.D., led the first group, which explored the most likely components of air pollution responsible for causing adverse effects on the nervous system and what is known physiologically about how these components access the brain. Several pollutants, including polycyclic hydrocarbons, black carbon, heavy metals, ozone, and roadside exhaust, were mentioned as potential airborne neural hazards.
The second group, led by Cindy Lawler, Ph.D., and Kimberly Gray, Ph.D., set out to determine the effects of air pollution on neural development during the critical windows of susceptibility. Much of the discussion centered on determining what mechanisms confer vulnerability - genetics, epigenetics, or the presence of multiple diseases.
The final group, led by Sri Nadadur, Ph.D., discussed the potential cellular and molecular mechanisms implicated in compromised brain function resulting from air pollutant exposure. Panelists engaged in a lengthy debate over the utility of current in vitro and in vivo modeling systems and human studies, and how they could be used to develop a better understanding of the mechanisms associated with air pollution-induced brain disease.
During the final summary session, discussion turned to ways NIEHS could advance the science of air pollution and brain health as well encourage optimal collaboration of researchers from different disciplines. Kirshner concluded, "I believe we have a much better understanding of the research gaps and the tools and resources needed to formulate a path forward." She added, "It is also clear that there is a real need to foster collaboration among all of you and to think about better integration and interdisciplinary research in the field."
(Thaddeus Schug, Ph.D., is a postdoctoral research fellow in the NIEHS Laboratory of Signal Transduction and a regular contributor to the Environmental Factor. He is currently on detail as a program analyst in the NIEHS Division of Extramural Research and Training.)
"DISCOVER grantees consider the..." - previous story


next story - "Olden speaks on urban..."
March 2011 Cover Page

Back to top