Environmental Factor, March 2011, National Institute of Environmental Health Sciences
NIEHS reaches out in New Orleans
By Eddy Ball
March 2011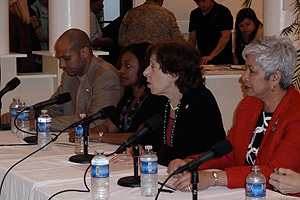 Birnbaum, second from right, joined panelists at the evening reception to hear concerns and questions voiced by members of the community impacted by Hurricane Katrina and the GOS. (Photo courtesy of John Schelp)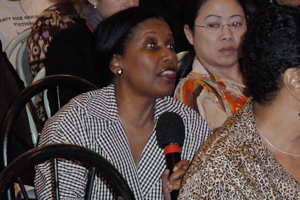 The audience took Birnbaum and fellow panelists at their word as they passed around a microphone so anyone who wanted to give input had an opportunity to be heard. (Photo courtesy of John Schelp)
The panel at Dillard University included, right to left, Wright, Birnbaum, Sandler, and, only partially visible, Hughes. (Photo courtesy of Jim Remington)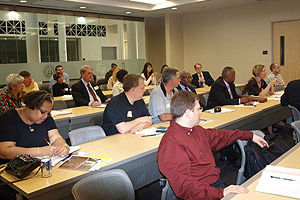 The audience at Dillard University included NIEHS staff and several grantees. (Photo courtesy of Jim Remington)
Today the city of New Orleans still has many reminders of the force of Hurricane Katrina and the frustrations of rebuilding the city. (Photo courtesy of John Schelp)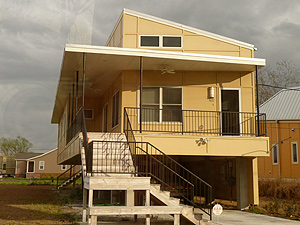 But there are also signs of the city's resilience, as people prepare their new and revitalized dwellings to face future threats from flooding. (Photo courtesy of John Schelp)
NIEHS/NTP Director Linda Birnbaum, Ph.D., and other representatives from the Institute engaged the New Orleans community during a visit to the city Feb. 23-24. The visit involved several meetings focused on local environmental health concerns and the NIEHS programs that address them including the Institute's multi-faceted response (https://www.niehs.nih.gov/about/od/programs/gulfspill/) to the Gulf oil spill (GOS).
The visit began with a luncheon dialogue hosted by the Bayou Interfaith Shared Community Organizing followed by a tour of the lower Ninth Ward in New Orleans, hosted by NIEHS grantees at Tulane University School of Public Health and Tropical Medicine. The NIEHS delegation also drove out to Terrebonne Parish where they listened to residents in the coastal town of Montegut.
Later, the NIEHS delegation attended an evening community forum Feb. 23, hosted by Mary Queen of Vietnam Community Development Corporation at Ba Mien Restaurant in New Orleans East. Birnbaum addressed more than 100 attendees as part of a panel of local, state and federal agency representatives.
Birnbaum described NIEHS programs launched in response to Hurricane Katrina and the GOS, Birnbaum noted that NIEHS grants in New Orleans totaled $4.6 million last year. She also praised collaboration among Gulf region scientists, community groups, and NIEHS, encouraging partners to offer NIEHS their input and share their grass-roots knowledge of their city and region.
"We want to hear what's going on," she explained. "See where we can build on the partnerships we have on the ground. That's what keeps us going. That's what helps drive our work in the community."
Birnbaum made a point of highlighting outstanding grantees, including Tulane University's Maureen Lichtveld, M.D. and Barry Dellinger, Ph.D., director of the Superfund Research Program at Louisiana State University (LSU).
As she did at each of the venues during the visit, Birnbaum emphasized interdisciplinary scientific research, interagency collaboration, and community engagement. "NIEHS hosted a series of community forums, stakeholder visits, webinars, and instructional meetings throughout the five-state Gulf region," she told her listeners, "in order to promote awareness, participation, and coordination for all of these programs among local residents, state and local health departments, regional universities and researchers, and federal agency partners."
During the evening forum, one attendee praised the NIEHS approach in the Gulf. "Thank you for the scientific focus of this study; it's critical," said Karen DeSalvo of the City of New Orleans Health Department.
The following day, Birnbaum joined NIEHS leads on the GOS response for an update and roundtable at the Deep South Center at Dillard University, where the Institute funds the Minority Worker Training Program directed by Beverly Wright, Ph.D. On hand at the meeting were NIEHS GOS leads, Chief Medical Officer Aubrey Miller, M.D., Epidemiology Branch Chief Dale Sandler, Ph.D., Worker Education and Training Program Director Chip Hughes, Acting Chief of the Susceptibility and Public Health Branch Claudia Thompson, Ph.D., and Director of Communications Christine Flowers.
The NIEHS delegation made an additional stop later that afternoon at the LSU Health Science Center School of Public Health for a meeting with Superfund site investigators and oil spill grant investigators to discuss ongoing work and future plans.
The visit to New Orleans was part of a series of community forums (https://www.niehs.nih.gov/about/community/communityforums/) Birnbaum began in 2009 when she began as director of NIEHS.
"Woychik talks about NIEHS..." - previous story


next story - "DISCOVER grantees consider the..."
March 2011 Cover Page

Back to top