Environmental Factor, March 2011, National Institute of Environmental Health Sciences
Birnbaum testifies on drinking water quality
By Eddy Ball
March 2011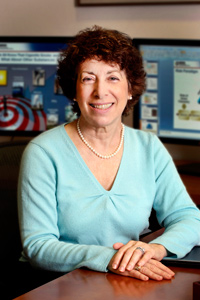 During her testimony, Birnbaum referred twice to the Congressionally mandated Report on Carcinogens, prepared by the NTP for the secretary of the U.S. Department of Health and Human Services. She noted that CrVI has been listed as a known human carcinogen since 1980 and that TCE was listed in 2005 as reasonably anticipated to be a carcinogen. (Photo courtesy of Steve McCaw)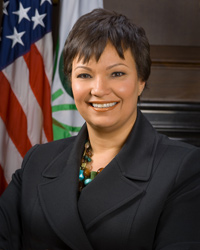 In her testimony (https://epw.senate.gov/public/index.cfm?FuseAction=Hearings.Testimony&Hearing_ID=c8713cf7-802a-23ad-4d51-bd8e2c8a7bd3&Witness_ID=d9783076-0a81-4f6a-895a-c34d7f21cc4d)

, Jackson maintained, "Strong science and the law will continue to be the foundation of our decision making at EPA. EPA takes its obligation to ensure the safety of the water supply very seriously and will continue to do all that we can, using sound science and the law, to protect people's health." (Photo courtesy of EPA)
NIEHS/NTP Director Linda Birnbaum, Ph.D., was back on Capitol Hill Feb. 2, testifying at a U.S. Senate "Oversight Hearing on Public Health and Drinking Water Issues." Along with U.S. Environmental Protection Agency (EPA) Administrator Lisa Jackson, Birnbaum testified as an expert witness in the first part of the full Committee on Environment and Public Works hearing (https://epw.senate.gov/public/index.cfm?FuseAction=Hearings.Hearing&Hearing_ID=c8713cf7-802a-23ad-4d51-bd8e2c8a7bd3)

chaired by Sen. Barbara Boxer, D-Calif.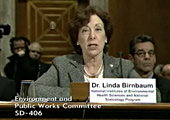 (https://epw.senate.gov/public/index.cfm?FuseAction=Hearings.LiveStream&Hearing_id=c8713cf7-802a-23ad-4d51-bd8e2c8a7bd3)
Play linked multimedia clip
Linked video
Watch Birnbaum's testimony from minute 59:55 to 67:13 (https://epw.senate.gov/public/index.cfm?FuseAction=Hearings.LiveStream&Hearing_id=c8713cf7-802a-23ad-4d51-bd8e2c8a7bd3)
(Launches in new window)
Download Media Player: Flash

(https://get.adobe.com/flashplayer/)
Jackson, the lead speaker at the hearing, opened with an explanation of the rationale and painstaking process behind the EPA decision to begin regulating perchlorate, a component of rocket fuel, and 16 other volatile organic compounds that can cause cancer at high enough doses. During questioning by the committee, Jackson defended her agency's plans to step up protection for the estimated 5 million to 17 million Americans exposed to perchlorate in their drinking water, which marks a reversal of Bush administration drinking water policies.
Birnbaum presented her testimony following Jackson's comments. Along with discussing perchlorate, she addressed health issues posed by hexavalent chromium, or Chromium VI (CrVI), and tricloroethylene (TCE), with several references to NIEHS-supported research on the chemicals' potential health effects and the development of novel techniques for testing and remediating them in drinking water. Birnbaum also responded to questions about study design and the rationale for the high doses of chemicals used in animal studies.
In her testimony on perchlorate, Birnbaum explained, "We're concerned about perchlorate, because it can affect thyroid function by inhibiting the transport of iodide into the thyroid. Iodide uptake is necessary for the normal production of thyroid hormones, which are essential in fetal and post-natal neurodevelopment."
Windows of susceptibility and the fetal basis of disease played into Birnbaum's testimony, as she articulated concerns about the chemical. "A series of papers from the CDC [the Centers for Disease Control and Prevention] and NIEHS between 2009 and 2011 confirmed that perchlorate levels in fetuses and infants compare with perchlorate levels in their moms," she continued. "At this point, we're not sure if low doses of perchlorate in drinking water result in harm to human development, but it's an important question."
After their testimony, Birnbaum and Jackson fielded questions from committee members. Most of the questions for Birnbaum were scientific, but in response to a question from Sen. Frank Lautenberg, D-N.J., she crossed into the public policy arena with a statement about right to know. "I certainly as a citizen, like everyone else in this room, would like to know what I'm drinking," she said.
As the committee moved into the second part of the hearing, Boxer, a long time advocate of protecting drinking water, thanked Birnbaum and Jackson as she observed, "I think that we'll be seeing a lot more of you both as we move forward in this Congress."
The hearing continued with testimony from Environmental Working Group President Ken Cook, representatives of municipal water systems serving Milwaukee, Wis., Norman, Okla., and Fairfax, Va., and Johns Hopkins Bloomberg School of Public Health Associate Dean Thomas Burke, Ph.D.
"Return to Index..." - previous story


next story - "Council moves ahead with..."
March 2011 Cover Page

Back to top