Environmental Factor, July 2011, National Institute of Environmental Health Sciences
Local students energized by climate change workshop
By Ed Kang
July 2011
Students learned to model real-world scenarios. In this exercise, Anthony Fantasia of Riverside High School, center, and Johnnie Tabron, Jr., of the Southern School of Engineering, use everyday fluids to better understand how diseases are transmitted by mosquitoes. As a consequence of climate change, the mosquitoes are changing their range, lifespan, and reproductive cycle. (Photo courtesy Ian Boudreau and EPA)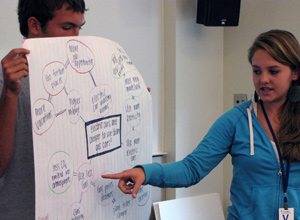 Public policy and risk communications were also part of the week's agenda. Cody Leovic of Northern High School, and Kelsey Bennett of Jordan High School, engage their classmates in a discussion of the costs verses benefits of electric car use. (Photo courtesy Ian Boudreau and EPA)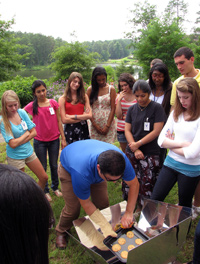 Durham County high school students learned that sustainability and sacrifice are not necessarily correlated. Here, Shar Samy, Ph.D., center, a postdoc at EPA, uses a solar cook stove to deliver a fresh batch of chocolate chip cookies. (Photo courtesy Ian Boudreau and EPA)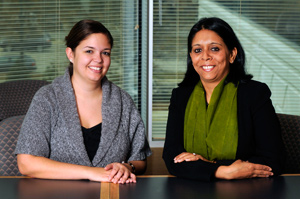 Carroll, left, and Sen called upon the rich resources of EHP news features and scientific studies and the volunteers from NIEHS and EPA as they collaborated with Leovic to design the workshop. (Photo courtesy of Steve McCaw)
From June 13 - 17, 26 academically talented juniors and seniors, representing nearly every high school in Durham County, made the daily trek to Research Triangle Park to take part in hands-on activities, experiments, demonstrations, and spirited debates at a High School Student Workshop on Climate Change.
Conducted by scientists from NIEHS and the U.S. Environmental Protection Agency, the workshop was the first of its kind to educate students about the relationship between climate and health. The five-day program featured more than 30 sessions related to environmentalism, health, ecology, sustainability, and communication.
(https://video.nationalgeographic.com/video/00000144-0a44-d3cb-a96c-7b4df2370000)
Play linked multimedia clip
Linked video
Watch one of several videos shown at the workshop and learn how solar cooking can benefit global environmental health (03:10) (https://video.nationalgeographic.com/video/00000144-0a44-d3cb-a96c-7b4df2370000)
(Launches in new window)
Download Media Player: Flash

(https://get.adobe.com/flashplayer/)
"I enjoyed the workshop for all the different perspectives," said Jayati Vyas, a 16-year-old rising junior at the Durham School of the Arts. She was one of 17 young women accepted to participate in the workshop. Vyas' perspective on climate change was transformed by her participation in the workshop - a phenomenon shared by many in the group. "Just because we're in the U.S. doesn't mean we can escape the effects of climate change," she learned.
Filling a gap in environmental education
Bono Sen, Ph.D., science education and outreach manager for NIEHS' journal Environmental Health Perspectives, had the idea for a unique program focusing on the health impacts of climate change for more than a year. The inspiration for the week-long event came from a local student workshop on climate change held last year at the University of North Carolina.
"But a missing piece was nagging at me," Sen explained.
That piece was the toll of climate change on human health. "So the goal of this workshop was to build climate literacy - to help connect the dots between climate change and human health."
Sen's vision became a major theme for the NIEHS/EPA event. "This is a new way of thinking," commented Sen on the current discourse surrounding climate change. "I am very happy to see the students incorporating human health into their perspectives on climate change."
Sen collaborated with Kelly Leovic, director of EPA-RTP Environmental and STEM (science, technology, engineering, and mathematics) Outreach, and Carly Carroll, science education program coordinator for EHP, to help draw from the collective knowledge base and strengths of both NIEHS and EPA.
John Balbus, M.D., senior advisor for public health at NIEHS, was one of the many enthusiastic speakers recruited. He told the students, "Maybe it's not global warming, but it's definitely global weirding, and this extreme weather can have all sorts of cascading effects on health." He challenged students to make a difference. "Have courage to live consciously - do the little things. They are an expression of your commitment."
That commitment is not just a feel-good slogan, it's a fundamental principle built into the students' program from the beginning. "The unique part about the workshop is the grass-roots aspect," remarked Sen. "This is not about polar bears or Africa, but about the health and environment of people in the local area."
Carroll, who managed the organization and logistics for the program, will be keeping tabs on the students as they return to their academic homes. "One of the requirements for the program is that these 26 students do an extension project, where they go back to the classroom and become a proactive agent for change."
Blogs, videos, in-class presentations, and starting up new clubs are among the ideas already proposed by the participants. "These students are now experts for their classmates," Carroll said proudly of her new protégés.
Vyas, who aspires to pursue a career in medicine and volunteers at Duke Hospital, is anxious to recommend the workshop to her classmates and share some of the concepts she learned during the week. "Climate change is scary, but if I can make a small difference with the 500 kids at my school, maybe I can start a domino effect."
Leovic and Sen agreed that the EPA and NIEHS partnership benefitted the students by offering dual perspectives on the same problem. Sen reflected on the week by saying, "I think we can say that we have created our first cohort of climate ambassadors."
(Ed Kang is a public affairs specialist in the Office of Communications and Public Liaison, and a regular contributor to the Environmental Factor.)
An enlightening experience for students - and their teachers
For most high school students, June kicks off a much-needed vacation from the rigors of school. For others it means taking on a summer job to pay for upcoming college expenses. But for a few dozen Durham County, N.C. students, it meant spending an exciting week learning about the science behind climate change and related health effects. For the volunteers who gave presentations at the workshop, it was an opportunity to experience cross-disciplinary collaboration.
Designed as part of the EHP Science Education Outreach Program, the workshop drew on the talents of specialists from both NIEHS and EPA. NIEHS speakers and their topics at the High School Student Workshop on Climate Change included:
Human Health Systems - Huei-Chen Lao
Climate Change and Human Health - John Balbus, M.D.
Vector-borne Diseases - Lihn Pham, Ph.D.
Communicating Climate Change - Kimberly Thigpen-Tart, J.D.
Surviving Climate Change: a Team-building Exercise - Ed Kang
The Futures' Wheel - Valerie Davis, Ph.D.
Career Panel - Michael Humble, Ph.D., Quiana Childress, Amber Haynes, Darshini Trivedi, Ph.D.
Debating the Kyoto Protocol - Erin Hopper, Ph.D.
The efforts of these NIEHS presenters were clearly appreciated. As one student, Anthony Fantasia of Riverside High School, explained, he came into the activity thinking it would focus on "what to think about climate change." He soon realized that the mission of the activity was to provide the science to help students understand the facts and reach their own conclusions. "One of the things I enjoyed most about the workshop was all the science," he remarked.
Throughout their week in the workshop, the students were exposed to concepts the public doesn't hear about every day - from paleoclimatology, adaptation strategies, and mitigation techniques, to the latest technologies in solar panels and cook stoves. For their part, some of the veteran presenters found themselves learning from the expertise of their fellow speakers.
"Klotz departs NIEHS for..." - previous story


next story - "NIEHS recognized for composting..."
July 2011 Cover Page

Back to top