Environmental Factor, January 2011, National Institute of Environmental Health Sciences
Review emphasizes potential dangers of e-waste
By Melissa Kerr
January 2011
Lead author Chen is an assistant professor in the Department of Environmental Health at the UC College of Medicine with research interests in perinatal and pediatric epidemiology. (Photo courtesy of UC)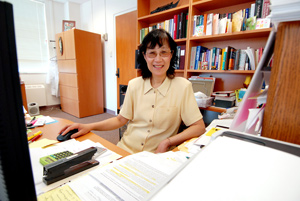 Shuk-mei, Ho, Ph.D., is the chair of the Department of Environmental Health at the UC College of Medicine and principal investigator on a center grant (https://tools.niehs.nih.gov/portfolio/index.cfm?action=portfolio.grantdetail&grant_number=P30ES006096) funded by NIEHS since 1992. (Photo courtesy of UC)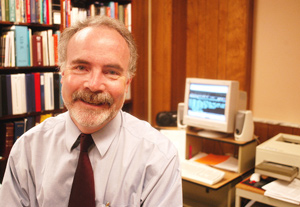 A professor in the Department of Environmental Health at UC College of Medicine, co-author Kim Dietrich, Ph.D. (http://www.eh.uc.edu/dir_individual_details.asp?qcontactid=52)

, uses a wide range of neuroassessment tools and biomarkers in his studies of lead exposure. (Photo courtesy of UC)
Co-author Xia Huo, Ph.D. (https://www.med.stu.edu.cn/eng/education/departments/cytology)

, is the director of the Analytical Cytology Laboratory at the Shantou University Medical College in China. (Photo courtesy of Xia Huo)
A new NIEHS-funded analysis is sending a wake-up call on the emerging health concerns posed by electronic waste (e-waste) disposal practices worldwide that have resulted in what the researchers described as "an unprecedented mixture of exposure to heavy metals and persistent organic pollutants."
"In developing countries where most informal and primitive e-waste recycling occurs, environmental exposure to lead, cadmium, chromium, polybrominated diphenyl ethers (PBDEs), polychlorinated biphenyls (PCBs), and polycyclic aromatic hydrocarbons (PAHs) is prevalent at high concentrations in pregnant women and young children," they wrote. "Developmental neurotoxicity is a serious concern in these regions, but human studies of adverse effects and potential mechanisms are scarce."
Published online in the journal Environmental Health Perspectives (EHP) and led by scientists in the Department of Environmental Health at the University of Cincinnati (UC) College of Medicine and in the Shantou University Medical College in China, the study raises important questions about regulation to address potentially widespread exposure among susceptible populations to known carcinogens and potent neurotoxicants.
Dudek and her group study synaptic plasticity, the process by which the mammal brain adapts to changes in its internal and external environment, across brain regions and at different stages of development. "We think this is the process that underlies learning and memory in the young and in adults," Dudek said at the beginning of her presentation.
NIEHS grantee (https://tools.niehs.nih.gov/portfolio/index.cfm?action=portfolio.grantdetail&grant_number=RC4ES019755) and UC epidemiologist Aimin Chen, M.D., Ph.D. (http://www.eh.uc.edu/dir_individual_details_full.asp?qcontactid=895)

, and co-authors reviewed articles and papers related to e-waste and the potential hazards posed by exposure to it. Their findings suggest that women who are pregnant and young children are most at risk if they live near an e-waste recycling site. In a UC press release (http://healthnews.uc.edu/publications/findings/?/12086/12104/)

, Chen said, "Because the brain is in a state of rapid development and the blood-brain barrier in infants and young children is not as effective as in adults, neurotoxic substances, such as heavy metals, can cause developmental damage."
Demand for electronics drives waste explosion
With the digital revolution moving forward with no signs of abating, e-waste is following the same upward trend. This explosive growth has outpaced management policy development, both in developed and developing countries. E-wastes, such as cathode ray tubes, desktops, cell phones, and copiers, are composed of several metals and chemical pollutants that have the potential to cause adverse health effects, the researchers warned.
According to the study, a significant amount of e-waste is exported to developing countries and recycled in local towns and villages using primitive technologies to recover gold, silver, zinc, iron, tin, and other metals for profit. Because of a lack of regulation of e-waste recycling in these developing countries, the workers at the waste sites, as well as the women and children who live around them, are at a risk of exposure to toxicants.
The study notes that an estimated 20-50 million tons of e-waste are produced worldwide on an annual basis. In the United States, it is estimated that 80 percent of electronics are sent to landfills where metal can leach into the soil. A small percentage is burned, producing highly toxic airborne chemicals. In 25 states, there is limited legislation regarding disposal of electronics, but there are no enforceable federal policies regulating production or disposal.
Working toward a solution
Chen's team sought to bring perspective to this growing problem. They reviewed over 120 articles and papers on the health effects of compounds found in e-waste, as well as reports published through governmental and non-governmental organizations on e-waste practices. Their study calls for continued research to fill the data gap to provide policy makers with the knowledge required for intervention plans.
Not only does the article call for broader e-waste management, it also advocates for a preventive approach. Scientists and engineers should work on ways to restrict the amount of toxicants in the manufacturing of electronic devices through greener design and manufacturing practices, the researchers said.
"In countries where primitive recycling processes exist, human health - especially children's heath - should drive regulation and management of recycling activities," Chen explained. With the results of the study in hand, Chen hopes to bring attention to an exposure situation in immediate need of effective control.
The team's study will appear in a print edition of EHP in early 2011.
Citation: Chen A, Dietrich KN, Huo X, Ho SM. 2010. Developmental Neurotoxicants in E-Waste: An Emerging Health Concern. Environ Health Perspect. doi:10.1289/ehp.1002452 [online 15 November 2010]
(Melissa Kerr studies chemistry at North Carolina Central University. She is currently an intern in the NIEHS Office of Communications and Public Liaison.)
"Miller presents study on..." - previous story


next story - "Study finds mitochondrial dysfunction..."
January 2011 Cover Page

Back to top