Environmental Factor, February 2011, National Institute of Environmental Health Sciences
NTP workshop investigates links between chemicals and obesity
By Thaddeus Schug
February 2011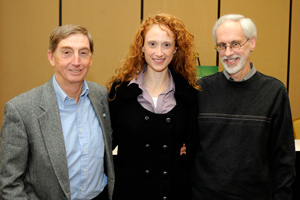 (L-R) Shown, left to right, Gallo, Thayer, and Bucher, are all smiles following three days of intense debate. (Photo courtesy of Steve McCaw)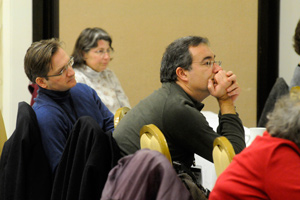 Expert scientists Franck Mauvais-Jarvis, M.D., Ph.D., left, and Angel Nadal Navajas, Ph.D., right, were part of a breakout group responsible for assessing the role of BPA exposure in the development of obesity and diabetes. Seated behind them is NIEHS Program Administrator Elizabeth Maull, Ph.D. (Photo courtesy of Steve McCaw)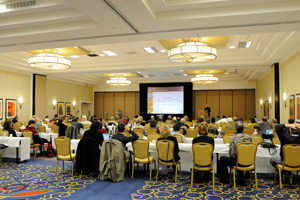 After working in their breakout groups, participants reconvened Jan. 13 for summaries and a look at next steps. (Photo courtesy of Steve McCaw)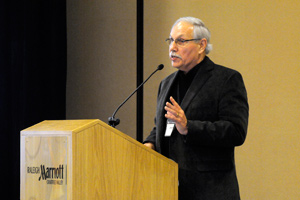 "We may look back at this meeting in five or ten years and identify it as a watershed moment in the field of diabetes and obesity research," said Heindel. (Photo courtesy of Steve McCaw)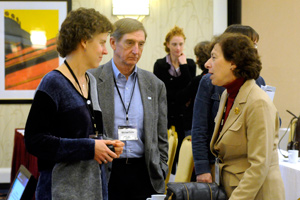 Shown, left to right, expert scientist Gina Solomon, M.D., discusses outcomes of the workshop with Gallo and NIEHS/NTP Director Linda Birnbaum, Ph.D. (Photo courtesy of Steve McCaw)
While dietary excess and lack of exercise are well established factors fueling the obesity epidemic in the United States, new research is emerging that suggests that environmental exposures may also play a significant role in the risks associated with developing diabetes and obesity.
These linkages were the focus of an intensive three-day workshop - "Role of Environmental Chemicals in the Development of Diabetes and Obesity" - sponsored by the National Toxicology Program (NTP) Jan. 11-13 at the Marriott at Crabtree Valley in Raleigh.
The workshop brought together more than 135 scientists, representing fields ranging from molecular biology to epidemiology, to examine the science associating exposure to certain chemicals with the development of diabetes and obesity in humans. Participants also provided input on potential testing strategies, data gaps, and future research needs to address these associations. Breakout sessions were arranged to cover six particular chemical classes - arsenic and other metals, bisphenol A, organotins and phthalates, nicotine, pesticides, and persistent organic pollutants.
Smoking linked to childhood obesity
There is "good, qualitative evidence" to link maternal smoking and arsenic and persistent organic pollutants (POPS) exposure to such health conditions, according to workshop chair Michael Gallo, Ph.D. (http://eohsi.rutgers.edu/eohsi-directory/name/michael-gallo/)

, director of the Toxicology Division and the NIEHS Center of Excellence at the Robert Wood Johnson Medical School at the University of Medicine and Dentistry of New Jersey. "Some of these associations are pretty strong," Gallo added.
"Perhaps less recognized is the consistent association of maternal smoking with increased risk of offspring being overweight or obese later in life," said workshop organizer Kristina Thayer, Ph.D., director of the NTP Center for the Evaluation of Risks to Human Reproduction (CERHR).
According to Thayer, this pattern is initially detectable in young children and continues through adulthood. It is supported by laboratory findings that monitor animals that are treated with nicotine during development.
Data plausible, but more research needed
"Like many complex diseases, it is likely that many factors contribute to the development of diabetes," explained Thayer. "It is unknown to what extent environmental chemicals may be contributing to the current epidemics of diabetes and obesity, but it is clear that additional research is warranted to follow-up on the reported associations."
Gallo agreed, adding, "We don't have good animal models, and we need to deal with the human population. These data really show us that there is biological plausibility to some or all of these chemical groups."
In concluding remarks, Jerry Heindel, acting chief of the Cellular, Organs, and Systems Pathobiology Branch of the NIEHS Division of Extramural Research and Training, said agency staff will evaluate the data needs and research strategy suggestions made by participants, and present the meeting results to its advisory group in February. The feedback will help to develop a research strategy and guide the awarding of related grants, Heindel said. "The goal is to stem the tide of the obesity and diabetes epidemic."
(Thaddeus Schug, Ph.D., is a postdoctoral research fellow in the NIEHS Laboratory of Signal Transduction and a regular contributor to the Environmental Factor. He is currently on detail as a program analyst in the NIEHS Division of Extramural Research and Training.)
A potential role for predictive toxicology
Significant discussion at the workshop centered on which types of studies, in vitro cell studies or whole animal in vivo assays, are best structured to examine the effects of environmental contaminants on metabolic disorders. Development and use of new testing methods was backed in a major National Research Council (NRC) report as a way to replace costly animal tests. However, a major hurdle pointed out by several researchers lies in how to incorporate findings from cell-based assays into reliable human risk assessment models.
According to John Bucher, associate director of the National Toxicology Program, one of the key objectives for the U.S. Environmental Protection Agency (EPA), NIEHS and the U.S. Food and Drug Administration in obesity and diabetes research is to identify new toxicity pathways and biological targets for assays that may be relevant to diabetes and obesity health outcomes and could be incorporated into EPA's ToxCast computational toxicology database.
The ToxCast program has identified a link between a number of endpoints relevant to diabetes and obesity, such as islet cell function and insulin sensitivity, and toxicity pathways believed to be key mechanisms in metabolic disorders. "High throughput screening was not developed with this workshop in mind, but we can take advantage of ToxCast," noted Bucher.
"Search opens for NIEHS..." - previous story


next story - "Miller explores the longest..."
February 2011 Cover Page

Back to top