Environmental Factor, December 2011, National Institute of Environmental Health Sciences
Strategic plan update: Input still welcome
By Robin Mackar
December 2011
Components of the draft strategic plan that are ready for your input
Draft Mission Statement
The mission of the National Institute of Environmental Health Sciences is to discover how the environment affects people in order to promote healthier lives.
Draft Vision Statement
The vision of the National Institute of Environmental Health Sciences is to provide global leadership for innovative research that improves public health by preventing disability and disease from our environment.
Supporting Pillars
Fundamental Research
Exposure Research
Prevention and Translational Science
Health Disparities and Global Environmental Health
Training and Education
Communications and Engagement

Crosscutting Theme: Knowledge Management
Crosscutting Theme: Collaborative and Integrative Approaches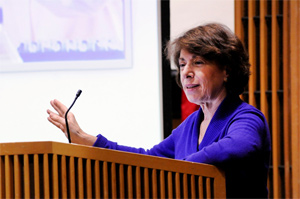 Birnbaum updates NIEHS staff on the strategic planning process during an all-hands meeting Oct. 28-29 at NIEHS. (Photo courtesy of Steve McCaw)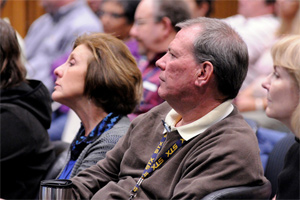 Staff from throughout the Institute joined Birnbaum, in person or via the Web, to hear an update on how the strategic plan is progressing. NIEHS leadership continues to encourage staff to participate in the planning process. From left to right, Debra Del Corral, Mitch Williams, and Laurie Johnson listen attentively to the progress update. (Photo courtesy of Steve McCaw)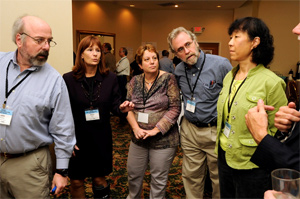 From left to right, NIEHS grantee John Groopman, Ph.D., joins with NIEHSers Sheila Newton, Ph.D., Dori Germolec, Ph.D., Pat Mastin, Ph.D., and grantee Shuk-mei Ho, Ph.D., as part of a small group exercise at the strategic planning meeting in October. (Photo courtesy of Steve McCaw)
"There is still time to have input into the strategic plan," said NIEHS/NTP Director Linda Birnbaum, Ph.D., during the Oct. 28-29 all-hands meeting, where she updated staff on the progress being made to develop the Institute's new five-year strategic plan. NIEHS also wants to encourage members of the public to email their comments on the draft strategic plan to ehs-strategic-plan@mail.nih.gov.
Before sharing some of the draft components of the plan with NIEHS staff, including new mission and vision statements, and new supporting pillars or themes to support the goals being developed, Birnbaum reminded staff how far we have come in the process since it began in March.
Progress since March 2011
Birnbaum said 231 visionary ideas were received on the dedicated website https://www.niehs.nih.gov/about/strategicplan/index.cfm (https://www.niehs.nih.gov/about/strategicplan/index.cfm), during the initial call for input. These broad-based suggestions for scientific direction served as an important starting point for the development of the strategic plan.
The Stakeholder Community Workshop (https://factor.niehs.nih.gov/2011/august/spotlight-niehs/index.cfm) in July brought together nearly 170 participants, representing a broad range of expertise, including NIEHS staff, scientists, regulators, public health practitioners, communication experts, non-government organizations, and research management experts. Birnbaum said the modified open space technology format, used at the July meeting, gave everyone an equal opportunity to propose topics to address how NIEHS can move environmental health forward.
From that stakeholder workshop, 97 themes emerged, which were combined into eight themes (see Strategic Planning Stakeholder Community Workshop Report for summaries of reports and priority topics).
Developing mission, vision, and supporting pillars
The most recent phase of the strategic planning process occurred Oct. 13-14 in North Carolina.
Approximately 50 individuals, which again represented the broad expertise needed to develop a path for environmental health sciences, were brought together to review all the input compiled to date, including workshop reports, themes, and the ideas submitted through the website, to begin developing the actual content for the new NIEHS strategic plan.
"This was a very intense meeting that resulted in some excellent, thoughtful draft documents," Birnbaum said.
The participants worked arduously for almost two days in both large and small groups, to develop draft vision and mission statements, as well as six supporting pillars, or major emphasis areas that are likely to advance the field of environmental health sciences the most. A couple of crosscutting themes were also discussed and thoughtfully developed into concepts.
Next steps
Birnbaum said the next steps in the process include developing a defined set of goals that will help layout how the vision will be achieved over the next five years. The public and all other stakeholders and staff will have opportunities to continue commenting on the draft strategic goals, mission statement, and vision statement for the NIEHS, which are posted online at https://www.niehs.nih.gov/about/strategicplan/index.cfm (https://www.niehs.nih.gov/about/strategicplan/index.cfm). Throughout the winter, the NIEHS senior leadership team will be working closely with NIEHS staff to develop implementation plans for each of the strategic goals.
"We will present a public update on the strategic planning process at our National Advisory Environmental Health Sciences (NAEHS) Council Meeting (https://www.niehs.nih.gov/about/boards/naehsc/index.cfm) in February," said NIEHS Deputy Director Rick Woychik, Ph.D., who is leading the strategic planning process. "What's been made abundantly clear to me throughout this process is that there's a lot of passion out there around issues in environmental health sciences. I am confident that our plan will capture that energy and passion and set us on course for the next five years."
Both Birnbaum and Woychik also point out that the NIEHS plan will be aligned with NIH priorities.
(Robin Mackar is the news director in the NIEHS Office of Communications and Public Liaison and a regular contributor to the Environmental Factor.)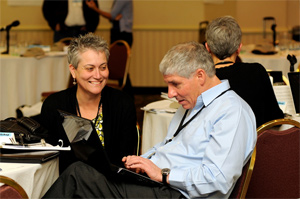 From left to right, Gwen Collman, Ph.D., and NIEHS grantee and former NAEHS Council member John Essigmann, Ph.D., take time during a hectic meeting to share some stories. (Photo courtesy of Steve McCaw)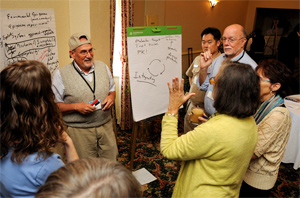 David Miller, Ph.D., in hat, serves as group leader for one of the group's helping to define what is meant by fundamental research. NIEHS staff from the Office of the Director, Division of Extramural Research and Training, and the Division of Intramural Research (DIR) provided input. (Photo courtesy of Steve McCaw)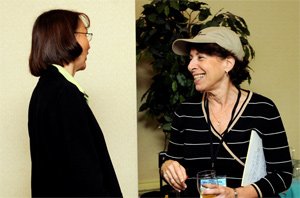 From left to right, NIEHS grantee B. Paige Lawrence, Ph.D., shares a light moment with the NIEHS/NTP director at the October meeting. (Photo courtesy of Steve McCaw)
From left to right, Michael Gallo, Ph.D., director of the Toxicology Division and the NIEHS Center of Excellence at the Robert Wood Johnson Medical School at the University of Medicine and Dentistry of New Jersey, lines up with NIEHS DIR scientists Trevor Archer, Ph.D., John Cidlowski, Ph.D., Darryl Zeldin, M.D., and Rick Paules, Ph.D., to provide input into the strategic plan. (Photo courtesy of Steve McCaw)
Woychik keeps the conversation flowing during the strategic planning meeting. (Photo courtesy of Steve McCaw)
"NIEHS celebrates intramural scientists..." - previous story


next story - "Speakers discuss hydraulic fracturing..."
December 2011 Cover Page

Back to top