Environmental Factor, December 2011, National Institute of Environmental Health Sciences
Speakers discuss hydraulic fracturing
By Robin Mackar
December 2011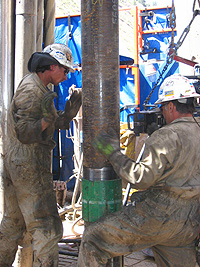 Workers conduct drilling operations. (Photo courtesy of Eric Esswein)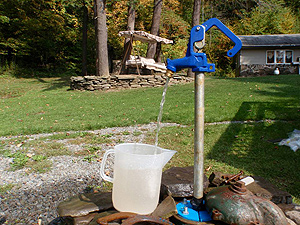 Duke researchers collected water samples from wells near fracking sites. (Photo courtesy of Robert Jackson)
The term fracking, or the hydraulic fracturing method of extracting gas and oil from underground deposits, is a subject frequently being discussed by a wide variety of audiences across the country, including the public, media, scientists, industry, and politicians. Two distinguished speakers brought their expertise on this topic Nov. 21 to the staff and leadership at NIEHS, as well as agencies affiliated with the National Toxicology Program (NTP).
John Bucher, Ph.D., director of the Division of the NTP at NIEHS, hosted the two lecturers, as the Institute begins to determine its role in this emerging field.
NIEHS/NTP Director Linda Birnbaum, Ph.D., who attended and participated in the lively discussions that followed each talk, said, "This is one of those emerging areas that we need to do our best to get ahead of the curve, so we can more fully understand any potential health impacts related to the development of this resource."
Assessing the impact on oil and gas workers
The first speaker, Eric Esswein, a senior industrial hygienist at the National Institute for Occupational Safety and Health and a Commissioned Officer in the U.S. Public Health Service, presented an excellent overview on hydraulic fracturing and discussed his agency's efforts to assess chemical exposures in oil and gas workers.
"What we're really trying to do is develop partnerships with the oil and gas extrac­tion industry to identify, characterize, and, if needed, control workplace chemical exposures," said Esswein as he walked agency representatives through the photo-heavy presentation from his field office in Denver. "There is very little exposure assessment information available to determine if occupational health risks exist for workers in this industry."
Esswein explained that hydraulic fracturing involves high-pressure injection of water, sand, and chemicals, to release shale-gas trapped in deep underground formations. He provided the audience with an overview of what goes on in the industrial setting related to drilling and hydraulic fracturing.
"There's a lot more going on at well sites than just the hydraulic fracturing. There's also site preparation and different types of drilling that occurs well before the hydrofracking can begin. A wide variety of services occur throughout the entire process, including transporting chemicals, water, and supplies to and from the sites," Esswein said.
Esswein talked about some potential risks to workers, including exposure to volatile organic compounds, dust particles, lead, oil mists, benzene, diesel particulate matter, and silica, among others. He pointed out more research needs to be done, and any new knowledge has to be communicated to the field, so they can put that knowledge into practice to ensure safety and health for the betterment of workers. A link to the NIOSH Fact Sheet describing the study is available at www.cdc.gov/niosh/docs/2010-130/pdfs/2010-130.pdf (https://www.cdc.gov/niosh/docs/2010-130/pdfs/2010-130.pdf)


(1.7MB)
Impact of fracking on surrounding communities
Robert B. Jackson, Ph.D., director of the Duke University Center on Global Change at the Nicholas School of the Environment in Durham, N.C., focused his talk on shale-gas, the environment, and human health.
The majority of Jackson's presentation focused on research he and his colleagues are conducting on several hundred private wells in northeastern Pennsylvania and upstate New York that are near shale formations.
Jackson and colleagues' first paper, appearing in the May 17 issue of the Proceedings of the National Academy of Sciences (http://www.pnas.org/content/108/20/8172.abstract)

(PNAS), found evidence that methane contamination, in well water near the shale-gas extraction sites, appears to be related to natural gas extraction. He pointed out, however, that there was no evidence that the drinking-water samples were contaminated with fracturing fluids or brines from the hydraulic fracturing.
Jackson discussed some of the possible mechanisms by which the methane may have gotten into the wells, including the most likely possibility of leaky gas-well casings, and less likely mechanisms of physical displacement of gas through natural and fracturing-induced fissures from the target formation. Jackson also said that more research needs to be conducted to determine the health effects of methane.
In the PNAS paper and in the seminar, Jackson called for more environmental stewardship, and possibly more federal research and regulations, to ensure the sustainable future of shale-gas extraction. "We need systematic, independent data on groundwater quality, before and after drilling operations begin in a region. Having this baseline will go a long way toward preventing environmental impacts, and improving scientific knowledge and public confidence," Jackson said.
(Robin Mackar is the news director in the NIEHS Office of Communications and Public Liaison and a regular contributor to the Environmental Factor.)
"Strategic plan update: Input..." - previous story


next story - "Deputy Surgeon General presents..."
December 2011 Cover Page

Back to top