Environmental Factor, December 2011, National Institute of Environmental Health Sciences
NIEHS hosts Pan American Health Organization meeting
By Ernie Hood
December 2011
NIEHS Deputy Director Rick Woychik, Ph.D., welcomed the international visitors to NIEHS and Research Triangle Park, N.C. (Photo courtesy of Steve McCaw)
Maria Neira, M.D., director of the WHO Department of Public Health and Environment, addressed meeting participants with a video message, sharing her thoughts about the conference and sending her regrets at being unable to attend in person. (Photo courtesy of Steve McCaw)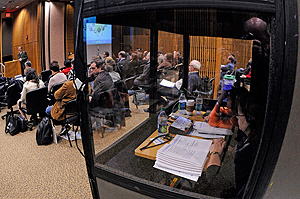 Interpreters used an isolation booth to translate the PAHO meeting proceedings into Spanish and English in real time. (Photo courtesy of Steve McCaw)
Galvao was among the PAHO SDE leaders who addressed the Collaborating Centers Regional Meeting, as it accomplished much business in its biennial gathering. (Photo courtesy of Steve McCaw)
Global environmental health is a key focal area for NIEHS, and the Institute's involvement in the area took a significant step forward when it played host Oct. 24-26 to a multinational group of health and environment experts. The event was a regional meeting of the World Health Organization/Pan American Health Organization (WHO/PAHO) Collaborating Centers in the area of Sustainable Development and Environmental Health (SDE).
The gathering was held in anticipation of a landmark event known as Rio+20 - the U.N. Conference on Sustainable Development to be held June 4-6, 2012, in Rio de Janeiro.
Co-moderated by John Balbus, M.D., NIEHS senior advisor for public health, the Research Triangle Park, N.C., meeting provided a unique opportunity for NIEHS scientists to interact with colleagues from throughout the Americas, raising mutual awareness and engagement on issues related to global health, the environment, and sustainable development.
Looking forward to Rio+20
The first day of the meeting was devoted to a workshop on health and sustainable development, featuring sessions on Rio+20; environmental, occupational, and urban challenges; the social environment; and development and health. Participants from the WHO/PAHO Collaborating Centers then broke out into six working groups, in particular topic areas, to prepare specific input to the Rio+20 conference, and to plan PAHO's activities for the next two years.
The balance of the meeting's final day was devoted to PAHO and NIEHS attendees getting acquainted, beginning with an overview of NIEHS and the National Toxicology Program (NTP) by Director Linda Birnbaum, Ph.D., followed by a set of informal meetings between NIEHS scientists and PAHO visitors to compare notes and discuss collaborative opportunities in several specific topic areas, including children's health. The meeting's final event was a tour of NIEHS facilities.
As PAHO Senior Advisor on Risk Assessment and Global Environmental Change Carlos Corvalan, Ph.D., pointed out, NIEHS and WHO have had a long-standing working relationship, but the chance to meet face-to-face is bound to enhance cooperation and collaboration. "Having the event here was a good opportunity for NIEHS to know about what we do and how we work with our centers," he said. "And for us, and for the centers that came here, I would say probably none of them have ever visited NIEHS, so it was very impressive for them."
According to Luiz Augusto Cassanha Galvao, M.D., PAHO SDE manager, there were solid reasons for holding the meeting at NIEHS. "Most of the groups that are here work on occupational health and environmental health, so they know NIEHS very well, but most of them have never had the chance to come here to meet their colleagues and talk to them," he said.
"The other motivation to having the meeting here was the coincidence of interests," he continued. "We are all facing new challenges, such as the challenge of integration between chemicals and the environment, and the social environment and development, along with nutrition and noncommunicable diseases. We said, why not sit together and do something with our centers?"
(Ernie Hood is a contract writer for the NIEHS Office of Communications and Public Liaison.)
Representatives from PAHO SDE Collaborating Centers throughout North, Central, and South America attended the regional meeting. (Photo courtesy of Steve McCaw)
Balbus chaired the meeting session on environmental, occupational, and health challenges. (Photo courtesy of Steve McCaw)
Corvalan confers with former NIEHS/NTP senior advisor to the director Christopher Portier, Ph.D., who is now director of the National Center for Environmental Health and Agency for Toxic Substances and Disease Registry at the Centers for Disease Control and Prevention. Portier was on hand to speak to the PAHO meeting about risk assessment and environmental hazards. (Photo courtesy of Steve McCaw)
As Birnbaum, along with NIEHS leaders and grantees earlier in the program, demonstrated, NIEHS programs can serve as a model for WHO/PAHO efforts toward sustainable development. (Photo courtesy of Steve McCaw)
NIEHS as a WHO/PAHO Collaborating Center
According to Balbus, the Institute, as part of its global health agenda, is very interested in re-establishing its role as a WHO/PAHO Collaborating Center, as it was in the 1980s. In that context, he noted, NIEHS had several goals in mind for hosting the meeting. Balbus said, "One was just to become acquainted with the PAHO Collaborating Center network, to introduce ourselves, and let them understand what we do. Another aim was simply to observe their process, so as we work on our application, we understand how the Collaborating Centers work and can best see how we fit in with that. And then the third goal involved making plans for working together with PAHO to translate various aspects of our science that have implications for sustainable development. We hope to get that information into the discussion that's going on globally about sustainable development, which tends to neglect the importance of environmental health."
"Deputy Surgeon General presents..." - previous story


next story - "NIEHS fellow departs for..."
December 2011 Cover Page

Back to top