Environmental Factor, December 2011, National Institute of Environmental Health Sciences
NIEHS fellow departs for UNC career development role
By Emily Zhou
December 2011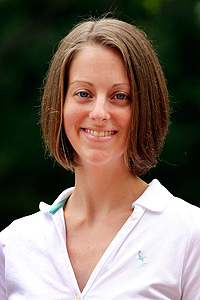 Hopper was very sad to leave NIEHS, in particular the NTA steering committee. "My involvement with the steering committee gave me a tremendous amount of satisfaction, and I will miss all of them more than they can imagine," she said. "I would like to thank them all for their support and for everything they do to support the trainees at NIEHS. They are wonderful scientists and friends, and I wish them all happy and fulfilling careers." (Photo courtesy of Steve McCaw)
Finding the perfect career is an exciting, often stressful process. Students need to know what career options are there, what strengths and weaknesses they have, and what skills are needed to land their dream job. In her new position at the University of North Carolina at Chapel Hill (UNC) School of Medicine's Office of Science, Training, and Diversity, Erin Hopper, Ph.D., will help guide graduate students in this process of exploration and career development.
Hopper will actually have dual roles at UNC. As director of the Training Initiatives in Biomedical and Biological Sciences (TIBBS), Hopper will devote half of her time to running programs and workshops for professional development, including organizing speakers for UNC graduate students. For the other half of her time, as assistant director of the Academic and Career Excellence Program, Hopper will focus on academic coaching, such as preparing qualifying exams, and student support. Also, Hopper will be involved in promoting diversity activities and education outreach events, such as DNA Day.
Hopper, who departed NIEHS in early November for her new appointment, was a postdoctoral fellow with Kenneth Tomer, Ph.D., in the Laboratory of Structural Biology. In addition to her research role, Hopper was involved with more than 10 NIEHS Trainees Assembly (NTA) subcommittees charged with the coordination of events, including the career fair.
She said of Tomer, "I felt so fortunate that my advisor gave me the freedom to be actively involved in the NTA steering committee and career fair planning committee, both of which were crucial to getting the job I wanted."
Laying the groundwork for a future career
Early in graduate school at Duke University, Hopper realized that she would enjoy a career involving science, but away from the bench. She was involved in many activities on campus at Duke, including being on the planning committee for Women in Science and Engineering, which implements professional development seminars, workshops, and panel discussions for graduate students. "It was an eye-opener that there were so many job options for Ph.D.'s, other than just academia and industry," she commented.
At the same time, Hopper identified her passion for mentoring. She mentored undergraduate students and summer research students with their science projects, and provided advice on career options and graduate school applications. In particular, Hopper was adept at facilitating faculty-student relationships, working closely with the faculty to meet students' educational needs.
An NIEHS postdoctoral fellow wearing many different hats
Networking, needless to say, was also a component in successfully launching her new career. The hiring manager for the UNC job was Patrick Brandt, Ph.D., who was also an NIEHS trainee. In addition, Pat Phelps, Ph.D., deputy director of the Graduate Partnerships Program in the NIH Office of Intramural Training and Education, was a great help in coaching her on interview skills. "Pat asked many questions that the interviewing committee later asked me." Being the person who started TIBBS at UNC, Phelps knew exactly what they were looking for in a candidate.
Writing was also a very important skill that Hopper developed at NIEHS, as a contributing writer for the Environmental Factor. "In general, writing and being able to communicate to a broad audience are extremely important for any job." She will advocate and encourage UNC graduate students to be more involved in their writing.
(Emily Zhou, Ph.D., is a research fellow in the NIEHS Laboratory of Signal Transduction Inositol Signaling Group.)
"NIEHS hosts Pan American..." - previous story


next story - "American Chemical Society honors..."
December 2011 Cover Page

Back to top