Environmental Factor, December 2011, National Institute of Environmental Health Sciences
NIEHS expands minority outreach at fall conferences
December 2011

For more than 30 years, SACNAS has been encouraging Hispanic/Chicano and Native American students to pursue science research, leadership, and teaching careers at all levels. SACNAS was named the National Science Board's premier minority science organization promoting diversity in science careers, and was the winner of the 2004 Presidential Award for Excellence in Science, Mathematics, and Engineering Mentoring.
NIEHS joined the ranks of other agencies and private companies to encourage Hispanic/Chicano and Native American students to pursue higher education and obtain advanced degrees. Ericka Reid, Ph.D., from the NIEHS Office of Science Education and Diversity and postdoctoral fellow Anshul Pandya, Ph.D., from the Laboratory of Neurobiology, represented the Institute Oct. 27-30 at the Society for Advancement of Chicanos and Native Americans in Science (SACNAS) National Conference. The 2011 conference, titled "Empowering Innovation and Synergy Through Diversity," was held in San Jose, Calif., and attracted talented students from around the country.
Connecting with young scientists
With more than 3,600 students in attendance, NIEHS was able to focus on its goals of recruitment and outreach. NIEHS' booth in the exhibition section of the conference was frequented by students looking for future opportunities in science research, including internships and fellowships.
"It is a rewarding experience for me to talk to young students of minority backgrounds," said Reid, who is working to enhance NIEHS' education and diversity outreach. "The [NIH] Summer Internship Program was a popular topic, and I'm hopeful that interest will translate into an increase in the number of applicants from different states."
At a higher level, graduate students and Ph.D. candidates inquired about the opportunities available at NIEHS. "Being a postdoctoral fellow, I was asked about my personal experience of working at the NIEHS," accounted Pandya, who was attending his first conference in an outreach and diversity capacity. "There was a misconception among a lot of students that, as its name suggests, NIEHS was involved only in environmental research. Events like the SACNAS conference enable us to convey our Institute's robust health and biomedical science research."
"Those who visited the NIEHS booth were also told about the exciting research being carried out in the intramural division of the NIEHS, and the funding opportunities and grants available through the NIEHS," Pandya added.
Following the SACNAS conference, Reid's travels took her to St. Louis Nov. 9-12 for the Annual Biomedical Research Conference for Minority Students on November 9-12. There, she was joined by Danielle Watt, Ph.D., an Intramural Research Training Award (IRTA) fellow in the NIEHS DNA Replication Fidelity Group. "Meeting students face-to-face not only increases the public profile of the Institute, but it also spreads awareness about government-funded environmental and health research," said Reid.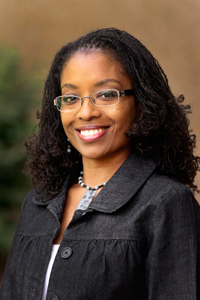 In addition to raising awareness about NIEHS research training opportunities, Reid's Office of Science Education and Diversity handles the director's national community forum series, as well as information sessions and facility tours. (Photo courtesy of Steve McCaw)
Pandya, an IRTA fellow in the NIEHS Ion Channel Physiology Group, enjoyed his first conference in an outreach and recruitment role, and helped provide insights into NIEHS career and research opportunities. (Photo courtesy of Steve McCaw)
"NIEHS grantee student honored..." - previous story


next story - "Hughes honored for worker..."
December 2011 Cover Page

Back to top