Environmental Factor, December 2011, National Institute of Environmental Health Sciences
Annual APHA conference celebrates 100 years of environmental health
By Ian Thomas
December 2011
According to Dearry, the APHA Environment Section has become a model for advocating the green meeting concept, particularly at the APHA annual meeting. "By using Facebook, Twitter, and an electronic version of our newsletter, we were able to disseminate all the same information to just as many people, while only using a fraction of the paper. We also tried to discourage the use of plastics by handing out stainless steel water bottles to the meeting's attendees." (Photo courtesy of Steve McCaw)
The NIEHS exhibit received best-in-show honors for overall appearance and visitor communication effectiveness. Pictured, left to right, are Dana McNally, graphic designer and contractor for Environmental Health Perspectives (EHP); Christine Flowers, NIEHS director of communications; Bono Sen, Ph.D., EHP science education and outreach program manager; and Rita Hanson, EHP managing editor. (Photo courtesy of Chip Hughes)
Scientists, administrators, and public health officials gathered at the Walter E. Washington Convention Center in Washington, D.C., for the 139th American Public Health Association (APHA) Annual Meeting and Exposition. In addition to a host of presentations and posters ( see text box), NIEHS helped mark the 100th anniversary of APHA's Environment Section (http://www.apha.org/membergroups/sections/aphasections/env/)

, one of the oldest of the 27 sections in the association.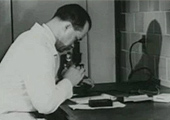 (https://vimeo.com/32226544)
Play linked multimedia clip
Linked video
Watch "Environment, Health, You," a video produced by the APHA Environment Section in honor of its 100-year anniversary. (12:39) (https://vimeo.com/32226544)
(Launches in new window)
Download Media Player: Flash

(https://get.adobe.com/flashplayer/)
"We actually started planning this centennial celebration more than two years ago," said NIEHS Senior Advisor Allen Dearry, Ph.D., a 15-year member of APHA and the Environment Section's former chair. "We wanted to create a program that not only reflected its achievements within the public health arena, but also gave a detailed account of where the section came from and where it is today."
Evolving with the times
Originally founded in 1911 as APHA's Engineering Section, the group's original mission was reflective of its name.
"If you look at what was happening in the early 20th century, there was a lot of developmental emphasis on basic infrastructure," Dearry explained. "Housing, sanitation, land usage, water quality - these were major issues back then, just as they are today, and, in many ways, they became the origin for both the Environment Section, as well as the environmental health field itself."
Eventually becoming the Environment Section in 1970, its mission has evolved to helping shape policy, by enhancing research and public awareness of environmentally influenced disease, fostering alliances with like-minded organizations, and monitoring all relevant science and policy pertaining to the field of environmental health.
"The built environment is one area where I feel we've really made strides in my time with the section," Dearry noted of the field that is dedicated to studying the planning and construction of communities, homes, and workplaces, and how these factors influence human health. "We spend nearly 80 percent of our time in these structures. So when it comes to issues like indoor air quality, the need for research is clear, and this section has contributed a great deal to our understanding of that area."
Thinking about the future
"This year, we wanted to create a theme that commemorated the section's past, and looked ahead to both its future and the future of our field," Dearry added. "As environmental health professionals, what are the opportunities facing us in the days and years ahead? Moreover, who will tackle those challenges? That's why it's up to us to educate people as best we can, and engage new students and prospective new members of the field to get involved now, so that we can face these issues together moving forward."
(Ian Thomas is a public affairs specialist for the NIEHS Office of Communications & Public Liaison.)
Back to the future: reuniting environmental health
In support of the "Healthy Communities Promote Healthy Minds and Bodies" theme of the 139th annual meeting of APHA, NIEHS Senior Advisor for Public Health John Balbus, M.D., organized a distinguished panel of leading experts to discuss past approaches and future opportunities in environmental and occupational health.
NIEHS/NTP Director Linda Birnbaum, Ph.D., presented the current state of research on immunotoxic properties of chemicals, including interactions between chemical exposures and infectious diseases.
Ellen Silbergeld, Ph.D., an NIEHS grantee with the Johns Hopkins School of Public Health, spoke on antimicrobial resistance genes as environmental pollutants.
Christopher Portier, Ph.D., former NIEHS senior advisor and now director of the National Center for Environmental Health and Agency for Toxic Substances and Disease Registry at the Centers for Disease Control and Prevention, described environmental public health tracking to prevent morbidity and mortality.
David Michaels, Ph.D., Assistant Secretary of Labor for Occupational Safety and Health at the U.S. Department of Labor, discussed current federal efforts to better coordinate and integrate environmental and occupational program activities. Michaels is also chair of the NTP Executive Committee.
"American Chemical Society honors..." - previous story


next story - "NIEHS grantee student honored..."
December 2011 Cover Page

Back to top