Environmental Factor, December 2011, National Institute of Environmental Health Sciences
Winuthayanon presents at NIH Research Festival
By Eddy Ball
December 2011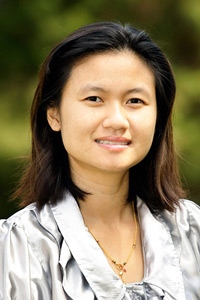 Winuthayanon's findings could help in the quest to understand how estrogen receptor in the epithelial cells of female reproductive tract may impact fertility and embryo development. (Photo courtesy of Steve McCaw)
As it has for the past 25 years, the National Institutes of Health (NIH) devoted a week this year to celebrating its Intramural Research Program with the annual NIH Research Festival Oct. 24-28 in Bethesda, Md. This year's fair featured an invited talk by one of the 21 NIEHS fellows honored with the 2012 Fellows Award for Research Excellence (FARE), Wipawee (Joy) Winuthayanon, Ph.D. (see story (https://factor.niehs.nih.gov/2011/august/spotlight-farewell/index.cfm)).
Winuthayanon is a research fellow in the Laboratory of Reproductive and Developmental Toxicology (LRDT) Receptor Biology Group headed by lead researcher and LRDT Chief Ken Korach, Ph.D. She said afterwards that she was very excited to have had the opportunity to speak at the Research Festival.
Reproductive tract development and function
In an effort to better understand the impact of estrogenic environmental chemicals and their impact on very early mammalian pregnancy, Winuthayanon and colleagues explored the role of epithelial estrogen receptor alpha (ERalpha) in the oviduct during fertilization and embryo development. The team examined ovulation and preimplantation embryo development and embryo outcomes in experimental conditional knockout mice lacking ERalpha in female reproductive tract epithelium, comparing them to findings in controls.
The team cultured one-cell embryos from experimental and control mice in vitro. Very few of the embryos from experimental mice progressed to the expanding blastocyst stage, while most of the control embryos did, indicating that the lack of ERalpha in the experimental mice oviductal epithelium triggered changes that completely disrupted preimplantation embryo development. "This is a novel and unexpected regulatory phenomenon," Winuthayanon concluded, "that will provide information important for understanding ... the roles of ERalpha in human fertility."
NIEHS scientists at the Research Fair
Along with the talk by Winuthayanon, NIEHS participation included talks by lead researchers Carmen Williams, M.D., Ph.D., and Humphrey Yao, Ph.D., as well as plenary symposia facilitation by Yao, Korach, and Mitch Eddy, Ph.D. Among the eight NIEHS entries in the poster competition were ones by FARE winners Kristin Lichti-Kaiser, Ph.D., and Percy Tumbale, Ph.D.
"Overcoming phosphate congestion in..." - previous story


next story - "Effects of lead exposure..."
December 2011 Cover Page

Back to top