Environmental Factor, December 2011, National Institute of Environmental Health Sciences
Testicular toxicology workshop spotlights animal testing alternatives
By Ian Thomas
December 2011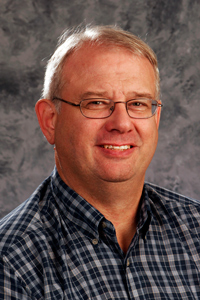 Foster was the featured speaker at the Testicular Toxicology In Vitro Models workshop. (Photo courtesy of Steve McCaw)
Scientists and administrators from across the toxicology field took part in a two-day workshop (http://caat.jhsph.edu/programs/workshops/testiculartoxicology.html)

Oct. 26-27 to discuss finding new alternatives to animal testing for assessing testicular toxicity. Held at the Mt. Washington Conference Center in Baltimore, Md., the event was sponsored by the ILSI Health and Environmental Sciences Institute Developmental and Reproductive Toxicology technical committee, in conjunction with the Johns Hopkins University Center for Alternatives to Animal Testing.
Paul Foster, Ph.D., a senior scientist with the National Toxicology Program (NTP), was the workshop's featured speaker. "My role was really to focus on how in vitro methods have been used successfully in the past, based on my 25 plus years in the field, and to identify some of the challenges we face moving forward," Foster noted.
Attended by members of the U.S. Food and Drug Administration, the U.S. Environmental Protection Agency, and an array of pharmaceutical and industry representatives, the workshop tackled a number of different issues, ranging from tissue engineering approaches to maintain physiology and structure in artificial organs to screening and prioritizing chemicals/drugs for testing in commercial applications.
A complex organ
While most toxicologists agree that there is a huge need for in vitro alternatives to animal testing, particularly with regard to pharmaceutical discovery and environmental component screening, a viable method for yielding the same level of integration of physiology and endocrinology has proven elusive.
"We've made significant advancements over the years with respect to in vitro testing for reproductive toxicity, but we're still a long way away from ever being able to use these methods as a replacement for animals in toxicity assessment, if ever," said Foster. "The mammalian testis is an extremely complex organ, and finding ways to successfully replicate the types of microenvironment and processes normally found in mammals has been an enormous challenge."
Foster was joined at the workshop by fellow toxicologist Elizabeth Maull, Ph.D., of the NIEHS Biomolecular Screening Branch, as well as grantees Elaine Faustman, Ph.D., of the University of Washington, and Mary Hixon, Ph.D., of Brown University.
(Ian Thomas is a public affairs specialist with the NIEHS Office of Communications and Public Liaison.)
"Susan Amara to present..." - previous story


next story - "This month in EHP..."
December 2011 Cover Page

Back to top