Environmental Factor, December 2011, National Institute of Environmental Health Sciences
Panel peer reviews NTP low-level lead draft
By Robin Mackar
December 2011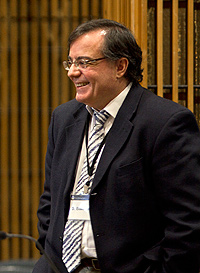 Peer review panel member Guallar offered much input to the NTP on the draft monograph, and provided suggestions on how OHAT could even more systematically evaluate the literature used in their documents. (Photo courtesy of Michael Garske)
Some of the world's most notable lead researchers, including Bruce Lanphear, M.D., senior scientist at the Child and Family Research Institute, and Pam Factor-Litvak, Ph.D., associate professor of clinical epidemiology at Columbia University Mailman School of Public Health, were members of the peer review panel who met at NIEHS to review the draft NTP monograph on health effects of low-level lead. (Photo courtesy of Michael Garske)
A nine-member independent peer review panel, convened by the National Toxicology Program (NTP), reviewed the Draft NTP Monograph on Health Effects of Low-level Lead (https://ntp.niehs.nih.gov/ntp/ohat/lead/final/monographhealtheffectslowlevellead_newissn_508.pdf)


(1.9MB) Nov. 17-18 at NIEHS.
The panel concurred with the overall NTP conclusion that "there is sufficient evidence for adverse health effects in children and adults at blood Pb [lead] levels below 10µg/dL [micrograms per deciliter] and below 5 µg/dL as well."
The monograph is the result of an extensive review of the current scientific literature by the NTP Office of Health Assessment and Translation (https://ntp.niehs.nih.gov/?objectid=497BF6E6-D00C-C4E6-423E8917D64B6A20)

(OHAT), formerly the Center for the Evaluation of Risks to Human Reproduction, in response to a nomination by the National Institute for Occupational Safety and Health (NIOSH) for an NTP evaluation to assess the reproductive and developmental effects of lead exposures. OHAT expanded the scope of the evaluation to include a wider range of health effects, including cardiovascular, renal, immune, and neurological effects in children and adults, to maximize the utility of the evaluation and reflect OHAT's more broad-based focus on health assessment.
The draft monograph was released for public comment on Oct. 14. Public commenters were given time to present at the meeting, before OHAT health scientists gave brief presentations on the basis for the NTP conclusions for specific health effects of lead, and summary conclusions for each health area.
The panel accepted and agreed with the NTP summary conclusions for associations of cardiovascular, renal, and immune health outcomes with lead exposures resulting in blood lead levels below 10µg/dL. To reflect the evidence for effects at lower blood lead levels, the reviewers suggested changing the draft summary conclusions of sufficient evidence for associations with neurological effects in children, and reproductive effects in adult women, including reduced fetal growth and lower birth weight, from 10µg/dL to 5µg/dL.
Regulatory and public health implications
Next, the NTP will carefully consider the peer review panel and public comments, revise the document as needed, and move forward on finalizing the monograph. The process should be completed in early 2012, when the finished monograph will be posted to the NTP website.
There will likely be public health implications, in addition to the regulatory impacts of the monograph's conclusions. For example, NIEHS/NTP Director Linda Birnbaum, Ph.D., speculated that the science emerging on the potential danger of prenatal lead exposures could result in public health action similar to advisories to women of childbearing age to avoid eating fish laden with high levels of mercury. "What I've heard today leads in the same direction for discussion about lead," she said. "I certainly know that most young women who are pregnant are not being measured for their lead levels. I think that's a message we might want to try to get out."
Panel member Eliseo Guallar, M.D., Dr.P.H., of the Johns Hopkins University Bloomberg School of Public Health, noted that although the monograph's conclusions set the lead exposure levels at which associated health effects are seen lower than ever, "we're still finding that the lower we go, we still find effects of lead, and I think we still haven't seen the end of it. This is not an area where we're done yet," Guallar predicted.
(Robin Mackar is the news director in the NIEHS Office of Communications and Public Liaison and a regular contributor to the Environmental Factor.)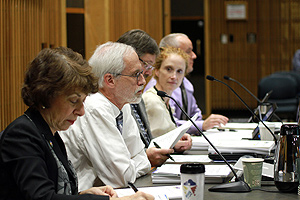 The peer review panel for the low-level lead meeting was chaired by Joel Pounds, Ph.D., of the Pacific Northwest National Laboratory. Pounds appears third from the left at the head table with Birnbaum, DNTP Director John Bucher, Ph.D., Kristina Thayer, Ph.D., director of OHAT, and Andrew Rooney, Ph.D., OHAT senior health scientist. Thayer, Rooney, and Abee Boyles, Ph.D., of OHAT made overview presentations of the NTP findings. (Photo courtesy of Michael Garske)
Epidemiologist Elizabeth Whelan, Ph.D., from NIOSH, represented her agency at the NTP meeting. The nomination for evaluating health effects of low-level lead exposures came from NIOSH. (Photo courtesy of Michael Garske)
"Teachers visit NIEHS for..." - previous story


next story - "ISES meeting challenges exposure..."
December 2011 Cover Page

Back to top