Environmental Factor, December 2011, National Institute of Environmental Health Sciences
Neurotox27 focuses on environmentally triggered disorders
By Ernie Hood
December 2011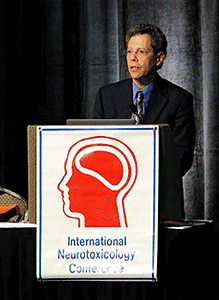 Opening the meeting's plenary sessions, Pessah presented the overview and rationale for the theme of the conference, which was designed to present attendees with the latest state of the science about the role of the endocrine system in environmentally triggered disorders. (Photo courtesy of Steve McCaw)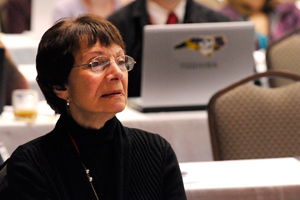 Division of Extramural Research and Training Health Scientist Administrator Annette Kirshner, Ph.D., paid close attention to the scientific presentations on neurodevelopmental disorders, which comprise part of the grants portfolio she administers. (Photo courtesy of Steve McCaw)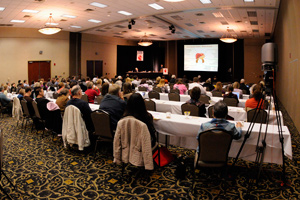 Neurotox27 was well attended, as participants made their way to RTP to enjoy the many scientific presentations and discussions. (Photo courtesy of Steve McCaw)
The time for characterization of the role of environmental factors in neurodevelopmental disorders has come. This was the take-home message of the 27th International Neurotoxicology Conference Oct.30-Nov. 2 at the Sheraton Imperial Hotel and Convention Center in Research Triangle Park (RTP), N.C. NIEHS and Environmental Health Perspectives were among the sponsors (http://www.neurotoxicology.com/conf2011/sponsors.pdf)


(323 KB) of the event, titled "Environmentally Triggered Neurodevelopmental Disorders: Focus on Endocrine Disruption and Sex Differences in Autism, ADHD, and Schizophrenia."
The conference was last held in RTP in 2005, and according to NIEHS program administrator Cindy Lawler, Ph.D., (see related story (https://factor.niehs.nih.gov/2011/december/science-autismresearch/)) holding the conference locally boosted attendance to more than 200. "We were able to draw from the local universities, and a number of our intramural scientists came to hear the talks, as well," she said. "The program resonates, as these are issues that NIEHS has made significant investments in - especially autism."
Cross-discipline dialogue proves valuable
Conference co-chair Isaac Pessah, Ph.D., a professor of molecular biosciences and director of the Center for Children's Environmental Health and Disease Prevention at the University of California, Davis, found the dialogue that took place to be the meeting's greatest value. "What's unique about this meeting is that it brought this crosscutting paradigm, and I think a lot of the attendees really got a lot out of it, because you don't usually present it that way," he said. "Usually, there's an autism meeting, there's a schizophrenia meeting, there's an ADHD meeting, and they are never brought together with the questions about what are the commonalities and what are the differences."
Thomas Zoeller, Ph.D., of the University of Massachusetts Amherst, who co-chaired the plenary session on endocrine disruption in autism spectrum disorders, agreed with Pessah, and said that the flow of ideas at the meeting among scientists who don't normally talk to each other had a profound effect upon his own thinking. "I've really changed my perspective about the way that the environment might impact brain function," he said. Both he and Pessah are NIEHS grantees.
With so many topics of interest to NIEHS on the agenda, the Institute was well-represented at the conference. Serena Dudek, Ph.D., head of the NIEHS Synaptic and Developmental Plasticity Group, provided attendees with a tutorial on synaptic plasticity as a common target in neurodevelopmental disorders.
Jean Harry, Ph.D., group leader of the NTP Neurotoxicology Group, served as one of the meeting's poster session co-chairs and networking mentors, and also co-chaired a session on developmental neurotoxicology mechanisms. Mamta Behl, Ph.D., and Christopher McPherson, both of whom work with Harry, were recognized at the meeting with a postdoc presenter award and graduate student poster award, respectively.
Also, David Goulding, of the Comparative Medicine Branch, presented a poster on his work with Harry on neurobehavioral phenotyping of mice. Harry's former student Steven Szabo, M.D., Ph.D., who is now a psychiatry resident at Duke University, also gave a platform presentation and presented a poster based on his work with Harry on the potential therapeutic benefits of lithium for trimethyltin neurotoxicity.
(Ernie Hood is a contract writer for the NIEHS Office of Communications and Public Liaison.)
Colborn honored
One of the meeting's highlights was the presentation of the Theo Colborn Award (http://www.neurotoxicology.com/conf2011/theo.pdf)


(1.5MB), to Colborn herself, by NIEHS/NTP Director Linda Birnbaum. Colborn, who in 1996 co-authored the seminal text "Our Stolen Future," was honored for her role as a pioneer in research on endocrine disrupting chemicals believed to interfere with hormonal development. She is the founder and president of The Endocrine Disruption Exchange (TEDX) (http://endocrinedisruption.org/)

, the only environmental organization that focuses on the problems associated with endocrine disruption attributable to synthetic chemicals found in the general environment.
"Wood stove intervention can..." - previous story


next story - "A conversation on the..."
December 2011 Cover Page

Back to top