Environmental Factor, December 2011, National Institute of Environmental Health Sciences
Effects of lead exposure on obesity and bone loss
By Ian Thomas
December 2011
Puzas' talk drew a sizable audience interested to hear about the relationship between lead and bone density. (Photo courtesy of Michael Garske)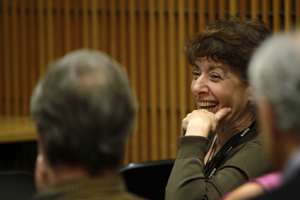 NIEHS/NTP Director Linda Birnbaum, Ph.D., enjoyed one of the lighter moments in Puzas' lecture. (Photo courtesy of Michael Garske)
The NIEHS Keystone Scientific Lecture series continued on Nov. 15 with a talk from Edward Puzas, Ph.D., an investigator in the field of musculoskeletal science from the University of Rochester and a long-time Institute grantee. Titled "Bone, Brain, and Fat: Is There a Unifying Principle Responsible for Multi-organ Toxicity?" Puzas' presentation discussed his latest research into the effects of lead exposure on obesity and decreased bone formation.
"The human skeleton is a repository for many, many toxins, not the least of which is lead," said Puzas, who is currently the University of Rochester's senior associate dean for basic research and the Donald and Mary Clark professor of orthopedics. "More than 95 percent of the lead exposed to the human body is stored in the bones, which can result in the development of any number of debilitating diseases."
From bone to fat
A major theme throughout Puzas' talk was the impact of lead exposure on stem cell development, specifically mesenchymal stem cells. According to Puzas, when these cells are exposed to lead, their natural tendency to become bone cells is drastically altered, resulting instead in an increased production of adipocytes, or fat cells.
"Obesity is associated with decreased bone quality and mass," Puzas explained. "What we're seeing in mice is that, in many ways, exposure to lead can have a lot of the same effects as a high fat diet. Excessive weight gain, bone loss, an increased risk for fractures - we observed all of this in our experiment."
The sclerostin factor
While the effects of acute and chronic lead exposure can have a wide array of outcomes, such as arthritis and osteoporosis, one of the ways in which this happens is through the manipulation of a powerful protein called sclerostin.
"Sclerostin is an extremely potent inhibitor of bone formation, which, when suppressed, leads to excessive bone growth," said Puzas. "What we saw in our research was the opposite of that effect. Exposing subjects to lead actually increased the production of sclerostin, thereby leading to a noticeable retardation of bone growth."
The devastating problem of osteoporosis
Chief among the diseases covered in Puzas' talk was osteoporosis, a devastating disease that causes decreased bone formation and an increased risk for skeletal breaks. Commonly found among seniors, it is extremely prevalent among women.
"In the United States alone, one out of three women will sustain a hip fracture by the age of 85," said Puzas. "Every year, 15 percent of those women will die from complications stemming from those injuries. That mortality rate rivals both uterine and ovarian cancer, which is why it's crucial for everyone to take the proper measures to keep bones strong and resilient."
A long way yet to go
As the cost of health care continues to climb, along with osteoporotic cases and childhood obesity, the need to know more about the various physiological and environmental factors that influence these conditions is clear. According to Puzas, lead exposure is most definitely a part of that discussion.
"Here in America, we've made some great strides in environmental legislation to mitigate some of these effects," he concluded. "However, in places like Europe and Mexico, where much of the infrastructure is still fully leaded, people are still encountering heavy exposures every day. From our data we have estimated that approximately 1 in 7 of all osteoporotic cases were due to lead exposure. Apply that statistic to the number of cases around the world, and it's pretty easy to see why this is such a vital area of research."
(Ian Thomas is a public affairs specialist for the NIEHS Office of Communications and Public Liaison.)
"Winuthayanon presents at NIH..." - previous story


next story - "Exposome pioneer to be..."
December 2011 Cover Page

Back to top