Environmental Factor, December 2011, National Institute of Environmental Health Sciences
ISES meeting challenges exposure science
By Ernie Hood
December 2011
Collman delivered the keynote address at this year's annual meeting of ISES. (Photo courtesy of Steve McCaw)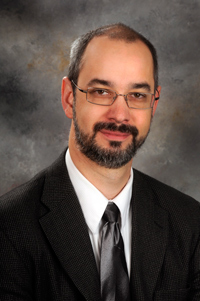 Balshaw is program administrator in the DERT Center for Risk and Integrative Sciences. (Photo courtesy of Steve McCaw)
At the 2011 annual meeting of the International Society of Exposure Science (ISES) Oct 23-27 in Baltimore, Md., Gwen Collman, Ph.D., director of the NIEHS Division of Extramural Research and Training (DERT), and David Balshaw, Ph.D., also with DERT, highlighted a vision for exposure science and challenges for the field.
Co-sponsored by NIEHS, the ISES meeting is one of the premier international exposure science events, bringing together scientists, engineers, and policy makers from a variety of disciplines, to highlight significant achievements and raise awareness for the role of exposure science in environmental health.
In her keynote address, titled "Exposure Science and Beyond: Challenges for the Future," Collman presented the ISES attendees three grand challenges for exposure science to address as it moves forward. She called for exposure scientists to extensively characterize exposures during pregnancy; design and implement novel approaches to measure past exposures; and reduce the costs and increase the impact of exposure assessment.
She also discussed the extraordinary complexities of exposure and disease in the 21st century, and the need to shift the emphasis in exposure science to prevention, by enhancing links to public health and by making data and information freely available and accessible.
Finally, Collman pointed out the natural alignment between NIEHS and ISES. "It's imperative that our organizations continue to work closely together as we expand and accelerate our efforts to meet the scientific challenges we face," she said.
Balshaw was also present at the Baltimore meeting to participate in a closing plenary session panel discussion called "The Past is Prologue: Reflections on the Future of Exposure Science." The panel, co-chaired by Debra Kaden, Ph.D., of ENVIRON and Kirk Smith, Ph.D. of the University of California, Berkeley, was based on the premise that exposure science is not used in risk assessment, designing interventions, and setting policy, as much as it should be. The group discussed some of the reasons for those shortcomings, and laid out some of the potential opportunities for translating exposure science into those domains.
"We need to focus on making exposure science relevant and achievable," said Balshaw. "For example, there is great interest in the potential power of the exposome concept - the measure of all the exposures of an individual in a lifetime and how those exposures relate to disease. We need to develop the ability to characterize exposure comprehensively, and enable an agnostic assessment of the connections between exposure and disease."
During the panel discussion, he proposed four areas where he felt that ISES needs to concentrate its efforts to make that concept a reality - prioritization, focusing on the most relevant environmental compounds; collaboration across disciplines within exposure science; integration through assessing multiple components of the personal environment and the interface between exposure and biological response; and innovation through new tools, capabilities, and thinking outside the box.
Next year's ISES annual meeting will be held Oct. 28-Nov. 1, 2012 in Seattle.
(Ernie Hood is a contract writer for the NIEHS Office of Communications and Public Liaison.)
About ISES
The International Society of Exposure Science (ISES), formerly the International Society of Exposure Analysis (ISEA), was established in 1990 to foster and advance the science of exposure analysis related to environmental contaminants, both for human populations and ecosystems. The society's members include academic, governmental, and private sector scientists who have a common interest in the field of exposure science. The society actively promotes engagement and communication among all disciplines involved in exposure science through its annual meetings and scientific journal, Journal of Exposure Science and Environmental Epidemiology, and serves as a resource for scientists in other disciplines, governmental officials, and the public. The society endeavors to promote rigorous use of exposure science to strengthen environmental policy for the protection of public health.
"Panel peer reviews NTP..." - previous story


next story - "Wood stove intervention can..."
December 2011 Cover Page

Back to top