Environmental Factor, December 2011, National Institute of Environmental Health Sciences
NIEHS figures prominently at annual GEMS meeting
By Ernie Hood
December 2011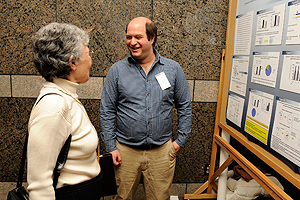 Covo, right, had the winning poster among the postdocs at the 29th annual GEMS fall meeting. (Photo courtesy of Steve McCaw)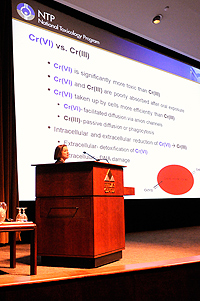 In one of the meeting's keynote addresses, Hooth described findings on oral exposures to hexavalent chromium, a drinking water contaminant. (Photo courtesy of Steve McCaw)
Oxidative stress and the role of metals and metalloids in cancer was the central theme at the fall meeting of the Genetics and Environmental Mutagenesis Society (http://www.gems-nc.org/)

(GEMS), where NIEHS and NTP staff played a prominent role. Beginning with a keynote presentation by NTP toxicologist Michelle Hooth, Ph.D., the 29th annual meeting was rounded out by a presentation from Jeffrey Stumpf, Ph.D., a postdoctoral fellow in the NIEHS Mitochondrial DNA Replication Group, and a winning poster presentation by Shay Covo, Ph.D., a visiting fellow in the Chromosome Stability Group.
About 100 GEMS members from the Triangle area, including many from NIEHS, attended the group's semiannual, daylong gathering Nov. 8 at the University of North Carolina William and Ida Friday Center for Continuing Education in Chapel Hill, N.C. Historically, each meeting has its own scientific theme, and according to outgoing GEMS President Steve Little and incoming President Nagu Keshava, Ph.D., both of whom work at the U.S. Environmental Protection Agency (EPA) and organized the meeting, this conference's core concept was a natural. "We felt that oxidative stress is very timely at this point, because a lot of work is going on in some of these metals and metalloids," said Keshava.
"Traditionally, we have focused on genotoxicity within GEMS, and how it leads to DNA damage and cancer," added Little. "Those have been big topics and this meeting's theme really fit in well with that traditional area of science that we've tended to follow."
The meeting highlighted three full scientific presentations. David Thomas, Ph.D., from the EPA National Health and Environmental Effects Research Laboratory, spoke on arsenic metabolism; Adriana Oller, Ph.D., from the Nickel Producers Environmental Research Association, discussed nickel carcinogenicity; and Hooth presented a comprehensive look at the NTP's two-year rodent bioassays of hexavalent chromium, the most toxic form of the metalloid and a drinking water contaminant of public health concern. She said that the studies showed increased incidences of tumors in male and female rats and mice that were given hexavalent chromium in their drinking water. She also noted that a number of state and federal regulatory agencies have used the NTP hexavalent chromium data to aid risk assessments for human health implications.
Stumpf was among the participants in the platform presentation competition among junior researchers, describing his group's work on the role of POLG mutations in sensitivity to DNA-damaging environmental agents leading to acquired mitochondrial toxicities.
There was also a poster competition among students and postdocs, with a $250 cash prize in both categories. Covo took the honors in the postdoc competition, with a poster on prevention of aneuploidy by sister chromatid cohesion.
(Ernie Hood is a contract writer for the NIEHS Office of Communications and Public Liaison.)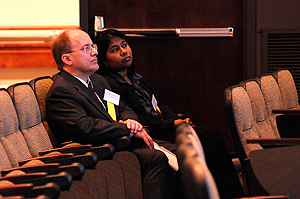 As it usually does at its fall meeting, GEMS conducted a considerable amount of business at the conference. A slate of new officers was elected, including Keshava, right, taking over the reins as president-elect from Steve Little. (Photo courtesy of Steve McCaw)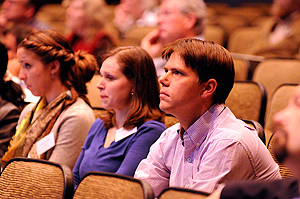 Stumpf, right, was among the junior investigators who presented their work at the GEMS meeting. (Photo courtesy of Steve McCaw)
"A conversation on the..." - previous story


next story - "A genomics approach toward..."
December 2011 Cover Page

Back to top