Environmental Factor, December 2011, National Institute of Environmental Health Sciences
Exposome pioneer to be featured at workshop
By Eddy Ball
December 2011
Rappaport is director of the Berkeley Center for Exposure Biology, a multidisciplinary program with the goal of developing a new generation of biomarkers and biosensors for environmental epidemiology. (Photo courtesy of Stephen Rappaport)
Registration is underway for a workshop on "Emerging Technologies for Measuring Individual Exposomes" (http://nas-sites.org/emergingscience/meetings/individual-exposomes/)

Dec. 8-9 in Washington, D.C. The workshop will feature pioneers in the application of the concept of the exposome to environmental health studies, including NIEHS grantee Stephen Rappaport, Ph.D. In 2010, Rappaport and University of California, Berkeley colleague Martyn Smith, Ph.D. (http://coeh.berkeley.edu/people/faculty/smithmartyn.htm)

, published a perspective in Science that challenged environmental health scientists to fully integrate individual exposure with the environmental equivalent of genome-wide association studies ( see text box).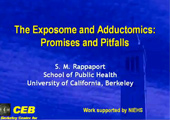 (https://vimeo.com/26880753)
Play linked multimedia clip
Linked video
Watch as Rappaport describes how the concept of the exposome challenges the prevailing paradigm of environmental health (26:39) (https://vimeo.com/26880753)
(Launches in new window)
Download Media Player: Flash

(https://get.adobe.com/flashplayer/)
The event is free and open to the public, but registration

is required for those planning to attend in person or access the webcast.
The workshop is the latest in the National Academy of Sciences (NAS) ongoing series, organized by the Standing Committee on Use of Emerging Science for Environmental Health Decisions sponsored by NIEHS. The event is the outgrowth of a 2010 workshop

on the exposome.
This workshop will take a close look at emerging technologies that can be used to gather individual exposure information, based upon external and internal measurements. Presentations and discussions will explore which of the technologies are ready now and which are still emerging for use in environmental health research.
Particular attention will be paid to the relative advantages and disadvantages of external and internal measurements for characterizing individual exposomes, and for performing environment-wide association studies. Recent proof-of-concept studies will be highlighted and bioinformatic tools will be discussed. This synthesis should inform researchers and policy makers about the critical roles that the exposome concept and new technologies can play in understanding the origins of human diseases.
Rappaport will welcome workshop participants and outline workshop objectives. He will also present a talk on "Using -Omics Methods to Characterize Individual Exposomes" during Session One and chair the workshop's concluding roundtable discussion the next day on "Individual Exposomes and Environmental Health Decisions," before presenting closing remarks.
NIEHS Program Administrator David Balshaw, Ph.D., will co-chair a session on "Building the Individual Exposome," which will explore new developments of personal sensors and laboratory analysis of the exposome. Other current and former NIEHS grantees at the workshop include Michael Jerrett, Ph.D., speaking on "Using Personal Monitors and Sensors to Characterize Individual Exposures"; Nongjian Tao, Ph.D., discussing "Sensors to Monitor Individual Exposures to Multiple Air Pollutants"; Avi Spira, M.D., exploring "Gene-expression Profiles as Signatures of Environmental Exposures"; and Stephen Intille, Ph.D., outlining "Personal Measurements of Physical Activity."
Advocating more detailed assessment of the individual exposome
In their Science article, Rappaport and Smith stressed that the exposome includes all toxic chemicals, from all sources, present in a person's internal chemical environment where disease processes originate. Evaluating the exposome is important, because internal chemical environment reflects the combined effects of contaminants from air, water, and food, as well as toxic chemicals produced in the body as a result of inflammation, oxidative stress, lipid peroxidation, infections, gut flora, and other natural processes.
Rappaport and Smith advocated a balancing of top-down investigation, the disease-first focus on biological response and measurement of endogenous and exogenous molecules in biological fluids, and a bottom-up approach, working up from exposure assessment to biological response.
Rappaport and Smith are researchers in the University of California, Berkeley Superfund Research Program

.
Citation: Rappaport SM, Smith MT

. 2010. Environment and Disease Risks. Science 330(6003): 460-461.
"Effects of lead exposure..." - previous story


next story - "Susan Amara to present..."
December 2011 Cover Page

Back to top