Environmental Factor, December 2011, National Institute of Environmental Health Sciences
This month in EHP
By Ian Thomas
December 2011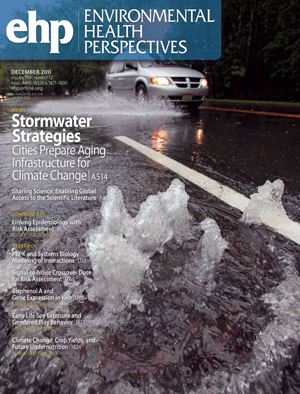 (http://twitter.com/ehponline/)
As the end approaches for a year marked by record storm flooding, the December issue of Environmental Health Perspectives (EHP) examines the adaptive strategies being implemented to upgrade aging city infrastructure in the face of growing climate change effects. With growing concerns over stormwater-caused pollution, the renovation of existing water and sewer systems has proven to be a challenge. However, many now view green methods as a possible way of streamlining the process.
In a second story, titled "Sharing Science: Enabling Global Access to the Scientific Literature," EHP takes stock of the decade-long push to bring greater informational access to scientists and researchers in poverty-stricken and developing nations.
In this month's Researcher's Perspective podcast (https://ehp.niehs.nih.gov/collections/podcasts/trp), host Ashley Ahearn discusses the growing connection between climate change and child undernutrition with Sari Kovats, a senior lecturer in environmental epidemiology with the London School of Hygiene and Tropical Medicine.
Featured commentaries, reviews, and research this month include the following:
Linking Epidemiology with Risk Assessment
PBPK and Systems Biology Modeling of Interactions
Signal-to-Noise Crossover Dose for Risk Assessment
Bisphenol A and Gene Expression in Vivo
Early Life Soy Exposure and Gendered Play Behavior
Climate Change, Crop Yields, and Future Undernutrition
(Ian Thomas is a public affairs specialist in the NIEHS Office of Communications and Public Liaison.)
"Testicular toxicology workshop spotlights..." - previous story


next story - "Extramural Papers of the..."
December 2011 Cover Page

Back to top