Environmental Factor, December 2011, National Institute of Environmental Health Sciences
Susan Amara to present distinguished lecture
By Eddy Ball
December 2011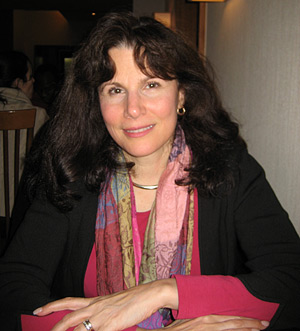 Upcoming Distinguished Lecturer Susan Amara (Photo courtesy of Susan Amara)
The NIEHS 2011-2012 Distinguished Lecture Series returns to the fascinating world of neuroscience with its next talk Dec. 13 by neurobiologist Susan Amara, Ph.D., on "The Ins and Outs of Neurotransmitter Transporters."
Amara (https://www.nimh.nih.gov/labs-at-nimh/scientific-director/office-of-scientific-director/susan-g-amara-phd-director-of-the-division-of-intramural-research-programs.shtml)

is Thomas Detre Professor and chair of the Department of Neurobiology at the University of Pittsburgh, as well as co-director of the Center for Neuroscience there. She is also past president of the Society for Neuroscience.
A Howard Hughes Medical Institute alumni scientist, Amara has received many honors for her work, including the John J. Abel Award from The American Society of Pharmacology and Experimental Therapeutics and a McKnight Award in Neuroscience. She received a 1997 MERIT Award from the National Institute on Drug Abuse, and she was elected to the National Academy of Sciences in 2004.
Amara lists her major research interests as the structure, regulation, and cellular physiology of two families of sodium-dependent neurotransmitter transporters - the biogenic amine and the excitatory amino acid carriers. The dopamine, norepinephrine, and serotonin transporters are well-established targets for addictive drugs, including cocaine and amphetamines, as well as for therapeutic antidepressants.
Her lab uses molecular genetic, electrophysiological, and cell biological approaches to explore the relationships between neurotransmitter transporter structure, substrate transport, inhibitor binding, and ion permeation.
NIEHS Ion Channel Physiology Group lead researcher Jerrel Yakel, Ph.D. (https://www.niehs.nih.gov/research/atniehs/labs/ln/pi/icp/index.cfm), will host the talk, which begins at 11:00 a.m. in the NIEHS Rodbell Auditorium.
"Exposome pioneer to be..." - previous story


next story - "Testicular toxicology workshop spotlights..."
December 2011 Cover Page

Back to top