Environmental Factor, August 2011, National Institute of Environmental Health Sciences
Former NIEHS trainee to spearhead expansion of cancer registry
By Ian Thomas
August 2011
Hermon hopes to one day launch a cancer research laboratory in her native U.S. Virgin Islands. (Photo courtesy of Steve McCaw)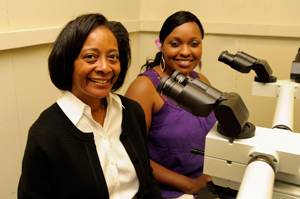 Dixon, left, joins Hermon at the bank of microscopes where they have spent so many hours working side by side. Dixon said that working with a doctoral student required more direct supervision than she'd realized at first, but the outcome was well worth the extra effort. (Photo courtesy of Steve McCaw)
An alumna of the NIH Graduate Partnerships Program (https://www.training.nih.gov/programs/gpp)

and a highly successful breast cancer researcher at the University of Miami (UM), Tonia Hermon, Ph.D., prepares to return home to St. Thomas in the U.S. Virgin Islands where she'll begin a new phase in her professional life. There, she hopes to give back to her native community by exploring the environmental influences on area public health, as she sets up the territorial government's first-ever comprehensive cancer registrar.
"In a lot of ways, the waters back home are the lifeblood of the local economy and while they've conducted an extensive amount of marine research over the years, there's been little attention paid to the environmental impact on the area's cancer rate," Hermon points out. Still, she freely admits that the joy over her homecoming is far from professionally exclusive. "It's going to be a big change, but I'm really excited. I still have family down there and it's been a long time since I've lived back home."
In training at NIEHS
A graduate of the Eastern Virginia Medical School and Old Dominion University's joint doctoral program in biomedical sciences, Hermon quickly established herself as one of NIEHS' promising trainees when her first ever poster presentation on uterine fibroids, titled "Phospho-Serine-118 Estrogen Receptor Alpha (ERalpha) is Highly Expressed in Human Uterine Leiomyoma Compared to Myometrial Tissue," was awarded an Honorable Mention at the 2006 Global Challenges, Local Solutions Research Expo in Norfolk, Virginia.
"Tonia is a total success story, not only for my lab, but for the entire NIEHS family," said Darlene Dixon, D.V.M., Ph.D. (https://www.niehs.nih.gov/research/atniehs/labs/ntp/comp_path/index.cfm), head of the NTP Comparative Pathobiology Group and Hermon's mentor. "We've trained an individual who went on to become a highly successful researcher at a fast-paced university like Miami and now she's going back to make a difference in the community that she grew up in. We should all be proud of her."
Focusing on reproductive disease and cancer
In addition to geographical diversity, Hermon's career has also been defined by her breadth of research into various forms of reproductive disorders and cancer. Following her time at the Institute from 2004 to 2009, where she focused primarily on uterine leiomyomas, Hermon accepted a postdoctoral fellowship to study breast cancer with UM's Sylvester Comprehensive Cancer Center (http://www.sylvester.org/)

, though her interest in the disease began long before her entrance into academia.
"Coming out of college, I was extremely committed to working in the reproductive field," she recalls. "When I was young, both my mom and my aunt were diagnosed with uterine leiomyomas. So from a research standpoint, that really served to keep me focused. Plus, this is something that affects a lot of African-American women during their reproductive years and being a mom myself, it's an issue that really hits home for me."
(Ian Thomas is a writer/editor in the NIEHS Office of Communications and Public Liaison)
Improving public health and promoting prevention
Hermon has a number of questions she hopes to answer through the expanded registry. "They just don't have the information base there that we have here on the mainland," she explained. "What forms of cancer are prevalent in the local population? If they're getting breast cancer, what kind of breast cancer? What sort of treatments and medications are they receiving? Which are working? Which are not and why? What are the causes? Could they be environmental? These are the questions that need answers and the establishment of a comprehensive cancer registry will go a long way toward helping to solve them."
In the end, her mentor and others agree, Hermon is the right person to tackle the challenge.
"She's simply perfect for this job," Dixon exclaims. "She was raised there, went to high school there, and then left the island to go receive her education on the mainland. Now she's coming back in the type of position that will not only advance the area's knowledge of cancer and its treatment avenues, but also help to foster a better relationship between her community and the local government. She's perfect, simply perfect."
"Henry and Thigpen Tart..." - previous story


next story - "Mutation cluster discovery wins..."
August 2011 Cover Page

Back to top