Environmental Factor, August 2011, National Institute of Environmental Health Sciences
NTP postdocs pass laboratory animal medicine boards
By Eddy Ball
August 2011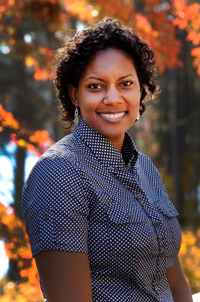 Jacquelyn Tubbs, D.V.M., DACLAM (Photo courtesy of Steve McCaw)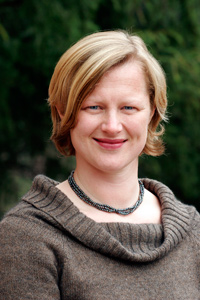 Coralie Zegre-Cannon, D.V.M., DACLAM (Photo courtesy of Steve McCaw)
NTP postdoctoral fellows Jacquelyn (Jai) Tubbs, D.V.M., and Coralie Zegre-Cannon, D.V.M., learned in July that they've taken an important step in their careers by satisfying requirements for certification as Diplomates of the American College of Laboratory Animal Medicine (ACLAM). Tubbs is currently a member of the NTP Laboratory Animal Management Group headed by Angela King-Herbert, D.V.M., who oversees the fellowship in Laboratory Animal Medicine training program within the NTP Cellular and Molecular Pathology Branch (CMPB). Zegre-Cannon was also part of the group until December 2010.
In a message to the new diplomates, Molecular Pathology Group Leader and CMPB Chief Robert Sills, D.V.M., Ph.D. (https://www.niehs.nih.gov/research/atniehs/labs/lep/mole-path/index.cfm), congratulated Tubbs and Zegre-Cannon. "This is a major achievement and a significant success for yourself and the NTP Training Program."
Sills also praised King-Herbert for her leadership. "This is also a tremendous honor for yourself as the head of the training program and to all your lab animal medicine colleagues at NIEHS and in the RTP [Research Triangle Park, N.C.] who partnered with you in making the training program a success," he wrote. "Having 100 percent success for the first trainees in the NTP Laboratory Animal Medicine Training Program is outstanding."
ACLAM Diplomates
ACLAM Diplomates are involved in a wide variety of activities, including management and direction of animal resource facilities and programs; clinical medicine, surgery, and programs of disease prevention; consultation on the care and use of laboratory animals; assisting institutions in achieving compliance with animal care and use regulations; collaborative and independent research; and instruction and training, including informing the public about the humane use of animals in biomedical research.
ACLAM recertification is required at eight-year intervals, commencing with the first calendar year following initial certification. The recertification periods are staggered so that only about one-eighth of the ACLAM membership comes up for recertification each year. A total of 400 recertification credits must be attained during each recertification period.
NTP training in laboratory animal medicine
As part of the NTP Laboratory Animal Management Group, Tubbs and Zegre-Cannon are part of the oversight effort for the laboratory animal-related matters for the NTP, including:
Assisting in the selection and provision of disease-free genetically defined rodent models, as well as monitoring animal care and use in NTP studies.
Aiding in the preparation of NTP Technical Reports.
Advising the NTP on animal care and animal welfare issues.
The fellowship in Laboratory Animal Medicine is designed for individuals to participate in NTP and NIEHS laboratory animal veterinary care. The training program includes clinical and surgical responsibilities, animal care facility management, participation in research projects, and laboratory animal pathology In addition to trainees being involved in a variety of laboratory animal science settings, they also have the opportunity to attend outside training activities and scientific meetings, as well as to engage in collaborative research with NTP and NIEHS scientists. Trainees also have clinical responsibilities and participate in training at the nearby University of North Carolina at Chapel Hill Division of Laboratory Animal Medicine.
"NTP fellow wins travel..." - previous story


next story - "Henry and Thigpen Tart..."
August 2011 Cover Page

Back to top