Environmental Factor, August 2011, National Institute of Environmental Health Sciences
Study links phthalate and BPA exposure to altered thyroid signaling in humans
By Ian Thomas
August 2011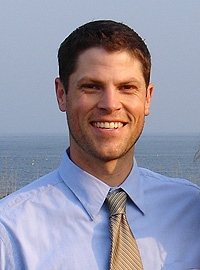 Meeker completed his doctorate of science in exposure, epidemiology, and risk from Harvard University in 2004. His latest study was funded by NIEHS (https://tools.niehs.nih.gov/portfolio/index.cfm?action=portfolio.grantdetail&grant_number=R01ES018872) and the U.S. Environmental Protection Agency. (Photo courtesy of John Meeker)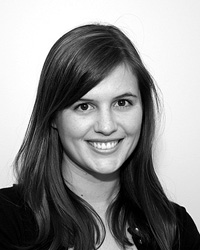 Ferguson is a Ph.D. student in environmental health sciences at the University of Michigan, School of Public Health. (Photo courtesy of Kelly Ferguson)
A new study by NIEHS grantees has uncovered strong evidence supporting the theory that increased exposure to certain chemicals found in ordinary plastics could lead to irregular thyroid signaling in humans, a known cause of many serious health risks, including excessive weight gain.
Utilizing data from the CDC's National Health and Nutrition Examination Survey (NHANES), researchers from the University of Michigan analyzed biomarker and survey information from more than 1,600 subjects, in search of a connection between thyroid hormone levels and exposure to phthalate and bisphenol A (BPA), both components of an array of everyday products, such as plastic drinking bottles.
"Phthalates and BPA have been associated with a range of adverse health outcomes, many of which may be mediated through altered thyroid signaling," said John Meeker, Sc.D., (http://www.sph.umich.edu/iscr/faculty/profile.cfm?uniqname=meekerj)

the principal investigator on the study. "The goal of this analysis was to explore whether we would find associations between these chemicals and thyroid measures consistent with those that we reported previously in a smaller study among adult men."
Gaining the power of numbers
By cross-referencing urinary exposure-biomarker concentrations with serum thyroid measures and a number of important covariates from 1,346 adults, age 20 or older, and 329 adolescents, age 12 to 19, Meeker and his co-author, graduate student Kelly Ferguson, looked for changes in the thyroid function measures associated with various levels of chemical exposure.
"Among adults, we found that higher concentrations of metabolites of di(2-ethylhexyl) phthalate (DEHP) in urine were associated with decreased thyroid hormone levels in blood," he explained. "These results were, for the most part, consistent with our previous reports among adult men. We did not find the same relationships among adolescents, though the number of participants was much smaller in that age group."
While previous studies have been conducted on this topic, most in animal, in vitro, and some limited human models, what makes this investigation unique is its large sample of human subjects, due to its usage of 2007-2008 NHANES data.
Launched in the early 1960s as a series of surveys to foster a better understanding of the general public health, the NHANES program evolved in 1999 into a continuous study dedicated to assessing the overall health and nutritional status of adults and children in the United States. As a major part of the CDC's National Center for Health Statistics, NHANES utilizes interview and physical examinations in research derived from a nationally representative sample of roughly 5,000 persons each year.
"Since our original work on this topic was limited to a small group of men attending a fertility clinic, there was a bit of uncertainty surrounding our ability to generalize the findings to broader populations," Meeker explained. "This analysis, among a representative sample of the U.S. general population, goes a long way in strengthening the case for these exposure-response relationships, though at the same time, it may also serve to support the generalizability of our findings from the fertility study."
Moving forward with additional laboratory and population studies
The authors agree that while the outcome of this study may offer clues about the relationship between phthalate and BPA exposure and altered thyroid signaling, a great deal of additional research must be done before these products begin disappearing from supermarket shelves. In the meantime, Meeker and his colleagues are firmly committed to knowing everything they can.
Meeker said that he and his colleagues are conducting several ongoing studies to assess the effects of these chemicals in a number of different areas, from reproductive health to pregnancy outcome and child growth and development. "Altered thyroid signaling could very well prove to be an important biological pathway in the relationship between environmental exposures and health outcomes," he noted. "Therefore, through collaborations with other scientists using laboratory-based experimental research, along with other epidemiologic approaches like this, we plan on exploring that possibility."
Citation: Meeker JD, Ferguson KK. 2011. Relationship between urinary phthalate and bisphenol A concentrations and serum thyroid measures in U.S. adults and adolescents from NHANES 2007-08. Environ Health Perspect; doi:10.1289/ehp.1103582; [Online 11 July 2011].
(Ian Thomas is a writer/editor in the NIEHS Office of Communications and Public Liaison)
"Using nutrition to alter..." - previous story


next story - "Journal features Jean Harry..."
August 2011 Cover Page

Back to top