Environmental Factor, August 2011, National Institute of Environmental Health Sciences
NIEHS celebrates five years of ONES research
By Ernie Hood
August 2011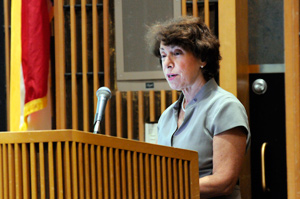 Calling it "one of my favorite meetings," Birnbaum welcomed the five classes of ONES awardees to the two-day forum, where they had the opportunity to present their research to each other and interested NIEHS personnel. (Photo courtesy of Steve McCaw)
2008 ONES awardee John Hollingsworth, M.D., of Duke University Medical Center, briefed attendees on his work, which has shown that ozone primes pulmonary innate immunity. (Photo courtesy of Steve McCaw)
ONES program director Shreffler was gratified by the high quality of the science presented at the grantees forum. (Photo courtesy of Steve McCaw)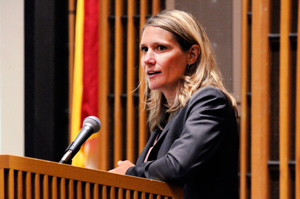 Jill Poole, M.D., of the University of Nebraska Medical Center, shared her research on the role of pattern recognition receptors in organic dust-induced airway inflammation. (Photo courtesy of Steve McCaw)
NIEHS began the Outstanding New Environmental Scientist (ONES) Awards program in 2006, so this year the original class of grantees is now in the final year of their five-year ONES funding. With that in mind, at this year's ONES grantees forum held at NIEHS July 18-19, for the first time, all 35 current ONES researchers were invited to gather and share their science with each other and with their colleagues at NIEHS (see text box).
Passing the Torch
NIEHS Training and Career Programs Health Science Administrator Carol Shreffler, Ph.D., said there were two reasons for the decision to expand the annual forum to two days and include all of the existing grantees. "Since this was the year that the first class was in the fifth year of their award and they're transitioning off to other sources of funding, we wanted to have a combined meeting, so the younger people could learn from the older people, and so we could get an idea of what the spectrum of the program looked like," said Shreffler.
ONES was designed to attract young investigators into the field, to support their transition to independence, and to encourage a long-term commitment to environmental health science research by providing five years of substantial funding, protected time, and an advisory committee of senior experts in the field for scientific and career path advice.
NIEHS/NTP Director Linda Birnbaum, Ph.D., warmly welcomed the ONES scientists and praised their accomplishments. "There are so many things we're proud of regarding this program," she said. "For example, the diversity of the portfolio shows the connection between our health and the environment, with awardees spanning the breadth of the research NIEHS supports, from very basic molecular studies to clinical research and population-based studies. The complexity of the issues you're tackling shows the complicated landscape that is environmental health sciences."
ONES, enabling early career milestones
As they made their scientific presentations (https://www.niehs.nih.gov/2011/august/science-ones/ones-abstracts_508.pdf)

(391 KB), each of the ONES awardees in attendance spoke glowingly about the program, sincerely grateful for the support that had so changed their lives and the lives of many of their colleagues. "It's definitely letting us do some wildly crazy, exciting, and what we hope will eventually be beneficial work here," said Joseph Shaw, Ph.D., of Indiana University, a 2010 ONES grantee who is researching the effects of environmental contamination on gene copy number variation.
Thomas Begley, Ph.D., of the University at Albany - State University of New York, one of the original 2006 class of ONES awardees, said, "The program has allowed me to launch my program and to develop research expertise and resources that allowed me to take basic research findings into human health and exposure biology." West Virginia University researcher and 2007 ONES recipient Timothy Nurkiewicz, Ph.D., said, "It literally created my career, and it has spawned four other investigators in this field from my lab. Also, it's created a second laboratory in my institution, an inhalation facility specific for environmental sciences," he added.
Stephania Cormier, Ph.D., of Louisiana State University has already contributed significantly to the field with her work on combustion-generated PM0.1 and predisposition to asthma. She said that rather than simply funding an individual project, ONES helped her develop "a program where I can look at and understand a variety of exposures and how they lead to long-term airway disease. It allowed me to get equipment in my lab that most R01s [research project grants] don't, and to set up a mentoring team that could help guide me through my first R01 and deal with the administrative side of the grant. It also put me in contact with people here at NIEHS who've allowed me to develop grants and projects as offshoots of the original project."
Although the ONES funding announcement will not continue past the 2011 class of grantees, which will be announced shortly, all current awards will last the full five years and, in the future, NIEHS will employ other mechanisms to continue to identify and fund outstanding early-stage investigators in environmental health sciences.
(Ernie Hood is a contract writer with the NIEHS Office of Communications and Public Liaison.)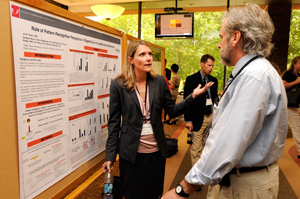 Each of the ONES awardees also presented a poster in the lobby outside the meeting room. Poole, left, discussed hers with DERT Deputy Director Pat Mastin, Ph.D. (Photo courtesy of Steve McCaw)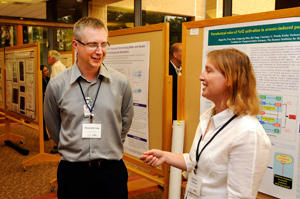 ONES awardees Alexander Star, Ph.D. (2010), and Cheryl Fattman, Ph.D. (2007), both of the University of Pittsburgh, compare notes at the meeting's poster session. (Photo courtesy of Steve McCaw)
A division-wide affair
The ONES grants spanned a number of portfolios within the NIEHS Division of Extramural Research and Training (DERT). Consequently, when Shreffler organized this lineup of top young investigators funded by NIEHS, she scheduled program administrators in the Cellular, Organ, and Systems Pathobiology Branch (COSPB) and Susceptibility and Population Health Branch (SPHB) as moderators for presentations by their respective grantees:
• Pulmonary Disease and Environmental Factors - COSPB Program Administrator Sri Nadadur, Ph.D.
• Fibrotic Responses to the Environment - Nadadur
• Mechanisms in Nanotoxicology - Nadadur
• Effects of Arsenic Exposure - SPHB Program Administrator Kim McAllister, Ph.D.
• Endocrine Acting Chemical Response - COSPB Chief Jerrold Heindel, Ph.D.
• Mechanisms of Mutagenesis, Carcinogenesis, and DNA Repair - SPHB Program Administrator Dan Shaughnessy, Ph.D.
• Cardiovascular Responses to the Environment - DERT Deputy Director Pat Mastin, Ph.D.
• Mechanisms in Neurotoxicology - COSPB Program Administrator Annette Kirshner, Ph.D.
"Jung honored with mentoring..." - previous story


next story - "Symposium highlights emerging role..."
August 2011 Cover Page

Back to top