Environmental Factor, April 2011, National Institute of Environmental Health Sciences
Shaping protocol for the GuLF STUDY
By Eddy Ball
April 2011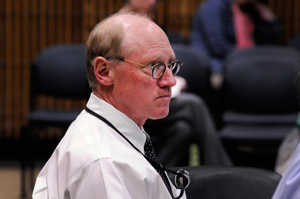 Anderson quoted a Science magazine editorial about the study. "'The GuLF STUDY will help inform the development of off-the-shelf protocols that will facilitate a response to future spills, [and] it's already led to a very high level of interagency interactions in the government to consider how to better respond.'" (Photo courtesy of Steve McCaw)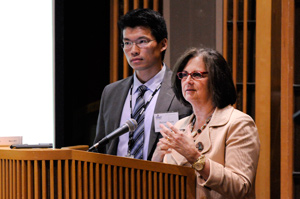 Kwok, left, and Sandler gave updates on the study and fielded questions from the scientific advisors. They also received praise for how effectively they've taken on the enormous challenges of the study. (Photo courtesy of Steve McCaw)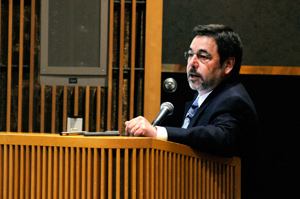 SRA International consultant David Brown reviewed community engagement activities and emphasized, "Outreach will be crucial to the success of this study." (Photo courtesy of Steve McCaw)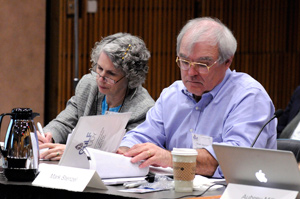 Consultants Patricia Stewart, Ph.D., of Stewart Exposure Assessments, LLC, left, and Mark Stenzel, of Exposure Assessment Applications, LLC, were co-authors of the strategy for exposure assessment and presenters at the meetings. (Photo courtesy of Steve McCaw)
SAB member Lora Fleming, M.D., Ph.D., said that exposure assessment could be confounded if storms and floods disturb oil and dispersants again. "There may be future exposures," she warned. (Photo courtesy of Steve McCaw)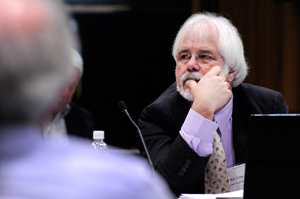 The one non-scientist on the SAB, Captain Bob Zales, offered a frontline perspective on the stress and uncertainty people faced during the spill and afterwards, as well as the impact of the disaster on mental health in the region. (Photo courtesy of Steve McCaw)
Two weeks after launching the historic GuLF STUDY (Gulf Long-Term Follow-up Study) (https://gulfstudy.nih.gov/en/followup.html)

, NIH study leaders met with advisory groups March 14-16 for input on their protocol. The meetings involved a full day of presentations before the GuLF STUDY Scientific Advisory Board (SAB), followed by two days of presentations by exposure assessment consultants and members of the GuLF STUDY Exposure Assessment Working Group (EAWG).
The meetings opened with comments to SAB members from NIEHS Deputy Director Richard Woychik, Ph.D., and James Anderson, M.D., Ph.D., director of the NIH Division of Program Coordination, Planning, and Strategic Initiatives.
The spill that dwarfed them all
Standing in for NIEHS/NTP Director Linda Birnbaum, Ph.D., Woychik welcomed SAB members to NIEHS, underscored the enormity of the spill and its largely unknown effects on health, and praised the timeliness of the NIEHS response. "This is record time," he said of the study, which evolved from a two-page memorandum written by Principal Investigator Dale Sandler, Ph.D., in June 2010.
Over the intervening ten months, NIH study leaders (https://gulfstudy.nih.gov/en/study_leaders.html)

ushered their plans through an Institute of Medicine review, held a series of outreach webinars and community advisory meetings, and gained approvals from the study's Institutional Review Board and the Office of Management and Budget.
Anderson, who was representing NIH Director Francis Collins, M.D., Ph.D., stressed the potential of the GuLF STUDY to offer guidance for future emergencies. "This is an historic study," he explained. "It will serve as a model for how to rapidly organize research responses to national disasters." Anderson encouraged SAB members to monitor the transparency and pace of the study as it progresses, as well as the quality of the science involved.
Public perception is key
Sandler led off the SAB presentations with an update on the study and outline of the cohorts involved. From the estimated 100,000 to 150,000 cleanup and support workers in Louisiana, Mississippi, Alabama, and Florida exposed to oil, dispersants, and other chemicals, the study aims to screen about 86,000 adults and enroll approximately 55,000 for a telephone survey. From that group, a stratified random sample of some 20,000 will become part of an active subcohort receiving home visits and sample collection, with approximately 5,000 identified for more extensive sampling as part of a biomedical surveillance subcohort.
In their presentations, study team members pointed to the central issues of trust and expectation among people in affected areas and the steps the team has taken to boost recruitment and cooperation with the study. "We have to do this study in the daylight," Sandler said of efforts to engage the community and plans to share as much information as possible, as quickly as possible, while also dispelling misinformation that has already taken root in affected communities.
In his presentation on medical referrals, NIEHS Senior Medical Advisor Aubrey Miller, M.D., described strategies and resources for helping home visit agents make primary and secondary care referrals, as they come across people who need treatment for physical and mental disorders.
Tackling the unknowns
Time and again, over the three days of meetings, participants confronted how much about the oil spill and its effects remains unclear. Study leaders explained that there was no centralized management of the contractors and subcontractors who employed the cleanup and support workers. Even something as basic as identifying prospective subjects involved merging lists from different sources.
As NIEHS Staff Scientist and co-investigator Richard Kwok, Ph.D., observed during the EAWG meeting, "There was a lot of variability, even across the same job," making it difficult to predict how extensively workers were exposed. Use of protective clothing and equipment also varied from site to site and among individuals.
As meticulously as the team has worked to design a comprehensive protocol, Sandler conceded that realities in the field might mean fine-tuning the study design as new challenges and new information surface.
GuLF STUDY objectives
Assess health effects associated with oil spill cleanup following the Deepwater Horizon disaster, April 20, 2010
Investigate biomarkers of adverse biological effects
Create a resource for future collaborative research
Health outcomes of interest
Primary endpoints - respiratory, genotoxic, hematologic, neurologic, immunologic, mental health
Secondary endpoints - cancer, cardiovascular, hepatic, renal, other
Proposed timeline
Feb. 28, 2011 - Begin sending out 2,000 letters to workers in four states to recruit a "vanguard" cohort for a mini-pilot test of protocols and approaches
March 24, 2011 - Begin telephone interviews of vanguard with home visits beginning May 2, 2011
April 25-29, 2011 - Open to full cohort, with enrollment and baseline data collection expected to take 18 to 24 months
Advisory groups
Community Advisory Group - representatives of state and local government, non-profits, and business interests affected by the spill
Scientific Advisory Board - addressing scientific issues, priorities, add-on studies, and cost-containment measures
Exposure Assessment Working Group - addressing the approach, exposure characterization, available data, and anticipated methodology
Institute of Medicine (IOM) - reviewed the initial plans for the study and will monitor study progress
"NIH launches largest oil..." - previous story


next story - "50th SOT meeting breaks..."
April 2011 Cover Page

Back to top