Environmental Factor, January 2009, National Institute of Environmental Health Sciences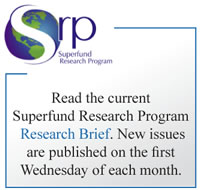 Extramural Papers of the Month
By Jerry Phelps
January 2009
Dioxins in Food Chain May Cause Poor Milk Production
An NIEHS-funded research team at the University of Rochester Medical Center reports that exposure to dioxins during pregnancy harms rapidly growing and dividing epithelial cells in breast tissue, which may explain why some women have trouble breastfeeding or have poor milk production.
The studies were performed using laboratory mice and show that early administration of dioxin caused mammary cells to stop proliferating as early as six days into the pregnancy and lasted through mid-pregnancy. The researchers also determined that dioxin inhibited the induction of genes involved in milk production and decreased the number of ductal branches and mature lobules in mammary tissue. The studies show that induction of the Ah receptor was crucial in producing the effect and that timing of the exposure was important.
Estimates suggest that three to six million mothers worldwide are unable to breastfeed or are unable to produce enough milk to nourish their babies. Breastfeeding has been shown over and over again to have positive benefits for mother-child bonding and for the overall health of the child. Further research is necessary to find a link between dioxin exposure and problems with breastfeeding in women.
Citation: Lew BJ, Collins LL, O'Reilly MA, Lawrence BP (https://www.ncbi.nlm.nih.gov/pubmed/19502548?ordinalpos=1&itool=EntrezSystem2.PEntrez.Pubmed.Pubmed_ResultsPanel.Pubmed_DefaultReportPanel.Pubmed_RVDocSum)
. 2009. Activation of the aryl hydrocarbon receptor (AhR) during different critical windows in pregnancy alters mammary epithelial cell proliferation and differentiation. Toxicol Sci Jun 5. Epub ahead of print.
Back to top
Genome-Wide Association Study Identifies Asthma Gene
A multicenter study identified two single nucleotide polymorphisms of a gene known as phosphodiesterase 4D or PDE4D as an asthma susceptibility gene in a large genome-wide association study. PDE4D is a regulator of airway smooth muscle contractility and medications targeted towards inhibition of the enzyme have been developed to treat asthma, which affects approximately one out of 20 people worldwide.
The economic impact of this disease from lost work productivity as a result of the disease or from caring for a child with asthma is staggering. Previous studies have identified over 40 genes associated with asthma.
A genome-wide association study is an approach that involves scanning markers across the complete genome of many people to find genetic variations they have in common associated with a particular disease. Once the genetic associations are identified, the information is used to develop better strategies to detect, treat and prevent disease. These studies have proven particularly useful in finding genetic variations that contribute to complex diseases such as asthma, cancer, diabetes, heart disease and mental illnesses.
Two single nucleotide polymorphisms proved to be highly statistically significant with respect to asthma in a combined population of over 18,000 white and Hispanic subjects. Further study of the polymorphisms of PDE4D will lead to an improved understanding of the gene's role in asthma and the efficacy of PDE4D inhibitors in treating asthma.
Citation: Himes BE, Hunninghake GM, Baurley JW, Rafaels NM, Sleiman P, Strachan DP, Wilk JB, Willis-Owen SA, Klanderman B, Lasky-Su J, Lazarus R, Murphy AJ, Soto-Quiros ME, Avila L, Beaty T, Mathias RA, Ruczinski I, Barnes KC, Celedón JC, Cookson WO,Gauderman WJ, Gilliland FD, Hakonarson H, Lange C, Moffatt MF, O'Connor GT, Raby BA, Silverman EK, Weiss ST (https://www.ncbi.nlm.nih.gov/pubmed/19426955?ordinalpos=1&itool=EntrezSystem2.PEntrez.Pubmed.Pubmed_ResultsPanel.Pubmed_DefaultReportPanel.Pubmed_RVDocSum)
. 2009. Genome-wide association analysis identifies PDE4D as an asthma-susceptibility gene. Am J Hum Genet 84(5):581-593.
Back to top
Glutathione S-Transferase Polymorphism Increases Risk of Second Primary Malignancy
A large prospective cohort study suggests that people with certain polymorphisms of the glutathione S-transferase (GST) genes are more likely to develop a second primary malignancy after first developing squamous cell carcinoma of the head and neck. The study reports a 1.7-fold increase for people with the GSTP1 Ile(105)Val polymorphism and an even greater risk for multiple GST risk genotypes.
Most squamous cell carcinomas of the head and neck area are attributable to tobacco and alcohol. However, most smokers and drinkers never develop squamous cell carcinoma, suggesting that genetic susceptibility plays a significant role in the development of the cancer. Traditional cancer therapies cure many squamous cell carcinomas, but a significant proportion of patients go on to develop a second primary malignancy.
GSTs are known to detoxify many carcinogens in tobacco smoke. The research team hypothesized that variations in the genes coding for GSTs might alter a person's risk for developing a second malignancy. Identifying markers of risk for later malignancies among cancer survivors could greatly enhance secondary cancer prevention efforts. By screening patients for these genetic variations, physicians could identify those patients more likely to develop additional cancers and target them for more stringent intervention regimens and closer follow-up, to prevent additional cancers or identify them at earlier stages.
Citation: Zafereo ME, Sturgis EM, Aleem S, Chaung K, Wei Q, Li G (https://www.ncbi.nlm.nih.gov/pubmed/19401526?ordinalpos=1&itool=EntrezSystem2.PEntrez.Pubmed.Pubmed_ResultsPanel.Pubmed_DefaultReportPanel.Pubmed_RVDocSum)
. 2009. Glutathione S-transferase polymorphisms and risk of second primary malignancy after index squamous cell carcinoma of the head and neck. Cancer Prev Res (Phila Pa) 2(5):432-439.
Back to top
PCBs May Alter in utero Neonatal Brain Development
In three new studies, NIEHS grantees at the University of California, Davis provide evidence of how low-level exposure to polychlorinated biphenyls (PCBs) alters the normal development of brain cells. These findings could help to explain the relationship between PCB exposure and neurodevelopmental and behavioral disorders in children.
Although PCBs were banned 30 years ago, researchers have never understood the mechanism by which PCBs produce neurological problems in children. The researchers exposed laboratory rats to low levels of two structurally different PCBs and examined the hippocampus, a region of the brain involved in memory and learning. They found that PCB exposure locks ryanodine receptors, a class of intracellular calcium channels that control the electrical excitability of neurons, into the "on position" thus altering their excitability. Additional in vitro studies confirmed the results.
The team plans to conduct additional studies in mice that carry some of the same genetic variations of the ryanodine receptors that humans exhibit. Those studies will be important to determine whether there are people who are genetically susceptible to PCB toxicity.
Citation: Kim KH, Inan SY, Berman RF, Pessah IN (https://www.ncbi.nlm.nih.gov/pubmed/19289137?ordinalpos=1&itool=EntrezSystem2.PEntrez.Pubmed.Pubmed_ResultsPanel.Pubmed_DefaultReportPanel.Pubmed_RVDocSum)
. 2009. Excitatory and inhibitory synaptic transmission is differentially influenced by two ortho-substituted polychlorinated biphenyls in the hippocampal slice preparation. Toxicol Appl Pharmacol 237(2):168-77.
(Jerry Phelps is a program analyst in the NIEHS Division of Extramural Research and Training. Each month, he contributes summaries of extramural papers to the Environmental Factor.)
"Extramural Update..." - previous story

next story - "Intramural Papers of the Month..."
January 2009 Cover Page
Back to top